Applicants with a disability
Application to CAO
Applicants with a disability applying for full time undergraduate degree/diploma courses in Trinity College should apply via the Central Applications Office (CAO) indicating on the application form that they have a disability or specific learning difficulty, which is the basis for seeking reasonable accommodations and support in pursuing their College career.
Application to DARE
Trinity has a supplementary application procedure in place for students from non-traditional learning backgrounds, which includes students with disabilities. This is known as DARE (Disability Access Route to Education). DARE is a third level admissions scheme for school leavers who have a disability or specific learning difficulty. Students who are considered to be DARE eligible may secure a place on a reduced points basis. DARE offers areconditional on registration with the Disability Service.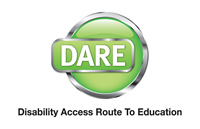 DARE Admissions Procedure
Apply to CAO by 17:15 on 1 February 2013.
No later than 17:15 on 1 March 2013, you must disclose your disability and/or specific learning difficulty in your CAO application and fully and correctly complete Section A of the Supplementary Information Form (the SIF is a part of your CAO application).
If you wish to be considered for the DARE scheme, you must indicate this on Section A of the fully completed SIF by 17:15 on 1 March 2013.
Instructions will be given about the completion and return of Sections B and C of the SIF to arrive at CAO by 17:15 on 1 April 2013.
Full details of DARE eligibility criteria for each specific disability can be accessed from www.accesscollege.ie/dare/applications-processed.php
Application forms and guidelines are available for download from the DARE website, www.accesscollege.ie/dare/downloads.php
In addition to satisfying the criteria for the DARE scheme students must also matriculate (i.e. present six Leaving Certificate subjects, including English, Mathematics and one other modern language; three of these subjects must be at HC3 or better and three subjects at OD3 or better) and meet the specific course requirements as outlined in the undergraduate prospectus or on the TCD website at www.tcd.ie/Admissions/undergraduate/requirements/.
Mature students (i.e. at least 23 years of age on the 1st January of the proposed year of entry) with disabilities should apply via the supplementary admissions procedure for mature students as well as applying via CAO. There is no late application facility for this scheme – application must be made by 1st February.
Application for Language or Mathematics Waiver
Students with significant learning difficulties and hearing disabilities may apply for a waiver of the modern language requirement during the second level school senior cycle.
In addition, students with dyscalculia may be eligible to request exemption from the matriculation requirement of a pass in mathematics, where mathematics does not form any component of their intended course. Applicants should consult the following:
This is a separate application to the DARE scheme and written application must be made to the Admissions Office, Trinity College Dublin before 1st July of the year of entry.
The criteria for waiving the language or mathematics requirement are different to that required for DARE. Granting of a language waiver does not mean that a student is automatically eligible for the DARE supplementary admissions process.
Allocation of Places
Where demand for places exceeds the number of places available, places are awarded on merit.
Further information
Pathways to Trinity www.tcd.ie/pathways-to-trinity
Email: pathways@tcd.ie

DARE scheme www.accesscollege.ie and www.cao.ie
E-mail: dare@tcd.ie
Disability Service www.tcd.ie/disability
Phone: + 353 1 896 3111