Student Support Services
Orientation for new entrants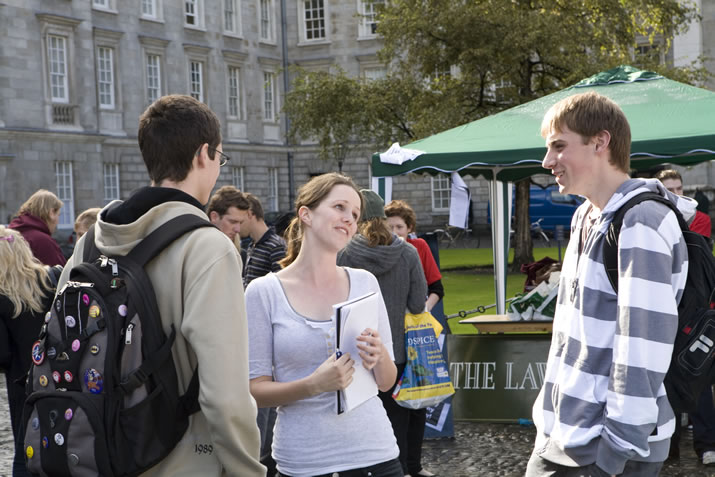 During your first week in College (Orientation Week), Trinity College offers a comprehensive orientation programme to new entrants. The programme includes general orientation meetings, specific meetings for your course, library tours, sports tours, advice sessions about issues such as managing your finances, and a range of nights out – organised by clubs, societies and the Students' Union.

Trinity College has a vast array of clubs and societies for you to join during Orientation Week. They are a fantastic way to make new friends and to get a feel for the sense of community here at Trinity College. Also be sure to look up the Students' Union to find out what is happening throughout the year.
Personal tutor
Each undergraduate student at Trinity College is assigned a personal tutor on entry to College.

Tutors are members of the academic staff who are specifically appointed to tutorship to provide personal and academic support to undergraduate students. Their main function is to advise, listen to concerns, help tutees deal with issues as far as possible and refer more serious difficulties to the appropriate student services. Tutors provide a welcoming ear for students allowing them the freedom to talk confidentially about any issues which may arise.

Find out more at www.tcd.ie/Senior_Tutor
Peer mentoring programme
From the moment you arrive in College right the way through to your end of year exams, the Student 2 Student (S2S) peer mentoring programme is here to make sure your first year is fun, engaging and a great foundation for the rest of your time in Trinity. You'll meet your two S2S mentors during Orientation Week and they will make sure that you know other people in your course before your classes even start. They will keep in regular touch with you throughout your first year and invite you to events on and off campus. They will also give you useful information about your course and what to look out for. Mentors are students who have been through first year and know exactly what it feels like, so you never have to worry about asking them a question or talking to them about anything that's worrying you.

S2S also offers trained Peer Supporters if you want to talk confidentially to another student or just to meet a friendly face for a coffee and a chat. S2S is supported by the Senior Tutor's Office and the Student Counselling Service.

http://student2student.tcd.ie, E-mail: student2student@tcd.ie Phone: + 353 1 896 2438
Careers Advisory Service
The Careers Advisory Service (CAS) offers a range of services and resources to assist students in preparing for, making, and implementing informed decisions about their future careers.
• Group and one to one guidance to help with career-planning including support after graduation.
• Assistance with the search for internships, employment or further study options. The VACWORK programme offers students the opportunity to secure work experience during the summer before their final year.
• Access to specialist careers information resources including dedicated databases available exclusively from our award-winning website.
• Extensive training in all aspects of the further study or job application process including CV preparation, completion of application forms and the preparation of personal statements.
• Practice interviews on video.
• Development of skills through volunteering in Ireland and abroad.

Find out more at www.tcd.ie/careers and www.tcd.ie/community.

The careers Advisory Service continues to provide careers support after graduation and, in association with the Alumni Office, the very successful Trinity Alumni Career Network provides workshops to assist graduates seeking employment as well as those considering a career change. In addition, Front Gate Online is the web based alumni community, which allows graduates to connect with other alumni and support current students.

Find out more at www.tcd.ie/careers or at www.tcd.ie/alumni
College Health Service
The College Health Service provides primary health care for registered students.
It also focuses on the psychological and occupational aspects of student health and health education.
Student consultations are free of charge with modest fees for additional services.
There are specialised clinics in physiotherapy, psychiatry, travel health, sexual health, eating disorders and minor surgery.
Health care provision in Ireland
All EU students from outside the Republic of Ireland pursuing a full degree programme should contact the Health Service Executive for advice regarding healthcare provision – see www.hse.ie
All EU students should bring with them a European Health Insurance Card issued in their country of origin.
Non-EU students are not entitled to free national health services in Ireland, and are advised to take out insurance cover for hospitalisation or to extend private health insurance before leaving their home country.
Students without private health insurance who will be resident in the country for a minimum period of one academic year may apply to the Health Service Executive to be assessed for entitlements.

Student Counselling Service
The Student Counselling Service is staffed by qualified professional psychologists and psychotherapists. It provides a range of free services to TCD students including:
Short-term individual counselling for personal and psychological issues, including a daily emergency slot.
Groups e.g. for anxiety, depression and bereavement.
Wellbeing Workshops e.g. self-esteem and resilience.
The Online Mental Health Portal, a TCD web community for obtaining self help information and getting anonymous counselling support: https://mymindmatters.ie
An after-hours Niteline telephone service run by students for students. Free-phone: 1 800 793 793, Thurs-Mon, 9pm-2.30am.
For more information and resources: www.tcd.ie/student_counselling
Chaplaincy
The ecumenical Chaplaincy team work closely together and represent four of the main Christian traditions in Ireland: Catholic, Anglican, Presbyterian and Methodist.
It's a place of hospitality for all members of the College community; students of all faiths or none are welcome.
A variety of worship gathering & events are organised during the year – Traditional, and non-traditional, Christian services take place weekly in College.
During term time, tea and coffee are available all day in the Chaplaincy Common Room (House 27) and students are invited to call in for lunch on Tuesdays – Come early, it's always full!
Find out more at www.tcd.ie/Chaplaincy
Day nursery
Trinity College's day nursery takes care of children from 3 months to 4.5 years of age. There are five different rooms for children of different age groups.
See www.tcd.ie/about/services/daynursery for further details.
Mature students officer
Trinity College recognises the unique contribution and commitment that mature students make to College academic and social life. A full-time mature students officer provides guidance and support to both prospective applicants and current mature students.
Supports include:
One-to-one guidance and support for prospective mature applicants.
Further Education College visits and presentations.
An information morning on preparing for College for all successful mature applicants each July.
A week long orientation programme for mature student prior to the start of term in September.
Weekly student support drop-in clinics for registered mature students.
For further information on studying in TCD as a mature student please phone +353 1 896 1386, e-mail: mature.student.officer@tcd.ie or visit www.tcd.ie/maturestudents
Access services
TAP (the Trinity Access Programmes) provide a range of supports and services through their Post-Entry Progression Programme. These supports are available to students who enter undergraduate programmes in TCD through the Higher Education Access Route (HEAR), Foundation Courses for Young Adults and Mature Students, and the CDVEC University Access Courses (in partnership with Pearse College, Plunkett College and Liberties College).
These supports include:
A tailored week long pre-university orientation programme (the week before Orientation Week).
Academic supports including extra tuition, a laptop lending service, a writing resource centre and maths help room, and the TAP studio – a designated study space equipped with IT resources.
Social and personal supports – each Junior Freshman (first-year) student is linked to a member of TAP staff, their TAP advisor. Advisors meet with students regularly and offer advice, guidance and support and assist students with any personal or academic issues. TAP also runs a number of social activities throughout the year for students.
Financial support (when available and applicable) including a TAP scholarship, supported childcare scheme and the TAP hardship fund.

Comprehensive information about the full range of TAP services and supports is available from:
Web: www.tcd.ie/Trinity_Access/current
E-mail: tapadmin@tcd.ie
Phone: +353 1 896 2751 / 3598.
Disability Service
Trinity College is committed to a policy of equal opportunity in education and to ensuring that students with a disability have as complete and equitable access to all facets of College life as can reasonably be provided. This includes students with a physical, sensory, medical, mental health condition or specific learning difficulty that impacts on their ability to achieve academic goals.

Support available to students includes:
Pre-entry advice on admissions, course choices and College life. Study skills and assistive technology solutions for Leaving Certificate students: www.tcd.ie/pathways-to-trinity
Needs assessment on entry to determine any additional learning requirements.
Assistive technology training and technology rooms in College libraries.
Liaison with your tutors/lecturers to help arrange accessible programme materials.
An e-mail distribution list to keep you in touch.
Extended library loans.
Liaison with other University services such as Accommodation, Buildings, Examinations and outside agencies.
UNILINK (www.tcd.ie/disability/services/Unilink/index.php), a practical occupational therapy service available for students registered with the Disability Service who may be experiencing mental health difficulties or have a physical disability or a significant on-going illness.
Specialist support service for students with Asperger's Syndrome.

Comprehensive information about the full range of services is available from www.tcd.ie/disability, e-mail disab@tcd.ie
or by phone directly on +353 1 896 3111.
Read about the application process for students with a disability.