Thank you to our donors.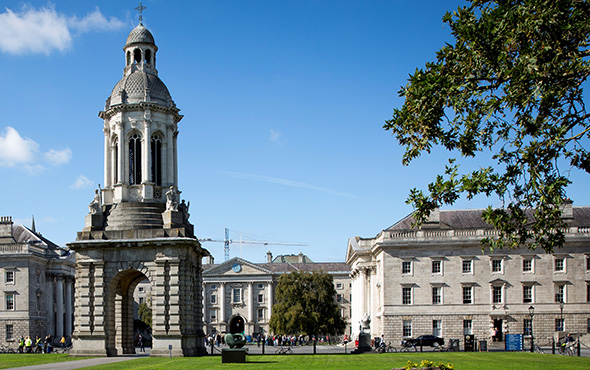 Your continuing support will play a key role in making Inspiring Generations a success.
This supports helps Trinity to develop a campus for 21st-century learning, improve access for talented students, attract brilliant staff from around the world and develop our world-class research.
Learn more about philanthropy in Trinity by reading our annual IMPACT donor report.
Studying at Trinity has given me so many opportunities, both in Ireland and abroad. I loved my time there and wanted to pass that gift onto other people by giving back to Trinity Access Programmes and the incredible research programs taking place in the university.

Alysia Cox
Donors in 2016/17
Thanks to all the donors who supported us in our most recent financial year.
View a list of our Donors in 2016/17 >
Giving Circles
Four giving and recognition circles have been introduced to acknowledge the generosity and loyalty of individuals who support a broad range of Trinity programmes, scholarships and initiatives.
The giving and recognition circles are:
Trinity Business School Supporters
Trinity's new Business School building was opened in May 2019. We are very grateful to our community of supporters whose generosity and leadership has made this groundbreaking new project possible.
Learn more about the Trinity Business School supporters >
I don't believe we can recreate our college times but we can ensure that others receive the same opportunities that we had to experience the unique life education that Trinity offers. The better we can make the facilities and surroundings, the more epic the adventure those that follow will have.

Mark Dennis
Donors in 2016/17
Click on the image below to see the full list* of people who donated to Trinity in the financial year 1 October, 2016 to 30 September, 2017.
Alumni, Family & Friends
A
Henry Abbott
David Abrahamson
Heather Abrahamson
Karl Ackland
John Adams
Róisín Adams
Awanat Adebiyi
Giedre Adomaitiene
Robin Agnew
Frank Ahern
Waqas Ahmed
Beatrice Aird-O'Hanlon
Akinlolu Akande
David Algeo
Mohammad Alkhalil
Nigel Allan
David Allen
William Allen
Cameron Allenrandolph
James Allison
Wadha Alyaqout
Stephen Anderson
Beryl Anderson
Ciara Anderson
Heather Anderson
Emily Andrews
Ian Angus
Patricia Antoniades
Charles Anyaegbunam
Paul Appleby
Johanna Archbold
Michael Archer
Malcolm Argyle
Miranda Arkwright
Mark Armitage
Aidan Armstrong
Jonathan Armstrong
Richard Aron
Joanne Aron
Bay Ashcroft-Jones
Helen Asling
Peter Asplin
Giles Atkinson
Peter Aungier
Stephen Austen
Frederick Austin
Luis Avila
Fenton Aylmer
B
Michael Bahu
Raja Bahu
Frank Baigel
Jonathan Bailey
Sebastien Bailey
Barbara Bailey
William Baird
Liam Bairéad
Sophie Baker
Lionel Baker
Lucy Balding
Declan Ballance
Laura Bambrick
Neil Bamford
Ian Bamford
Amanda Bane
Clayton Banks
Ruth Barber
Allan Barclay
Ciara Barden
Abbas Bari
Brian Barnard
Nathaniel Barnardiston
Mary Barnecutt
Valerie Barnes
Daniel Barnes
Marguerite Barr
Brian Barrett
Gabrielle Barrett
Ciara Barrett
Ruairi Barrins
Daniel Barry
Mary Barry
Liz Barry
Eugene Barry
David Barry
Oonagh Barton
David Barton
Rosalind Barwise
Martha Bates
Karina Batt-Vickers
Craig Bauer
Matthew Baum
Ursula Baxter
Ruth Beattie
Sarah Beattie
Ita Beausang
Liam Bedford
Patrick Beere
Sinead Begley
Lydia Behan
James Behan
Paul Behan
Eleanor Belcher
Rachel Belgrave
Albert Bell
Francis Bell^
John Bell
William Bell
Richard Belton
Jane Bennett
Annemarie Bennett
James Bennett
Pamela Benson
Rachel Benson
Catherine Bent
Robin Bentel
Caroline Bergin-McLoughlin
Andreas Bernstorff
Raymond Berry
Claire Besnyoe
Ivan Betts
John Bielenberg
Iain Billett
Joan Bingley
Margaret Birch
Rebecca Birchall
Elizabeth Birdthistle
Alison Birkenhead
Catherine Black
Victor Black
George Black
Jennifer Black
Valerie Black
Peter Blackburn
Charles Blackwell-Smyth
Ann Blain
Alison Blake
Helen Blake
Lorcan Blake
Stephen Blake-Knox
Margot Blankier
Claire Blennerhassett
Les Blennerhassett
Anthony Blowick
Tony Blum-Stieber
Alina Bodiu
Cathryn Bogan
Paul Bogle
Evonne Boland
Michael Boland
James Boland
Ciarán Bolger
Marguerite Bolger
Margaret Bolger
Conall Bolger
John Bolger
Tríona Bolger
Shane Bolger
Anthony Bolt
Gordon Bolton
Richard Bonanno
Stephen Bond
Godfrey Bond
Ryan Bond
John Bonnar
Sheila Bonnar
Andrea Bonzano
Rangram Boondarig
Liam Booth
Angela Bourke
Michael Bourke
Margaret Bourke
Ashling Bourke
Marie Bourke
Marjorie Bowen
Anthony Bowen
Sandra Bowen
Hilary Bowman
Elizabeth Boyd
Michael Boyd
Robin Boyd
Barra Boydell
John Boylan
Hilary Boyle
Colin Boyle
Tom Brace
Sinéad Bracken
Paula Bradley
Catriona Bradley
Philip Bradley
Eoin Bradley
Gareth Bradshaw
Arnold Bradshaw
Anthony Bradshaw
Frances Bradshaw
Kathryn Bradshaw
Peter Brady
Kevin Brady
Gerard Brady
David Brady
Tess Brady
Bernadette Brady
Marjorie Brain
Kieron Branagan
Jill Brangan
Patrick Brangan
Sinéad Brannick
Fionnuala Branscombe
Kathrina Bray
Wendolin Breaden
Clare Breckenridge
Cillian Bredin
Patrick Breheny
Victor Brennan
Mairéad Brennan
Derek Brennan
Holly Brennan
Declan Brennan
Thomas Brennan
Neil Brennan
John Brennan
Niall Brennan
Harold Brenner
Pauline Brereton
Gabrielle Breslin
Alan Brett
Hugh Brewster
Philippa Bridge
Ciarán Brien
Derek Briggs
John Bright
Paul Brindley
Jocelyn Briscall
John Britton
Richard Broadberry
Patrick Broderick
Rory Broderick
Gary Brogan
James Brogan
Philip Brooks
Dorothy Broomfield
Sheena Brown
Douglas Brown
Elisha Brown
Aoife Brown
Andrew Browne
Michael Browne
Philip Browne
Charlotte Browne
Katharina Browne
Hugh Browne
Pat Browne
Pamela Browne
Julie Browne
Don Browne
Jane Brownlee
James Brownlow
John Brownrigg
Niall Brunell
Fintan Brunkard
Claire Bruton
Rorke Bryan
Patricia Buchalter
Diana Buchan
John Buckley
Michael Buckley
Marion Buckley
Margaret Buckley
Daniel Buckman
Yanette Bueno-Diaz
Louise Buesst
Lorraine Bull
Alan Bunbury
Margaret Burford
John Burgess
Patricia Burgess
Warren Burgess
Eoin Burke
Thomas Burke
James Burke
Shane Burke
Cian Burke
Desmond Burke Kennedy
Miriam Burnett
Paul Burns
Sheila Burns
Stephen Bustin
Ioan Butan
Liam Butler
David Butler
Shirley Butler
Gordon Butler
Christopher Butterworth
Bruce Buttimore
Patricia Byrne
Elaine Byrne
Margaret Byrne
Barbara Byrne
Bernadette Byrne
Colman Byrne
Eileen Byrne
Gerry Byrne
Bernard Byrne
Donal Byrne
James Byrne
Maura Byrne
Daniel Byrne
Mark Byrne
John Byrne
Aifric Byrne
Kathleen Byrne
Aisling Byrne
Jacqueline Byrne
Maeve Byrne-Crangle
C
Laura Caboni
Martin Cadek
Pauline Cadell
Christine Caffrey
Richard Caffrey
Luke Caffrey
Denis Cagney
Kay Cahil
Noel Cahill
Michelle Cahill
Karen Cahill
Maria Cahill
Michael Cahill
Sacha Cahill
Rob Caird
Gavin Caldwell
Siobhan Callaghan
Sara Callagy
Claire Callan
Rosheen Callender
John Callinan
Elaine Callinan
Louie Calvert
Margaret Cambie-McEvoy
Sióna Cameron
Simone Cameron-Coen
Fleur Campbell
Yvonne Campbell
Paul Campbell
Laurena Candon
Brendan Cannon
Bríd Cannon
Bruce Cantlon
Max Cantrell
Jean Cantwell
Tom Cantwell
Susan Canty
Angela Carballedo
Carol Carberry
Tony Carey
Michael Carey
Kevin Carey
Margaret Carey
Rita Carey
Gerard Carey
Thomas Carlson
David Carney
Lorna Carney
Kevin Carney
Aileen Carolan
Richard Carr
Shane Carr
Gilbert Carr
Hilary Carr
Rory Carrick
Siobhán Carroll
Tony Carroll
Dermot Carroll
Áine Carroll
Barré Carroll
Keith Carroll
Michael Carroll
Christopher Carroll
Marion Carroll
Donal Carroll
Lorna Carroll
Robin Carruthers
Hugh Carslake
John Carson
Maureen Carson
Brian Carson
Helen Carter Hoynowski
Adrian Carty
Cormac Carty
Niall Carty
Karen Carty
Maeve Casey
Maureen Casey
Mary Casey
Brendan Casey
David Cashell
Hugh Cashell
John Cashman
Mark Caslin
Susannah Cass
Maeve Casserly
Macartan Cassidy
Fergal Cassidy
Susan Cassidy
Patrick Cassidy
James Cassidy
Kathryn Cassidy
Ryan Cassidy
Devon Cassidy
Awny Cassis
Brian Caul
Darren Caulfield
Peter Caulfield
Valeria Cavalli
Ehsan Chah
Amanda Chambers
Marjorie Chambers
Gregory Chambers
Sarah Chambers
Donald Chan Lam
Marjorie Chandler
Lee Chang
Valerie Chapman
Joe Charles
Rosemary Charlton
Jonathan Chawke
Judith Cheasty
Zhongtao Chen
Alexander Chestnut
Andy Cheung
Roger Cheveley
Jonathan Chiu
Edward Cholmondeley-Clarke
Yvonne Christian
Roslyn Christie
Emma Chubb
Orla Church
Michael Church
Susanna Claffey
Anne Claffey
Sean Claffey
Jonathan Clague
Orla Clancy
Oisín Clancy
Maura Clancy
Michael Clapham
Joseph Clarges
Katherine Clark
Ronnie Clark
Emmet Clarke
Leonie Clarke
Philip Clarke
Gavin Clarke
Ann Clarke
George Clarke
Martin Clarke
Sheelagh Clarke
Gordon Clarke
Kieran Clarke
Nicholas Clarke
Sarah Clarkin
Michael Clarkson
Catherine Clavin
Seán Cleary
David Cleary
Niamh Cleary
John Cleeve
David Clements
Simon Clements
Alan Clements
Ronald Clery
Brigid Clesham
Catherine Clifford
Tom Clinch
Wendy Clinch
Orlagh Clynch
Patrick Clyne
Clara Coakley
Jamie Cobbe
Emma Coburn
Peter Cocks
Eleanor Cody
Bevin Cody
Aoife Cody
Patricia Coffey
Pauline Cogan
Rex Coghlan
Toby Cohen
Emmet Coldrick
Noel Coldrick
Grainne Coldrick
Alexander Cole
Keith Coleman
Cliona Colfer
Aoife Colgan
Angela Colhoun
Mary Collen
Ciarán Colley
Mark Collier
Deirdre Collins
Francis Collins
Bridget Collins
Christopher Collins
Brenda Collins
James Collins
Dylan Collins
Anthony Collins
David Collins
Marie Collins
Bryan Collins
Phoebe Collison
John Colthurst
Vincent Comer
Aidan Comerford
Kenneth Comyns
Sarah Condell
Carolyn Condon
Caitlin Condon
Ranell Conine
Stephen Conlin
James Conlon
David Conn
Claire Conneely
Brid Conneely
Karen Connell
Alpha Connelly
John Connelly
Garrett Connolly
Louise Connolly
Mary Connolly
Eamon Connolly
Gerard Connolly
Maura Connolly
Eimir Connolly
Peter Connor
Marie Connor
Gerard Conroy
Richard Conroy
Brendan Conroy
Margaret Conroy
Dimitri Contostavlos
Claire Convery
Pauline Conway
David Conway
Ken Conway
Maura Conway
Marie Coolahan
Malcolm Cooney
Hugh Cooney
Mary Cooney
Joyce Cooper
Alfred Cooper
Carys Cooper
Robert Cooper
Cynthia Cope
Dorelle Cope
Yvonne Copeland
Patrick Corbett
Donagh Corby
Sinéad Corcoran
Kieran Corcoran
Judith Corcoran
Brian Corcoran
Clare Corish
Aoife Corley
David Cornick
Francis Cornwall
David Corri
Robert Corrie
James Corrie
James Corrigan
Samantha Corrigan
Eoin Corrigan
Niall Corrigan
Noel Costello
Ann Costello
Thomas Costello
Maureen Costello
Eilis Costelloe
Joan Costelloe
Michael Costigan
Edward Cotter
Conal Couchman
Brian Coughlan
Patrick Coughlan
Alice Coughlan
Paul Coulson
Ian Coulter
Clare Coulter
Sheila Coulter
Sian Counihan
Charles Courlander
Sean Court
Danielle Courtney
Eibhin Coveney
Damian Cox
Nigel Cox
Aoife Cox
Harvey Cox
Patrick Coy
Ann Coyle
Anna Coyle
Peter Coyle
Michael Coyne
Joseph Coyne
Lochlainn Coyne
Ann Coyne-Nevin
Alan Craig
Florence Craig
Janet Craven
Janet Crawford
Richard Creagh
Geraldine Crean^
Patricia Creelman
Clare Creely
Marie Cregg
Catherine Cremin
Trevor Crockett
Lynn Crofton
Sinead Croke
Anne Cronan
John Cronin
Aileen Cronin
Edel Cronin
Karl Cronin
Edward Crosbie
Alan Crosbie
Edmond Crotty
Adèle Crowder
Déirdre Crowe
Daniel Crowley
Emma Crowley
Karen Crowley
Seamus Crowley
Ian Crowley
Patrick Crowley-Mattar
Jonathan Crowther
Genevieve Crudden
Dave Cuffe
Dana Cuffe
John Culhane
Denise Cullen
Seán Cullen
Michael Cullen
Daire Cullen
Emer Cullen
Seán Cullinane
Leanne Cummins
John Cunniffe
Elizabeth Cunningham
Kevin Cunningham
Brian Cunningham
Mark Curley
Christopher Curran
Eimear Curran
Aoife Curran
Brendan Curran
Patricia Currid
Carol Cusack
Rose Cutter
D
William Dabaghi
Torunn Dahl
Emmet Dalton
Bridget Dalton
Paul Dalton
Jane Dalton
Úna Daly
Derek Daly
Joanne Daly
Ciarán Daly
Danielle Daly
Francis Daly
Michael Daly
Pauline Dalzell
Seán Damery
Ciara Damgaard
Sherene Daniel
Mavis Daniels
Eleanor Darbyshire
Michael Darcy
Kevin D'Arcy
Garrett Dargan
Edward Darling
James Darling
Sean Darling
Thomas Däubler
Priyesh Dave
Robert Davies
Mary Davis
Eolann Davis
Elizabeth Davison
Janet Dawson
Gerald Dawson
Susan Dawson
Christopher Dawson
Elaine Dawson
Joanna Day
Maria de Burgh
Wendy de Clerck
George de Courcy-Wheeler
Hannah de Vere White
Peter De Wit
Jonathan Deacon
Katherine Deane
Hector Deane
Gabrielle Deane
Ashling Deasy
Brian Dee
Bryan Deegan
Mark Deegan
Arthur Deeny^
Donal Deering
James Degabriele
Irene Dehaene
Miriam Delahunt
Thomas Delaney
Caoimhe Delaney
Christine Delany
Hugh Delap
Mark Delargy
Elizabeth Delbarry
Michael D'Emic
Greg Dempsey
Kevin Dempsey
David Dempsey
Aoibhin Dengler
Sean Dennison
John Detheridge
Tanya Deveney
Evelyn Devenney
John Devine
Terry Devitt
John Devlin
Rachid Diallo
Oumar Diallo
Ciaran Diamond
Christine Dibelius
Christopher Dick
Anne-Marie Diffley
Patrick Digan
Lisa Dillon
John Dingliana
Darina Diskin
Victor Dixon
Melissa Dixon
Ian Doak
George Dobbs
Mark Dobbyn
Hazel Dockrell
Lucy Dockrell
Nevin Dogan
Ria Doheny
James Doherty
Kirsten Doherty
Ciarán Doherty
Neil Doherty
Michael Doherty
Marie Doherty
Bernard Doherty
Anthony Dolan
Sarah Dolan
Sergey Dolomanov
John Donaghy
John Donegan
Catherine Donegan
Patrica Donelan
Patrick Donnelly
Jennifer Donnelly
Suzanne Donnelly
Fiona Donnelly
Siobhán Donoghue
Daragh Donohoe
Siobhán Donohue
Mary Donovan
Jaime Doody
Jonathan Doogue
Geraldine Dooley
Rory Dooley
Daniela Dooley
Ashley Dooley Wohlgemuth
Sarath Doppalapudi
Kathleen Doran
Stephen Doran
Barry Dorgan
Deirdre Dorman
David Dorman
John Dornan
Keith Douglas
John Douglas
Mark Douglas
Catherine Dowling
Martina Dowling
Damian Dowling
James Dowling
Christina Dowling
Rebecca Dowling
John Downes
Susan Downes
John Downey
Brook Dowse^
Joseph Dowse
Heather Dowse
Oran Doyle
Paul Doyle
Stephen Doyle
Peter Doyle
Desmond Doyle
Ruth Doyle
Robert Doyle
Theresa Doyle
Elizabeth Doyle
Keith Doyle
Aoife-Marie Doyle
Caolán Doyle
Catherine Doyle
Andrew Doyle
Myra Doyle
Anne-Marie Drohan
Conor Drudy
Tommy Drumm
Steven Drury
Graeme Duff
Carmel Duffy
Sarah Duffy
Aquinas Duffy
Joseph Duffy
Gay Duffy
Paul Duffy
Eimear Duffy
Gerry Duffy
Clíona Duffy
Barry Duggan
Yvonne Duggan
Margaret DuMais Svogun
Cormac Duncan
Carolyn Duncan
Rachel Dungan
Fiona Dunkin
Nathy Dunleavy
Michele Dunleavy-Lavin
Nicholas Dunlop
Frank Dunlop
Edwina Dunn
Eileen Dunne
Leonard Dunne
James Dunne
David Dunne
Paul Dunne
Gerard Dunne
Brendan Dunne
Shane Dunne
Friedrich Dunne
Leslie Dunne
Kirsty Dunne
Stephen Dunne
Cathal Dunne
Nicola Dunphy
James Dunphy
Michael Durand
Brian Durcan
Fiona Durie
Janet Durkin
Patrick Durkin
Liam Dwan
Elizabeth Dwomoh
Mark Dwyer
Eleanor Dwyer
Bozenna Dybas
E
Darina Eades
Thérèse Eagers
Paul Earley
John Earley
Tom Eastaway
Kenneth Ecock
Lucinda Edge
Derrick Edge
Patricia Edmondson
Marion Edsall
Angela Edwards
Emily Egan
Helen Egan
Rita Egan
Alison Egan
Sinéad Egan
Hildegard Eiselen
Yousef El-Gohary
Salwa El-Habbash
Jeffrey Elkinson
Edward Elliman
Maureen Ellinwood^
Robert Elliott
Jessie Elliott
Barry Elliott
Mary Embry
Peter Emmett
Laura Emond
Paul Empey
Susan Enderby
Sheila England
Eric England
Jane English
Edna English
Sean English
Orla Ennis
Irene Enright
George Eogan
William Erskine
Sheena Eustace
James Evans
Richard Evans
Alan Evans
Clare Evans McNally
Christiana Evans-Fitz.Gerald
George Everett
Dorothy Evertsen
Jennifer Eykelenboom
F
Libby Fabricatore
Christine Fagan
Paul Fagan
Mark Fagan
Andrea Fagan
Jerome Fahey
Eóin Fahey
Éamonn Fahey
Shauna Fahey
Patrick Fahy
Majella Fahy
Donna Fallon
Ivan Fallon
Brian Fallon
John Fallon
Ann Fallon Nolan
Deirdre Fallows
Orla Falls
Rebecca Fanning
Lorna Fanning
Teresa Farbotko
Patrick Fardal
Montserrat Fargas Malet
Cecil Farrar
Margaret Farrar
Leo Farrell
Marguerite Farrell
Maria Farrell
Neal Farrell
Chloe Farrell
Shane Farrell
Daniel Farrell
Rachael Farrell
David Farrelly
Elizabeth Farrelly
Cassie Farrelly
Francesca Farrington
Erin Faul
Patrick Faulkner
Nicola Faull
Deryck Fay
Brian Fay
Colin Fearon
Nessa Fee
Seamus Feely
John Feely
Gary Feeney
Eileen Feeney
Luke Fegan
Martin Feinroth
Michael Felton
Garry Fenelon
Russell Fennell
John Fennelly
Mary Fergus
Jean Ferguson
Damien Ferguson
Ronald Ferguson
Desmond Ferris
Nadine Ferris France
Áine Finan
Margret Fine-Davis
Susannah Finn
Michael Finnegan
Luke Finnegan
Caitriona Fisher
Peter Fisher
Brian Fisher
Rory Fisher
Michael Fitzgerald
Deirdre Fitzgerald
Orla Fitzgerald
Brendan Fitzgerald
Reginald FitzGerald
Anne FitzGerald
Patricia Fitzgerald
Patrick Fitzgerald
Edward Fitzgerald
Marianne Fitzgibbon
Amy-Nora Fitzgibbon
Annmarie Fitzmaurice
Eilis Fitzpatrick
Colette Fitzpatrick
Sean Fitzpatrick
Edward Fitzpatrick
Maria Fitzpatrick
Anne Fitzpatrick
Robert Fitzpatrick
Breda Fitzpatrick
Jack Fitzpatrick
Richard FitzSimon
Christopher Fitz-Simon
Jarlath Fitzsimons
Robert Fitzsimons
David Flaherty
Jane Flanagan
Mairead Flanagan
Mary Flanagan
Leah Flanagan
Séamus Flanagan
Michael Flanagan
Simon Flannery
Miriam Flatley
James Flavin
Aubrey Flegg
Michael Fleming
Leo Fleming
Mitchel Fleming
Barry Fleming
Albert Fleming
Neil Fleming
Stephanie Fleming
Valerie Fletcher
Gordon Flewett
Tadhg Flood
Sean Flood
Patricia Flood
Margaret Flood
Kevin Flood
Petros Florides
Richard Flynn
Stephen Flynn
Cathal Flynn
Michael Flynn
Darragh Flynn
Daniel Flynn
Margaret Flynn
Denis Flynn
Colin Flynn
Kieran Flynn
Conor Flynn
Anne Fogarty
William Fogarty
Rhona Fogarty
Jacqueline Fogden
Mary Foley
James Foley
Colin Foran
Elaine Foran
Jean Forbes
John Forbes
Christian Forbes
Adrian Forde
Deirdre Forde
Elizabeth Forsyth
Richard Fountaine
Alan Fox
Margaret Fox
Morgan Fox
Ciaran Foy
Mary Franklin
Peter Franks
Jonathan Frawley
Hilary Frazer
Alan Freedman
Thomas Freeman
Olivia Freeman
John Freeney
Rebecca Frere
Aoife Freyne
Gina Friedrich
Irene Frisby
Alex Fritz
Stephen Fröhlich
Bob Froom
Gertrude Frost
Richard Fry^
Shirley Fry
Yui Fujita
Barbara Fuller
Carol Fulton
Maeve Furey
Anthony Furlong
Fiachra Furlong
Declan Furlong
Lora Furlong
Suzanne Furney
George Futers
Paula Fyans
Kevin Fyfe
Conor Fynes
G
Paul Gaffney
Naoise Gaffney
Catherine Gaffney
Patrick Gageby
Hilary Galbraith
Julie Galbraith
Nikki Gallagher
Michelle Gallagher
Daragh Gallagher
Enda Gallagher
Louise Gallagher
Meabh Gallagher
Laura Gallagher
Thomas Galligan
Niall Galligan
Ronald Galloway
Rebecca Galvin
Fiona Galway
Angela Gammell
Anthony Gann
Jennifer Gannon
Ciara Gannon
Nicholas Gant
Xavier Garcia
Margaret Gardiner
Caroline Gardner
Aly Gardner-Shelby
David Gargan
Sallay-Matu Garnett
Ethel Gartland
Michelle Garvey
Marjorie Garvey
Paul Garvey
Hugh Gash
John Gatton
Patrick Gaughan
Martin Gaughan
Gareth Gavagan
Mary Gavin
Maurice Gavin
Clare Gavin Maguire
John Gaynor
Aisling Geary
Tadgh Geary
Erin Gell
Niall Geoghegan
James Geoghegan
Christopher George
Martina Geraghty
James Geraghty
Derrick Geraghty
Brian Gervais
Lisa Gibbons
John Gibson
Andrew Giffney
Jeremy Gilbert^
William Gilbert
J.B. Gill
Kate Gillen
Eoin Gillen
Anne Gilleran
Katherine Gillespie
Laurence Gilligan
Seán Gilligan
Chad Gilmer
Mildred Gilmore
Gráinne Gilmore
Kevin Gilmore
John Givan
Gerard Glass
Ann Glavin
Pamela Gleba
Gráinne Gleeson
Tom Gleeson
Eavan Gleeson
Anya Gleichmann
Ian Glen
Virginia Glover
John Glynn
Síomha Glynn
Felix Gmehling
Elaine Godfrey
David Godfrey
Jacqueline Golden
Teresa Golden
David González Knowles
Keith Good
Maeve Good
Barbara Good
Patrick Good
Michael Good
Kristian Goodbody
Roger Goodwillie
Liushien Goon
Liuyoon Goon
Christopher Gordon
Derek Gordon
Elizabeth Gordon
Henry Gordon
John Gore-Grimes
Alice Gormley
Gonie Govenden
Sarah Governey
Daria Grabowska
Patrick Grace
Stephen Graf
Gavin Graham
Gabrielle Graham
Geoffrey Graham
Ian Graham
Davina Graham
Richard Grainger
Ronald Grainger
Christabel Grant
Orna Grant
Trevor Gray
Dervela Gray
Caroline Gray
Barry Gray
William Gray
Peter Gray
Carey Graziano
Enid Greaves
Sinéad Greenan
Marie Greene
Richard Greene
Stuart Greene
Breid Greene
Katie Greene
Michael Greer Walker
Ana Grehan
Michael Grehan Dover
John Grennan
Melody Gresham
Walter Grey
Barry Gribben
Ruth Grier
Catherine Griffin
David Griffin
Emma Griffin
Claire Griffin
John Griffin
Melian Griffith
Thomas Griffiths
Sinéad Griffiths
Marion Grigg
Thomas Grimes
Patricia Grimes
Helen Grimes O'Cearbhaill
William Grimson
David Grindle
Maureen Groarke
Doreen Groocock
Noelle Grothier
Jacqueline Grygotis
Eoin Gubbins
Anne-Marie Guérandel
Desmond Guinness
Jonathan Gumport
Fiona Gunn
James Gunn
Andrzej Gutkowski
Helena Gygax
H
Christian Haastrup
Katie Haberlin
Jonathan Hackett
James Halcomb
Christine Hall
Caroline Hall
Stephen Hallinan
Bernadette Halpenny
Dymphna Halpin
Killian Halpin
Niamh Hamell
Eoin Hamill
John Hamilton
Mark Hamilton
Clare Hamilton
Paul Hamm
Barbara Hammond
Sinéad Hanafin
Elaine Hanbidge
Ruth Handy
Elaine Hanley
Audrey Hanley
Geraldine Hannon
Charles Hannon
Michael Hannon
Adrian Hanrahan
Bernard Hanratty
Cecilie Hansen
Robert Hanson
Patrick Haran
Peter Haraszti
Mary Harcourt
Alec Harden
Daniel Hardiman
Shane Harley
Clare Harney
Alexis Harrigan
Daniel Harrington
Peter Harris
Grace Harris
Neville Harris
Stephanie Harris
Steven Harris^
Cathleen Harris
Barbara Harris
Philip Harrison
Paul Harrison
Tara Harrison
Jonathan Harte
Susannah Harte
Catherine Harte
Natasha Harty
Alison Harvey
Brian Harvey
Silva Haselon
Logan Hasenbeck
Bashar Hassani
Calvert Hassard
Moira Hassell
Mildred Hassett
Colette Hatton
Naomi Hattori
Matt Haugh
Jacinta Haughey
Joseph Haughton
Helen Haughton
John Hautz
Joyce Hawkins
Angela Hawkins
Joanne Hayden
Andrew Haydon
Elizabeth Hayes
Scott Hayes
Peter Hayes
Mackenzie Hayes
Kristen Hayes
Paula Hayes
Maggi Hayes
Jacqueline Haymes
Margaret Haythornthwaite
Thomas Heade
Nicholas Headley
Anne Headley
Laura Headon
Frances Heales
Fergus Healy
Claire Healy
Brian Healy
Anne Healy
Carolyn Healy
Carmel Hearne
Ian Heaslett
Mark Heaton
Thomas Heavey
Patrick Heck
Elizabeth Heffernan
Mark Heffernan
Ciara Heffernan
Anne Heffernan
Mary Heffernan
Conor Heffernan
William Hegan
Avril Hegarty
Melissa Hegarty
Ruth Heimburger
Dominick Hemeryck
Ann-Marie Hempenstall
Katherine Hendrick
Alan Hendrickx
Michael Heneghan
Dervila Hennelly
Martina Hennessy
Pauline Hennessy
Padraic Hennessy
Barry Henry
Rosalie Henry
Mary Henry
Jennifer Hernandez
John Heslin
Simon Hewat
Sylvia Hick
Éanna Hickey
James Hickey
Denis Hickey
Greta Hickey
Linda Hickey
Paul Hickey
John Hickmott
Rosemary Higgins
Eoin Higgins
Patrick Higgins
Darragh Higgins
Luke Higgins
Michael Highton
Sandra Hill
William Hill
Colin Hill
Katie Hill
Ian Hill
Peter Hinds
Don Hodgers
George Hodgins
Ruth Hodgins
Brigid Hoey
Kathleen Hogan
Jane Hogan
Mary Hogan
Patrick Hogan
Colin Hogan
Andrew Hogg
Elizabeth Holden
Jenna Holden
Martin Holland
Elaine Holland
Cian Holland
Carol Holland
Fiona Holland
Jordan Hollander
Joseph Holloway
Barry Hollywood
Nick Holman
Colm Holmes
John Holmes
Eleanor Holmes
Pauline Holohan
Miriam Holohan
Gearóid Holohan
Helen Holohan
Kate Holohan
Rosemary Hone
Alison Hood
Niamh Hooper
Eric Hopkirk
Deirdre Horgan
Stephen Horn
Emma House
Talya Housman
Michael Houston
John Houston
James Houston
Ríona Howard
Prudence Howard
Aileen Howarth^
Roderic Howarth
Alison Howe
Gilbert Howe
Gráinne Howley
Bo-Ping Hu
James Huddie
Gillian Hudson
William Huey
Kathleen Huey
Christian Hug
Máireád Hughes
Joseph Hughes
Noel Hughes
Daryn Hughes
Anne Hughes
Brian Hughes
Cathal Hughes
George Humphrey
Mark Humphreys
Declan Hunder-Conolly
Trevor Hunter
Maureen Hunter
Derrick Hurley
Jennifer Huston
Paul Hutchinson
Robert Hutchinson
Stefan Hutzler
George Huxley
Peter Hyde
Anne Hyland
Jane Hyland
Cecil Hyland
Mary Hyland
Oliver Hynes
Miriam Hynes
Charles Hynes
Maura Hynes
Caroline Hynes
Joan Hynes
I
Thomas Ihde
Rupert Indar
Ruby Indar-Freij
Richard Ingram
Daphne Ingram
Niamh Irving
Hazel Irwin
Victor Isdell
Abdur Ismail
J
Henry Jack
Alan Jacks
Valda Jackson
Jim Jackson
Brigid Jacob
Sophie Jacobs
William Jacques
Louis Jamieson
Gordon Jamieson
Anthony Jamison
Nisha Jeawon
Valerie Jeffrey
Tracy Jenkins
Clare Jenkins
Ann Jenkinson
Donald Jenkinson
Nicola Jennings
Paula Jennings
Sheila Jennings
Jennifer Jennings
John Jenyns^
Hastings Jephson
Nizar Jetha
David Jewell
Éanna Johnson
Charles Johnson
Mbakure Johnson
Nicholas Johnson
David Johnson
Mary Johnston
William Johnston
John Johnston
April Johnston
Hallam Johnston
Angela Johnston
Turlough Johnston
Arthur Jolley
Stella Jones
Elaine Jones
David Jones
Elizabeth Jones
Sheila Jones
John Jones
Adrian Jones
Richard Jones
Terry Jones
Alan Jones
Kenneth Jordan
Charles Jordan
Mark Jordan
Varghese Joy
Edmund Joyce
David Joyce
John Joyce
Mary Joyce
Peter Judd
James Judge
Gery Juleff
K
Agnes Kakasi
Salah Kameshky
Liam Kane
Lawrence Kane
Tsi Kang
Elizabeth Karbousky
June Karslake
Liadhan Kavanagh
Karl Kavanagh
Saorla Kavanagh
Kean Kavanagh
Geoffrey Kay
Susan Kean
Páraic Keane
Francis Keane
Gerard Keane
Ursula Keane
Barry Keane
Philomena Kearney
Anne Kearney
Peter Kearney
Nicola Kearns
Michelle Kearns
Patrick Kearns
Leo Kearns
Sean Kearon
Geoffrey Keating
Alison Keating
Michael Keatinge
Carolyn Keatinge
Hilary Keatinge
William Keatinge^
Anna-Maria Keaveney
Laurence Keaveney
Daniel Keenaghan
David Keenahan
Maura Keenan
Neville Keery
Mark Kehoe
Diarmaid Kehoe
Brian Kehoe
Noirin Kelleher
Jack Kellett
Michael Kellett
Hazel Kells
Louise Kelly
Michael Kelly
Moira Kelly
Colm Kelly
Tríona Kelly
Alison Kelly
Gerry Kelly
Gillian Kelly
Mary Kelly
Deborah Kelly
Niamh Kelly
Natasha Kelly
Yvonne Kelly
Maeve Kelly
Robert Kelly
Teresa Kelly
Hazel Kelly
Victor Kelly
John Kelly
Fergus Kelly
Thomas Kelly
David Kelly
Siobhán Kelly
Aileen Kelly
Michael Kemp
Alexandra Kempston
Brian Kennedy
Bríd Kennedy
Colm Kennedy
Julia Kennedy
Daniel Kennedy
Jack Kennedy
James Kennedy
Douglas Kennedy
Elizabeth Kennedy
David Kennedy
Jennifer Kennedy
Timothy Kennelly
Denis Kenny
Francis Kenny
Evelyn Kenny
Breda Kenny
Maria Kenny
Alan Kent
Maura Keogh
Fiona Keogh
Jennifer Keogh
Margaret Keogh
Lisa Keogh
Michaela Keough
Patrick Keown
Brendan Kernan
Frances Kerr
Robert Kerr
Timothy Kerr
John Kerr
Cyril Kerr
Patrick Kerr
Andrew Kerr
Louis Kerr
Clíondhna Kerrigan
Aoife Kervick
Bernard Keville
Leslie Keye
Zainab Khaddem
Esther Khatibi
Philippa Kidd
Paul Kiely
Colm Kieran
Anthony Kieran
Sharon Kieran
Patrick Kiernan
Shawn Kiernan
Niamh Kiernan McConnell
Rebecca Kilbane
James Kilcourse
Padraig Kilkenny
Martina Killeavy
John Killeen
Sarah Killeen
Aidan Killian
Christopher Kilpatrick
Brian King
Raymond King
Miranda King
Helena King
Brooke Kingsmill Lunn
Simon Kingston
John Kingston
Robert Kingston
John Kinkead
Anna Kinsella
John Kinsella
Angela Kinsella
Seán Kinsella
Gillian Kinsella
Justin Kinsella
Joseph Kirby
Mary Kirby
Conrad Kirkman
David Kirwan
Richard Kirwan
Bruce Kirwan
Richard Knatchbull
Carol Knight
Martin Knight
Michael Knott
Nigel Knowles
Paul Knox
Christopher Knox
Pauline Knox
Melissa Knuttel
John Kodikara
Carrie Kohler
Prashanthi Kola
Ane Konglund
Michelle Kotis
Margaret Koumarianos
Alja Kramberger
John Kreienkamp
Dale Krone
Nicholas Kruseman
Samuel Kuan
David Kyle
Sarah Kyne
L
Sylvie Lagarde
Pamela Lages
Mary Laing-Dillon
Paul Laird
David Laird
James Lamb
David Lamb
Ronan Lambe
Laura Lambe
Lisa Lambert
Harriet Lambert
David Lambert
Mohammed Lamorde
Bernadette Landers
Lynda Landsman
Susan Lane
Brendan Lane
Ciarán Lang
John Langan
Paul Larkin
Cornelius Larkin
Síle Larkin
Philip Larkin
Margaret Larminie
Cathal Lathrop
Peter Laub
Norman Lauder
Huntly Lauder
Julia Launders
Louis Lavelle
Brigid Lavelle
Joseph Lavery
Therese Law
Robert Lawlor
Benjamin Lawlor
Melissa Lawlor
Sinead Lawlor-Gaynor
Elizabeth Lawrence
Wilfrid Lawson
Desmond Leadon
David Leahy
Mary Leahy
Ciara Leane
Anne Lee
King Lee
Gordon Lee
Brian Leeney
Anthony Leigh
Lewis Leith
Michael Lenane
Mary Lennon
Martina Leonard
Shane Leonard
Feargal Leonard
Anne Leonard
Linda Leonard
Clive Levis
Donald Lewis
Hilary Lewis
William Lewis
George Lewis
Xiaohui Li
Shu Li
Dolores Liddy
Pádraig Liddy
Barbara Lilley
Elisabeth Lillie
Christina Lillis
Kok Lim
George Lindsay
Andrew Lindsay
Andrew Linn
Brendan Little
William Little
Rachel Liu
Wen Liu
Gordon Livingston
Bertram Livingston
Gavin Lloyd
Trevor Lloyd
Eimhin Loftus
Maria Logan
Jacinta Long
Marie Claire Long
Geraldine Long
Bonnie Long
Marc-Antoine Longpré
Elena López de Sweeney
Mairéad Losty
Martha Lötter
Emma Loughney
Ellen Love
Terence Lovett
Anthony Lowes
Mary Lowndes
Christine Lowry
Michael Lucey
Clare Lucey
Saul Lugoye
Grace Lumsden
David Lunn
James Lunney
Jean Lunny
Thomas Luz
Ryan Lyles
Sarah Lynam
David Lynch
Aileen Lynch
Michael Lynch
Patricia Lynch
Margaret Lynch
Sean Lynch
Ciarán Lyng
Bridget Lyons
Kirsten Lyons
Seán Lyons
Fiona Lyons
Lisa Lyons
David Lyons
Kate Lyons
Patrick Lyons
Jennifer Lyons
M
Sarah Mac Clancy
Fiachra Mac Góráin
Roibeard MacArdail
Bettina MacCarvill
Cormac MacCionnaith
Fionn MacCumhaill
Eóin MacDomhnaill
Ultan MacDonald
Stephen Macdonald
Margaret MacDonald
John Macdougald
Robert MacDougall
Jane MacFarlane
Linda MacHugh
Valerie MacKay
Sarah Mackey
Lorna MacMahon
Ross MacMahon
Rossa MacManamon
Nicola MacManus
John MacManus
James MacManus
Clémentine MacNeice
Claude Macquigg
Anjum Madani
Frank Madden
James Madden
Claire Madigan
Olivia Maes
Enda Magee
Clíona Magee
David Magee
Bill Magowan
Brian Magowan
Hilary Magrath
Paul Maguire
Geraldine Maguire
Cathy Maguire
Kevin Mahady
Michael Maher
Timothy Maher
Omar Mahfoud
James Mahon
Ciara Mahoney
Nicholas Mahony
Robert Mahony
Elizabeth Malcolm
Ciara Malone
Barry Malone
Colette Maloney
James Malseed
Angela Malthouse
Cliona Manahan
Peter Manahan
David Mandry
Kevin Manning
Michael Manning
Robert Mansfield
Eithne Mansfield
Peter Mantan Walshe
Rhoda Margetson
Conal Markey
Ian Marnane
Maureen Marray
Sally Marsh
Doreen Marshall
Kathleen Marshall
William Marshall
Elaine Martin
Brendan Martin
Maureen Martin
James Martin
Donald Martin
Karen Martin
Stephen Martin
Carole Martin-Smith
Marius Marttinen
Anne Marx
Jane Massy
John Masterson
Gary Mathews
Edward Mathews
Colm Matthews
Jane Mawhinney
Maurice May
John Maybury
Michael Mayes
Aedin Mc Cann
Patrick McAfee
Fergal McAleavey
James McAleer
Ailbhe McAlister
Frank McArdle
Ita McAteer
Timothy McAuley
Maura McAuliffe
George McAvoy
Stuart McBean
Susan McBennett
Brigid McBride
Liam McBride
Orla McCabe
James McCabe
Patrick McCabe
Mary McCaffrey
Mary McCague
William McCahon
Ciara McCallion
Sheena McCambley
Deirdre McCann
Jennifer McCann
John McCann
Justin McCann
Luke McCarron
Damian McCartan
James McCarter
Leonard McCarthy
Maeve McCarthy
Samuel McCarthy
Sarah McCarthy
Audrey McCarthy
Karen McCarthy
Siobhán McCarthy
John McCarthy
Elaine McCarthy
Donagh McCarthy
Neasa McCarthy
Rosemary McCarthy
Catherine McCarthy
Ruth McCarthy Williams
Colm McCaughley
Denis McCauley
Patrick McCauley
Kip McCauley
Maureen McCaw
Chiedza McClean
James McClelland
Deborah McCollum
Eleanor McConaghy
Aubrey McConkey
Cormac McConnell
Audrey McConnell
Kenneth McConnell
Amelia McConville
Gilbert McCool
Martin McCormack
Kevin McCormack
Janet McCormack
Margaret McCormack
Audrey McCormick
Hannah McCormick
Ruth McCoy
Ian McCracken
Suzanne McCreddin
Mary-Elizabeth McCrohan
John McCrossan
Noel McCune
Charles McCurdy
Richard McDermott
Gerard McDermott
Dermot McDermott
Patricia McDermott
Karen McDermott
Eileen McDermottroe
Ian McDevitt
Úna McDevitt
Donagh McDonagh
David McDonagh
Alison McDonald
Anne McDonald
Elizabeth McDonald
Jessica McDonald
George McDonald
Valerie McDonald Malone
Desmond McDonnell
David McDonnell
Jeanette McDonnell
Fionnuala McDonnell
Bernadette McDonnell
Tony McDonnell
Aoife McDonnell
Oisín McDonnell
Alan McDowell
Peter McElearney
James McElhinney
Alan McElroy
George McElwee
Sinéad McEniff
Diane McEnroe
Craig McEntee
Frederick McEvett
Dominic McEvoy
Jeff McEvoy
Marion McEvoy
Sean McEvoy
Niall McFadden
Clare McFadden
Noelle McGannon
Evan McGarrigle
Ryan McGarrigle
Joan McGeachin
Kevin McGee
Norah McGill
Miriam McGillycuddy
Peter McGing
Eoin McGinley
Niamh McGough
Iggy McGovern
Garrett McGovern
Philip McGovern
Daniel McGowan
Anne McGowan
Deborah McGrane
Maire McGrath
Derek McGrath
Fiona McGrath
Eugene McGrath
Brian McGrath
Aisling McGrath
Cian McGrath
Charleen McGuane
David McGugan
Thomas McGuinn
Barry McGuinness
Anne McGuinness
Brendan McGuire
Siobhan McGuire
Jennifer McGuire
Brendan McHale
Pauline McHenry-McGarry
Mary McHugh
Desmond McHugh
Derek McHugh
Paul McHugh
Noel McHugh
Erina McIldoon
Gilbert McIlraith
Tara McIndoe Calder
Sandra McIntyre
David McKay
Colin McKee
James McKenna
Teresa McKenna
Cora McKenna
Ellen McKenna
Ian McKenzie
Gráinne McKeon
Ruth McKernan
Harry McKibbin
Cathy McKiernan
Eóin McKiernan
Horace McKinley
Sean McLarney
Stephen McLernon
Sheelagh McLindon
Karen McLoughlin
Anthony McMahon
Ciara McMahon
Anne-Marie McMahon
Helena McMahon
Dermot McMahon
Susan McMahon
Caroline McMahon
Alison McMahon
Sam McMahon
Derek McManus
Séamus McManus
Thomas McManus
Michael McManus
Robert McMullan
Lesley McMullan
Rebecca McMullan
William McMullen
Richard McMullen
James McNally
Bridget McNally
Deirdre McNally
Peter McNamara
Anthony McNamara
Harold McNeill
Liam McNelis
Conor McNestry^
Daniel McNicholas
Margaret McNulty
Bernadette McPolin
Brian McQuillan
Christopher McQuinn
Gregory McRandal
Edward McSherry
Kyran McStay
Paul McVeigh
Emily McVicker
Gabriel McWeeney
Norman McWhinney
Shaun Meacock
Oonagh Meade
Emily Meade
Ann Meagher
Alison Meagher
Sridhar Medishetty
Eileen Meenan
James Mehigan
Cormac Mehigan
Daphne Mellors-Puccinelli
Robert Melvin
Patrick Melvin
Louise Merrigan
Olwyn Merritt
Ciara Meskell
Angela Mezzetti
Gillian Michael
Magdalena Michalewska
John Miles
Deborah Miller
Helen Miller
Robin Miller
Anne Miller
Jacqueline Milliken
Alistair Milliken
Jonathan Mills
Christopher Mills
Jason Milne
Kenneth Milne
Matthew Minch
Edmond Mindomba Boko
Eddy Minet
Donagh Minihan
Hazel Minion
Michal Misiewicz
Órla Mistéil
George Mitchell
Michael Mitchell
Philip Mitchell
Susan Mitchell
Ian Mockler
Francis Mohan
Paul Moley
Roderick Molloy
Joanne Molloy
Brenda Molloy
Anne Molloy
Tom Molloy
Ríona Molloy
Niamh Molloy
David Moloney
Tonya Moloney
Chandre Monerawela
Ann-Marie Mongan
Suzanne Monnelly
Cathy Monteith
Jane Montgomery
John Montgomery^
Simon Montgomery
Brian Mooney
Gerry Mooney
Helen Mooney
Owen Mooney
Niall Mooney
Naomi Moore
Gerard Moore
Joyce Moore
Annamarie Moore
Mark Moore
Anne-Marie Moran
Gerard Moran
William Moran
Michael Moran
Brendan Morgan
Sarah Moriarty
Michael Moriarty
Clare Moriarty
John Morley
Jean Morley
Mark Moroney
Sinead Morris
Rosemary Morris
Paul Morris
Teresa Morris
Jacinta Morrison
Lynn Morrison
Mary Morrison
John Morrison
Anne Morrissey
Patrick Morrissey
Brian Morrissey
Karl Morrissey
Veronica Morrow
Angela Morrow
Gordon Morrow
Jill Moss
Rachael Moss
Jennifer Moulton
Marian Moylan
Gerald Moynan
Maria Moynihan
Laura Moynihan
Rory Mulcahy
Patricia Muldoon
Derek Muldowney
Thomas Mulherin
Alan Mullally
George Mullan
Catherine Mullan
Kenneth Mullan
William Mullan
Patrick Mullen
Jean Mullen
Caitríona Mullen
Mairéad Mulligan
Loraine Mulligan
David Mulligan
Clodagh Mullin
Michael Mullin
Cormac Mullins
Clodagh Mullins
Michael Mullooly
Marian Mulroe
Laura Mulvany
Christopher Mulvey
Hilary Mulvihill
Gary Munnelly
Zlatko Muravec
Verity Murdoch
Henry Murdoch
Dominic Murdock
Der Murnane
Marguerite Murphy
Padraic Murphy
Christopher Murphy
Keith Murphy
Kieran Murphy
David Murphy
Richard Murphy
Fay Murphy
Sharon Murphy
Stephen Murphy
James Murphy
Andrew Murphy
Fionnuala Murphy
Grainne Murphy
Jeremiah Murphy
Enda Murphy
John Murphy
Martin Murphy
Killian Murphy
Paul Murphy
Foster Murphy
Sonya Murphy
Niamh Murphy
Dylan Murphy
Étain Murphy
Elizabeth Murphy
Chloe Murphy
June Murphy
Norma Murphy
Liam Murphy
Owen Murphy
Brenda Murphy
Cillian Murphy
Madison Murphy
Karen Murphy
James Murphy Corkhill
Lewis Murphy McMahon
Hilary Murphy-Fagan
Aidan Murran
Ciara Murray
Helen Murray
Eamonn Murray
Siobhan Murray
Brian Murray
Paul Murray
Antoinette Murray
Stephen Murray
Elaine Murray
Karie Murray
Lorraine Murray
Jason Murray
Joseph Murray
Rhona Murray O'Connor
Cian Murtagh
Harman Murtagh
Michael Musgrave
N
Ingrid Nachstern
Gayathri Nadarajan
Myrtle Nairn
Pádraig Nallen
Michael Napier
John Nash
Louisa Nash
Adrian Naughten
Donal Naughton
Sarah Naughton
David Naylor
Alexis Nealon
Míde Neary
Martina Needham
Cormac Neill
Colin Neill
Robert Neill
Margaret Nelson
Miriam Nelson
Michael Nesbitt
Richard Nestor
Robert Neville
Kevin Neville
Patrick Nevin
Stacy Nevin
Thomas Newell
Simon Newman
Edward Newmark
Kin Ng
Blanaid Ni Bhraonain
Robyn Ní Chasarlaigh
Seosaimhín Ní Chathasaigh
Bróna Ní Chobhthaigh
Ursula Ní Choill
Eiléan Ní Chuilleanain
Crístín Ní Éanaigh
Muireann Ní Leidhin
Íde Ní Liatháin
Sorcha Ní Lideadha
Gráinne Ní Mháille
Clare Ní Shuilleabháin
Úna Ní Shúilleabháin
Siofra Nic an Bhreithiún
Richeal Nic an Rí
Carol Nic an Riogh
Fiona Nic an tSaoir
Irene Nic Charthaigh
Caitlín Nic Íomhair
Ann Nicholson
John Nicholson
Gertrude Niehoff
Nicholas Nightingale
Brian Nisbet
Patricia Nixon
James Nixon
Andrew Nolan
Niamh Nolan
John Nolan
Charlie Nolan
Mary Nolan-Coffman
Conolly Norman
Thomas Normile
Roger Norris
William Northen
Cecil Northridge
Richard Northridge
Stephen Norton
Peter Norton
Shelagh Norton
Niamh Nowlan
Juliet Nowlan
Hugh Nowlan
Paul Nugent
Margaret Nugent
Erin Nugent
Barry Nyhan
O
Gearóid Ó Clérigh
Pádraig Ó Conbhuí
Caoimhín Ó Conghaile
Brian O Connor
James O Connor
Diarmaid Ó Corrbuí
Séan Ó Curraoin
Paul O Donnell
Máire O Donoghue-Horgan
Cyril Ó Floinn
Mícheál Ó Geallabháin
Art Ó Gnímh
Dara O Gordúin
Darren Ó hAilín
Cathal Ó Háinle
Oisin O Halmhain
Aonghus Ó Lochlainn
Peter O Maille
Fionnuala O Malley
Tomás Ó Maolagáin
Ailill Ó Muirí
Joseph O Neill
Ellyn O Neill
Fearghal Ó Nia
Warren O Reilly
Mairin O Sullivan
Nicholas O Sullivan
John O Sullivan
Maeve O'Beirne
Melanie O'Beirne
Tara O'Beirne
Andy O'Breslin
Keith O'Brien
Gareth O'Brien
Thomas O'Brien
Iseult O'Brien
Ivan O'Brien
Brian O'Brien
Francis O'Brien
Blaithin O'Brien
Dermod O'Brien
Bernadette O'Brien
Angie O'Brien
Conor O'Brien
Bernard O'Brien
Fearghal O'Brien
Niamh O'Brien
David O'Brien
Patricia O'Byrne
James O'Callaghan
Rory O'Callaghan
Donal O'Carroll
Anthony O'Carroll
Therese O'Carroll
Ellen O'Carroll
Zhanna O'Clery
Grace O'Connell
William O'Connell
Micheál O'Connell
Derval O'Connell
Jonathan O'Connell
Maurice O'Connell
Angela O'Connell
Cormac O'Connell
Rosemary O'Connell
Jim O'Connell
Amy O'Connell
Kate O'Connell
Susan O'Connell
Alexandra O'Connell Fitz-Simon
Christopher O'Connor
Michael O'Connor
Josephine O'Connor
Mary O'Connor
Thomas O'Connor
Maeve O'Connor
Tamara O'Connor
Eugene O'Connor
Dermot O'Connor
Noreen O'Connor
Padraig O'Connor
Niall O'Connor
Tony O'Connor
Judith O'Connor
Aisling O'Connor
Tomás O'Connor
Emily O'Conor
Philip O'Doherty
Mary O'Donnell
Catherine O'Donnell
Dudley O'Donnell
Éanna O'Donnell
Nicola O'Donoghue
Finola O'Donoghue
Hilary O'Donoghue
Florence O'Donoghue
Pat O'Donoghue
Mary O'Donovan
David O'Donovan
Declan O'Donovan
Aileen O'Driscoll
Jean O'Driscoll
Michael O'Driscoll
Margaret O'Driscoll
Brian O'Driscoll
Maria O'Driscoll
Claire O'Driscoll
Barry O'Dwyer
Susan O'Farrell
Robert O'Farrell
Eamon O'Farrell
Linus Offiah
Gerard O'Flaherty
Louis O'Flaherty
John O'Flaherty
James O'Flaherty
Karin O'Flanagan
Isobel O'Flanagan
Alicia O'Flynn
Mary O'Flynn
Frank O'Flynn
Alice O'Flynn
Martin O'Gara
Derick O'Gara
Jonathan O'Grady
Olatubosun Ogunleye
Martha O'Hagan
Conor O'Hagan
Donal O'Hagan
Ciarán O'Hagan
Edel O'Hannelly
Sinéad O'Hanrahan
Emma O'Hara
Gráinne O'Hara
Patricia O'Hara
Deirdre O'Hara
Anne-Marie O'Hea
Kathleen O'Higgins
Maeve O'Higgins
Monica Oikeh
Charles O'Kane
Gillian O'Kane
Kathleen O'Kane
William O'Keeffe
Barbara O'Keeffe
Dónal O'Keeffe
Alison O'Keeffe
Michael O'Keeffe
Aishling O'Keeffe
Anna O'Laoghaire
Philomena O'Laoide
Donal O'Laoire
Adefunke Olawale
Bridin O'Leary
Conor O'Leary
Aoife O'Leary
Caoimhe O'Leary
Donnacha O'Loingsigh
Michael O'Loughlin
Darragh O'Loughlin
Conor O'Luanaigh
Kieran O'Mahony
Jane O'Mahony
Rita O'Mahony
Mary O'Mahony
Felicitas O'Mahony
Derek O'Mahony
Eibhlín O'Malley
Rebecca O'Meara
Michael O'Meara
Jennifer O'Meara
Thomas O'Morchoe
Ayodele Onamusi
Marie O'Neill
Mark O'Neill
Shane O'Neill
Donal O'Neill
Maria O'Neill
Máire O'Neill
John O'Neill
Martin O'Neill
Louise O'Neill
Eoin O'Neill
Dermot O'Neill
Collette O'Neill
Finnian O'Neill
Sadhbh O'Neill
Paul O'Neill
Darren O'Neill
Henry Ong
Aillil O'Reilly
Ronan O'Reilly
Aoife O'Reilly
Ann O'Reilly
Joan O'Reilly
Kevin O'Reilly
Rudi O'Reilly Meehan
Tracy O'Riordan
Donncha O'Rourke
Maria O'Rourke
Kieran O'Rourke
Andrew O'Rourke
Julia O'Rourke
Harry O'Rourke
Diane Orr
David Orr
Robert Orr
Trevor Orr
Úna Ortell
Patricia Orzano
Mary O'Shaughnessy
Donall O'Shea
Donncha O'Shea
Peter O'Shea
Eithne O'Shea
Michael O'Shea
Anne O'Shea
Conor O'Shea
Mobolanle Osinuga
John Osman
Hugh O'Suilleabhain
John O'Sullivan
Rachel O'Sullivan
Donal O'Sullivan
Áine O'Sullivan
Joanne O'Sullivan
Stephen O'Sullivan
Niamh O'Sullivan
James O'Sullivan
Aileen O'Sullivan
Mark O'Sullivan
Kevin O'Sullivan
Rory O'Sullivan
Richard O'Sullivan
Patrick O'Sullivan
Dearbhla O'Sullivan
Colin O'Sullivan
Colm O'Sullivan
Katie O'Sullivan
Susan O'Sullivan
Marcus O'Sullivan
Joe O'Sullivan
Jan O'Sullivan
Carmel O'Sullivan
Rory O'Toole
Conal O'Toole
Brian O'Toole
Conor O'Toole
Lynn O'Toole
Niamh O'Toole
Dawn Ovington-Barret
Phillip Owen
Nancy Owen
Michael Owen
Helen Oxley
P
Douglas Parish
James Parker
Susan Parker
Caroline Parker
Miles Parker
Jennifer Parker
Susan Parkes
Rebecca Parkin
Ruth Parkin
John Parkin
Siobhán Parkinson
Janet Pasley
Lynne Pasley
William Paterson
Conor Patterson
Nuala Patterson
Clare Patton
Rachel Paul
Ilya Paveliev Lee
John Payne
Andrew Payne
Susan Pearce
Mark Peard
J.D. Trevor Peare
Patricia Pearson
Raymond Pearson
Jonathan Peel
Gabriel Peelo
Colin Peirce
Heather Peirce
James Pelow
Anthony Penston
Roderick Pentycross
Derek Peppard
Nicholas Perry
Timothy Persson
Mary Ann Peters
Iso Peyer
Sally Phalan
Hugh Pheifer
Maura Phelan
Mike Philcox
Roisin Phillips
Eunice Phillips
Edward Phillips
Vanessa Phillips
Edward Phipps
John Pickering
Nicholas Pickett
Gabriele Pierantoni
Gráinne Pierse
Terry Piggott
Edward Pigott
Ronald Pigott
Brian Pigott
Mary Pike
Matthew Pilkington
Yvonne Pim
Anne Pinzon
Peter Pitkin
Harald Pitschek
Jonathan Plaice
Jack Plimmer
Randall Plunkett
Patrick Plunkett
Susan Plunkett Dillon
Peter Pobjoy
Thomas Pockley
Laura Pollard
Letitia Pollard
Andrew Pomeroy
Louise Pomeroy
Harriett Pomeroy
David Pomeroy
Eoghan Pomeroy
Srisurang Poolthupya
Elinor Powell
Conor Power
Nessa Power
John Power
Christopher Power
Monica Power
Paul Power
Emily Prendergast
Noreen Prendiville
William Prentice
Robert Prescott
Elizabeth Pribul
Norman Price
David Prichard
Guillermo Prieto De Celis
Anna-Rose Prior
Paul Pritchard
Arthur Pritchard
Adam Pritchard
Joan Purcell
Declan Purcell
Estelle Purcell
Aoife Purcell
Andrew Purcell
John Purdy
Kathleen Putney
Q
Hilmary Quarmby^
Dermot Quigley
Patrick Quilligan
Francis Quinlan
Fergal Quinn
Conor Quinn
David Quinn
Emma Quinn
Nuala Quinn
Sarah Quinn
Arthur Quinn
Desmond Quinn
Amy Quinn
Gilliane Quinn de Schonen
Sinead Quirke
R
David Radden
Paul Rafferty
Dónal Rafferty
Alan Rafferty
Jan Rafter
Deenadayalu Ramiah
Zebunnissa Ramtoola
Elena Ranalow
Richard Randel
Lesley Rankin
Ali Raouf
Alice Rapple
Suzanne Rath
David Rathbone
Fergus Rattigan
John Rawlings
Luke Reardon
Siobhán Redahan
Benjamin Redahan
Valerie Redmond
Declan Redmond
Cliff Redmond
Daniel Regan
Lucinda Reid
Michael Reid
John Reid
Fidelma Reid
Joan Reidy
Carmel Reilly
Sarah Reilly
Simeon Reilly
Michael Relihan
Mark Reynolds
Adam Reynolds
Jamie Reynolds
Alfred Reynolds
Neville Rhodes
Brenda Rice
Bill Richards
David Richardson
Michael Richardson
Maximilian Riegel
Joyce Rigby-Jones
William Riley
Mary Ring
Bill Riordan
Ian Robertson
Liz Robertson
Sheila Robinson
Helen Robinson
Anthony Robinson
William Robinson
Maeve Robinson
Daniel Robinson
Camille Rocca
Ciara Roche
Geraldine Roche
Aoife Roche
Nicola Roche
Damien Roche
Óran Roche
Elaine Roche
Jacqueline Roche
Nicholas Roche
Helena Roche
Laura Roche
Ellen Roche
Edmund Roche-Kelly
Sampson Roch-Perks
Eamonn Rodgers
Philip Rodgers
Mark Rodgers
Miguel Rodriguez-Gorman
Maura Roe
James Roe
Edward Roffe-Silvester
John Rogers
Nicola Rogers
Andrea Romaldi
Lynette Ronan
John Rose
Gordon Rose
Mrs Peter Ross
Peter Ross
John Ross Murphy
Peter Rossiter
Angela Rossney
Jane Rothwell
Mary Rountree
Catriona Routley
Victoria Rowan
Joseph Rowan
David Rowell
Daphne Rowell
Rosemarie Rowley
Dave Royer
James Ruane
Darren Ruane
Gerard Rubotham
Michael Ruddell
Gladys Ruddock
Alistair Rumball
Mariachiara Rusca
Daire Rush
John Russell
Raymond Russell
Judith Russell
Peter Rust
Noel Rutherford
Heather Rutledge
Clíona Ryan
Shay Ryan
Fergus Ryan
Sheila Ryan
Emmet Ryan
Seán Ryan
Mary Ryan
John Ryan
Maureen Ryan
Dave Ryan
William Ryan
Bernard Ryan
Martin Ryan
Laurence Ryan
Geraldine Ryan
Marian Ryan
Rachel Ryan
Eoin Ryan
Darren Ryan
Cormac Ryan
Maeve Ryan
Fintan Ryan
Aliona Ryan
Andreas Rydning
John Rynne
S
Ewa Sadowska
Neil Sakac
Thomas Sale
Lucy Salek
John Salmon
Helen Salmon
George Salter
Robert Salters
Corinna Salvadori Lonergan
Cecil Sanderson
David Sands
Diana Sandu
Elaine Sanfey
Grannum Sant
Sean Saunders
Colleen Savage
Tony Savage
Fionnuala Savage
Stephanie Saville
Fiona Scallan
Niamh Scanlan
Andrew Scanlan
Colette Scanlon
Orna Scanlon
Brendan Scanlon
Eileen Scannell
Siobhán Scarlett
Philip Scarry
Carolyn Scharfenberg
Silvia Schmidt
Estelle Schrecker
Richard Schultz
Olive Schwarzschild
Alistair Scott
Dermot Scott
Susan Scott
Valerie Scott
Susan Scott Taylor
Jean Scriven
David Seale
Charles Seelig
Carol Seelig
Balasubramanya Seetharama Rao
Bernard Sellars
Peter Sellers
Margaret Sellick
Orla Sema
Borut Semolic
Clodagh Semple
Nick Semple
Diarmaid Semple
Rodney Senior
Deirdre Serjeantson
Jane Sevastopulo
John Sexton
Derek Seymour
Thomas Seymour
Caitriona Shaffrey
Susan Shafiq
Syed Shah
Timothy Shallice
Peter Shanagher
David Shanahan
Ulrike Shanley
Derry Shanley
John Shannon
Aisling Sharkey
Ronan Sharkey
Sidharath Sharma
Gerard Sharpe
Sarah Shaw
Alan Shaw
David Shaw
Frank Sheahan
Paul Sheane
Jonathan Sheehan
Paul Sheehan
John Sheehan
Eileen Sheehan
Vanessa Sheehan
Jessica Sheehan
Anna Sheehan
Jack Sheehy
Alan Sheehy Skeffington
Derek Sheil
John Sheil
David Sheils
Manu Shekher
Emer Shelley
Declan Sheppard
Elizabeth Sheppard
Judith Sheppard
Melanie Sheridan
Madeleine Sheridan
Michael Sheridan
John-Paul Sheridan
Thomas Sheridan
Linda Sherlock
Maria Sherwood-Smith
Stephen Shillington
Doreen Shivnen
Ruairi Short
Tom Shortle
Patricia Shortt
John Siberry
Richard Sides
John Silverstone
Sheila Simmons
Georgina Simmons
Maurice Simms
Olive Simonin
Rebekah Sinclair
Deborah Singmaster
Sinéad Skelly
Sergey Slashchev
Imelda Sliney
Gabriel Slowey
Trevor Smith
Brenda Smith
George Smith
Brendan Smith
Deirdre Smith
Brian Smith
Robert Smith
Colin Smith
Anthony Smith
Caroline Smith
Bobby Smith
Rosaleen Smith-Dunne
Terence Smyth
Cyril Smyth
James Smyth
Peter Smyth
Brian Smyth
Tony Smyth
Elaine Smyth
Victoria Smyth
Margaret Smythe
Christopher Soikans
Bridget Somekh
Victoria Somers
Paul Somers
James Somerville
Julian Somerville
Irene Somerville
Susan Somerville
Frank Sowman
Alexander Spain
Mary Spain
Nicholas Spare
Kieran Sparling
Anthony Sparshott
Patricia Speakman
Sarah Speers
Brian Spencer
Alain Spitzer
Dick Spring
Neil Squires
Clara Stack
Padraig Stafford
Fiona Stafford
Emmet Stafford
Linda Stafford
John Stamp
Robert Stamp
Gully Stanford
Philip Staniland
Wayne Stanley
Ursula Stapleton
Michael Starr
Brian Staunton
Patrick Staunton
Triona Staunton
Clare Stead
Phyllis Steeves
Bettina Stefanini
Amelia Stein
Patrick Stephens
Richard Stephens
Colin Stevenson
Christopher Stevenson
William Stevenson
Aidan Stewart
Rowan Stewart
Rory Stewart
Guy Stock
Peter Stocken
Ruth Stokes
Patrick Stokes
Alan Stokes
Elaine Storey
Michael Storry
Elizabeth Stoutt
Ronan Strain
Tim Street
Roger Strevens
Edwin Stringer^
Stephen Strong
David Strong
Elizabeth Strong
Ellen Stuart
Diana Stuart
Angela Stubbs^
Martin Studdert
Brian Studdert
Patrick Sullivan
Mark Sullivan
Michael Sullivan
Edmond Sullivan
Hayley Sullivan
Detlef Sulzer
Patricia Summers
Nel Sung
Amanda Sutton
Jeanne Sutton
Patricia Swan
Alan Swan
Laurence Swan
Loughlin Sweeney
David Sweeney
Deirdre Sweeney
Orla Sweeney
James Sweeney
Jacqueline Sweeney
Barbara Sweetman FitzGerald
Elizabeth-Anne Swift Redding
Marie Swindells
John Sydenham
Douglas Syme
Glascott Symes
Lydia Symonds
John Symons
Adam Synnott
Keith Synnott
T
Silvia Taddei
Haruko Takakuwa
Loon Tan
Fionnuala Tansey
Barbara Tarrant
Pamela Taverner
Genevieve Taylor
Alan Taylor
Gillian Taylor
David Taylor
Reggie Taylor
Louise Taylor
Louis Tedesco
Ciara Teeling
Joyce Temperley
Harold Templeton
John Terry
Patrick Theiner
Vasiliki Theofilopoulou
Markus Theumer
Rhys Thomas
Peter Thomas
Minu Thomas
Peter Thompson
Kevin Thompson
Neil Thompson
Hugh Thompson
Richard Thompson
Lucinda Thomson
James Thomson
Richard Thorn
Brian Thorpe
Hilary Thursby
Paul Tibbitts
Eleanor Ticher
Shane Tiernan
Raymond Tierney
Adrian Tierney
Michelle Tierney
Elizabeth Tierney
Maeve Tierney
Rebecca Tighe
David Timmons
Michael Timms
Oisín Timoney
Siobhan Tinsley
Crawford Tipping
Keith Tipton
Siobhán Toale
Conor Toale
Bridie Tobin
Siobhán Tobin
Riccardo Tomacelli
Gerald Tomkin
David Tomlinson
Ashling Toner
Daniel Tooley
Aoife Torpey
Suzanne Tosolini
Hilary Towers
Anita Townsend
Fidelma Trant
Maria Treacy
Jane Trenaman
Daniel Trimble
Rosemary Troy
Mary Tubridy
Derek Tucker
Isobel Tucker
Marie Tuffy
David Tuite
Ross Tuite
Margaret Tuite McDonnell
Freddie Tully
Shu Tung
Mary Turley-McGrath
Beverly Turner
Sylvia Turner
Tom Turpin
Sheila Turpin
Daniel Turpin
James Turtle
Michael Tutty
Richard Twigg
Margaret Twohy
John Tylor^
Malcolm Tyrrell
Aidan Tyrrell
U
Tara Grace Ui Adhmaill
Máire Uí Bhroin
Brenda Uí Chathasaigh
Vivian Uíbh Eachach
Sarah Upton
Deborah Uttley
V
Isabel Valera Martínez
Jan van Blankenstein
Sarah Van Schaak
Alexander Vance
Beatrice Vance
Ernesta Varaskeviciute
Mary Varley
Austin Vaughan
Patrick Vaughan
Stella Vehse
Eswar Vemulapalli
Helen Vendler
Daria Verjans
Maria Victory
Michael Viney
Síona Vizzard
Marianna Vlas
Alexandre Von Rakowski
W
Sally Waddington
Anita Wade
Nuala Wade
Mark Wade
Sinéad Waldron
Richard Wales
Sunil Walia
Raymond Walker
Hilda Walker
Frederick Walker
Annette Wallace
Joseph Wallace
William Wallace
Patricia Wallace
Emily Wallace
Michael Waller^
Gerry Walsh
Cecilia Walsh
Niamh Walsh
John Walsh
Daniel Walsh
Anna Walsh
Dermot Walsh
Kieran Walsh
Bill Walsh
Kilian Walsh
Michael Walshe
Brian Walshe
Janice Walshe
Barbara Walshe
Camilla Walters
Sandra Wang
Shu Wang
Catherine Wann
Raymond Warburton
Sarah Ward
Diarmaid Ward
Bernard Ward
Kerri Ward
Owen Ward
Donal Warde
Richard Warnecke
Robert Warner
Eileen Warren
Erika Warren
Loftus Warren
Charles Watchorn
Ruth Waters
Margaret Waters
Charles Watson^
Richard Watson
David Watson
William Watt
Kevin Watters
Michael Watts
Peter Waugh
Mary Weakliam
Robert Webster
Stuart Webster
William Weir
Peter Welch
Manfred Weltecke
Christine West
Alan West
Margaret West
John West
Jennifer Westcott
Stephanie Wheat
Joseph Wheatley
Bernadette Wheatley
Edward Whelan
Sheila Whelan
Ann Whelan
Bernard Whelan
Anna Whiston
Piers White
Gary White
Roger White
Patrick White
Stephen White
Richard White
Arthur White
Elizabeth Whiting
Raymond Whitney
Mark Whitty
Oliver Whyte
Hilary Whyte
Deirdre Wiggin
John Wiggins
Cynthia Wilde
Gillian Wiley
Jane Wilkinson
Teresa Willcocks
Alwyn Williams
Jane Williams
Martin Williams
Brian Williamson
Gordon Wilson
Andrea Wilson
Valerie Wilson
Godfrey Wilson
Margaret Wilson
May Wilson
Anthony Wilson
Eva Wilson
Caroline Wilson
Marilyn Wilson
Robert Wingate
Gloria Wingfield
Alan Winter
Catherine Wiseler
Conor Wogan
Jack Wolfe
Michael Wood
Richard Wood
Eileen Woodbyrne
George Woodman
Anne Wood-Martin
Helen Wood-Martin
Catherine Woods
Conor Woods
Robert Woods
Veronica Woolhead
Sarah Wrafter
Carmel Wright
Mark Wright
Shelagh Wright
Barbara Wright
John Wright
Jane Wright
Patrick Wulliamoz
Liam Wylie
Mary Wymer
Margaret Wynne
George Wynne Willson
X
Y
Freda Yates
Charlotte Yeates
Siauping Yeung
Fooi Yong
Adrien Youell
Jeremy Young
Robert Younger
Z
Abdul Zaheer
Colette Zaidan
Charles Zarb
Sarah Zarebinski
Nicholas Zavos
Ran Zhang
Liyan Zhao
Xiang Zhou
Roz Zuger
Corporate Donors
A&L Goodbody
Abbott Laboratories Ireland Ltd
AbbVie Limited
Accenture
Anne Heraty
Apple Computer International
Arthur Cox
Arup Consulting Engineers
Avolon Aerospace Leasing Ltd
Bank of America Merrill Lynch
Bio-Sciences
Brodericks
Carrick Therapeutics
CarTrawler
Clanwilliam Health
Corvil
Credit Suisse
Davy Stockbrokers
Deloitte Touche Tohmatsu
Deutsche Bank
eir
ESB International Ltd
EY
Foreign Exchange Company Ireland
Google Pittsburgh
GOS Real Estate Agents
Grant Thornton
Guggenheim Partners Europe Ltd
HSBC Ireland
IBM Ireland Ltd
ICON Plc
ICS Skills
Intel Ireland Limited
Investec Capital & Investments (Ireland) Limited
IPB Insurance
Irish Jobs
Irish Life Investment Managers
Irish Life plc
Jenkinson Logistics
Jones Engineering Group
Joynt & Crawford Solicitors
JP Morgan Bank (Ireland) plc
Kinsale Capital Management
KPMG
Linklaters LLP
Maples and Calder
Mason Hayes & Curran
Matheson
Maxim Integrated Products
McCann Fitzgerald Solicitors
McCullough Mulvin Architects
McKinsey & Company
Microsoft Ireland (Sales Marketing & Services)
Morgan Stanley Fund Services (Ireland) Limited
Morgan Stanley London
Novartis Ireland
Novartis U.S.A
Ovelle Pharmaceuticals
Paragon
Pearson Partners
Permanent TSB
Perrigo Pharma International Designated Activity Company
Pfizer
Pioneer Investments
PJT Partners
Price Waterhouse Coopers PwC
Redburn
Robert Half Finance & Accounting
Roche Products Ireland Ltd.
Rugby Legends Wallace Brothers
Salesforce
SMBC Aviation Capital
Sports Surgery Clinic
St Crispins Bridge Club
Stichting ALS Nederland
Susquehanna
Tata Group
Total Produce Ireland Ltd
Vantage Point Global
ViClarity
Walls to Workstations
Wiiya International Ltd
Trusts & Others
Arthritis Ireland
Beaumont Hospital
Benevity Community Impact Fund
Blackstone Charitable Foundation
Bone Marrow for Leukaemia Trust
Buckley Foundation
Chester Beatty Library
Children's Medical & Research Foundation
Department of Arts, Heritage and the Gaeltacht (DAHG)
Dublin City Council
Dublin Rotary Club
Friends of A
Goethe Institute
H.W. Wilson Foundation
Health Research Board (HRB)
Irish Aid
Irish American Partnership
Irish Motor Neurone Disease Association
Nathan and Lily Silver Family Foundation
O'Brien Clan Foundation
Oldcastle Motor Neurone Fundraising Committee
Research Motor Neurone
Sceptre Foundation
Science Foundation Ireland
Social Innovation Fund Ireland
Sofia University
SOLAS
St. James's Hospital
St. James's Hospital Foundation
TCD Alumni Association Kildare Branch
* Some names have not been listed as the donors wish to remain anonymous.
^ Deceased