Trinity Access – Transforming Education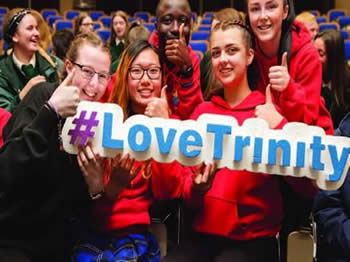 Trinity Access works with primary and secondary-level schools to empower and inspire students and teachers and to encourage and strengthen 'college-going' cultures in communities that have been under-represented in third-level education. Inspiring Generations will enable Trinity Access to build on 25 years of ground-breaking success and evidence based research with a three-part plan to:
Scale outreach programmes to reach over 40,000 students across 100 schools nationwide;
Develop a Trinity Learning Lab on campus to build outreach and new educational models;
Strengthen the support provided to Trinity Access students after they enter the College.



Support Inspiring Generations
Help us inspire many future generations of brilliant thinkers. Please join the alumni and friends of Trinity in supporting Inspiring Generations, the Campaign for Trinity.