Rev Dr William O'Neill (Papa)
Obituary

Papa with Miss Anne
Rev. Dr William O'Neill (Bill or Papa) was born almost 100 years ago, the eldest of nine children, on the 5th of July, 1924, in Woodvalle Park near the top of the Shankill Road in Belfast to parents Sophia Dyer and John O'Neill.
Papa was a storyteller; he and I have been pen pals for years, exchanging "gossip", as he called it, via email, so I thought it was only fitting to pepper this story with some of his own words, which I'm sure he wouldn't mind me sharing.
Papa finished school at just 14 to pick up work and help support his mother, father and siblings.
He went on to have quite literally the most extensive CV I've ever heard of, a CV that would impress any millennial with its eclectic range.
He kicked off this eclectic career as a butcher boy, where he learned the art of tying sausages that could, in his estimation, proudly adorn the shelves of Lidl or Aldi today (he didn't make any comment on Superquinn). His job was to deliver sausages by bike to the residents of the Shankill and beyond. His boss, a regular old Scrooge, paid him 10 shillings a week with the loan of his own bike and deducted 4 pence as insurance – a deduction that still rankled some 80 years on.
His butcher boy days were short-lived, and he moved onwards and upwards into the local Emerson Mill, managed by his father, John. He did a stint at Harland & Wolf and later made 2-pounder shells for the war effort in a factory off the Falls Road. He then worked in the local fire brigade, collected the dead from the streets of Belfast during the Blitz; made bolts and screws that adorned bombers set for Germany; became a qualified ironturner; and, perhaps my favourite, became a travelling timekeeper – for which he cycled around Belfast to ensure the clocks were correctly set.
While maintaining his travelling timekeeper duties, Papa began studying Greek and Latin at Queen's University, Belfast preparing to take the entrance exam for a Bachelor of Arts at Trinity College Dublin. He travelled to Dublin for the occasion, and, with his characteristically Presbyterian practicality, he packed himself a selection of sandwiches for the journey south. He passed his exam with flying colours, of course, and began a long association with Trinity – from which he would later receive his doctorate.
But first came a stint in New York, where he went to the famous Union Theological Seminary on a Fulbright scholarship, living in the beautiful Hastings Hall. There, he took a masters degree in sacred theology. During this time, he made a brief appearance on Broadway, his name in lights as he performed several Sunday services in the Rutgers Presbyterian Church on 73rd street.
A loving son - he wanted his mother, Sophia, to visit him in New York, his father had passed away at just 47 during Papa's first year at university, and his mother had had a very tough time of it. To save up, Papa once more demonstrated his range of skills and opened a barbershop in his flat, cutting hair for a dollar and gaining the nickname "Sweeney Todd" in the process. Sophia travelled to New York by plane and, per Papa, "could talk of nothing else for weeks". They spent the summer travelling through New York, Washington and Boston.
Papa returned from New York and joined the RAF. He served as a chaplain for four years across Wales, England, Cyprus and Iraq. He wore his RAF baseball cap with aplomb for the last 50 + years. My lasting memory of Papa will be of him in it.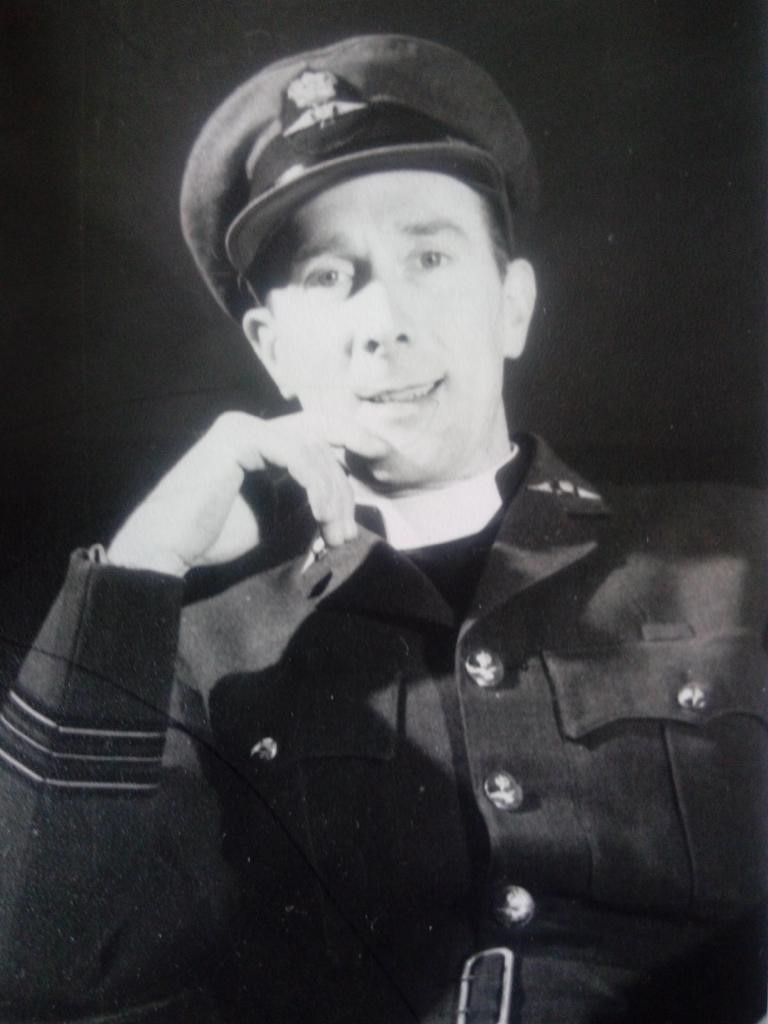 Papa only had eyes for my Nana Madge and, in much later years, the television historian Lucy Worsley. Madge and Bill met at their mutual music teacher's afternoon soiree in Belfast in 1959; Madge had been invited over to show off pictures of her recent 5-year stint in Australia, Bill had called around to say hello and was immediately smitten. He wrote of this first meeting to me in May 2020:
She was a very attractive young lady, a school teacher, and a person with initiative and courage. The little party broke up, and, displaying that initiative, she offered to drive me home.
They were soon writing letters to one another; according to Papa, she wrote "I love you" first – my Nana always begged to disagree. But he told me that "the idea that a young woman like Madge had shown an interest in me had to be responded to. I was soon off to her house and in no time was, as the saying goes, 'keeping company with her'."
They drove to Drogheda to pick up an engagement ring and were married in February 1960. Papa's description of their day is rather lovely,
We were married in Drumbo Presbyterian church by Barkley Wallace, Madge's minister and my friend and minister, Alfie Martin. My best man and colleague turned up in full clerical dress. Madge was most attractively turned out and so happy looking. We made speeches and a very special cake was cut by Madge and myself. Madge was so excellent in arranging for photos and cars that all went so very smoothly. We left after good wishes from the gathering; Madge was so popular it was difficult to prize her from handshakes and embraces.
Nana and Papa were married for 55 years.
After three years amongst their congregation in Athy, County Carlow, Bill and Madge moved to their beloved Howth, where Papa was to be the new minister for Howth and Malahide, and they were to settle into family life with their three children; Michael, Anne and David.
Papa served in Howth and Malahide for 37 years until his retirement in 2004. Nana was a much loved teacher at Sutton Park School for over 25 years. Papa had a great interest in the news – he was a founder member of the Irish Council for Radio and Television Affairs and, proudly, one of the longest contributors to The Irish Times ever, writing the Presbyterian Notes for over 55 years – we think it's almost certainly a record.
Papa was such a lover of reading and history, especially Irish history. He often told us that he would haunt us if one of his grandchildren doesn't write a book on his great hero, the pioneering Home Ruler, John Ferguson. He loved political and religious debates with anyone who would listen, trips on his boat, the 'Miss Anne', around Ireland's Eye, weekly gatherings over a sherry with his old pals, his very old and tattered Trinity scarf, sunbathing, football, a good murder mystery, gardening, his greenhouse, Howth, his grandchildren, his family and his congregation.
My Nana Madge passed away in January 2015, and my Papa was devastated, as we all were. Despite his grief - Papa carried on a full and active life – walking his beloved pier, entertaining his friends and spending time with his family but he really hated getting old and, in recent months, had begun to lose his eyesight. Unthinkable for such a scholar who loved to read and write so much.
I'm not sure that Papa believed literally in everything that the church teaches us, but I know that he and my Nana are reunited now, my Nana scolding him for being late or going over time on one of his sermons, him asking what she had in mind for the evening meal, they'll be drinking gin and tonics or pouring sherries with their noses up to the sun planning their next adventures together, as they should be.
I read recently that everything we say at funerals should be said at birthday parties instead, we leave so much love unspoken. So as we get closer and closer to what would have been my Papa's 99th birthday, I'd like to take this opportunity to say that my Papa was one of a kind, a great man and a loving man - and he will be very, very much missed.
Rebecca Bell, granddaughter