Helen Shenton, Librarian and College Archivist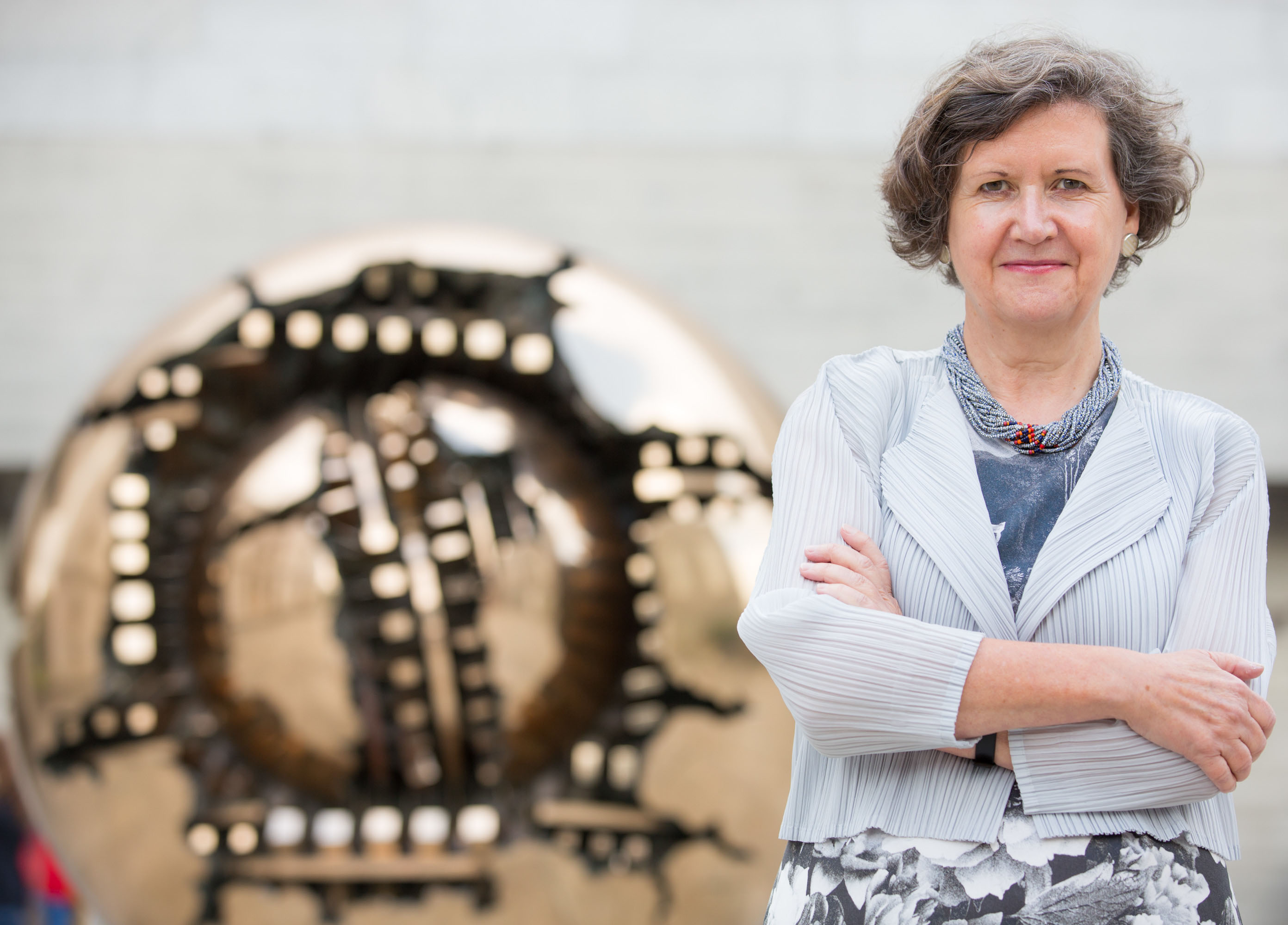 "Our vision is to develop our great Library as a resource of international importance in both the physical and virtual realms and to ensure its enduring impact in the world. Your generosity will help lay the foundations for an exciting new conservation programme within the Old Library over the next decade, enabling this generation to discharge its duty to safeguard this wonderful building and its unique collections for the benefit of generations to come."
Save the Treasures of the Long Room
The Library of Trinity College Dublin is one of the great libraries of the world. It is renowned for its unique buildings, beautiful interiors and for the distinctiveness of its collections. Today the Library has six million volumes with extensive collections of journals, more than three-quarters of a million maps and vast collections of manuscripts and music. It is the largest library in Ireland and is one of Trinity's greatest treasures, attracting nearly one million visitors and scholars from all around the world every year.
In 2005, we asked alumni and friends of Trinity to help us Save the Treasures of the Long Room by contributing to a special conservation fund. The support given to this project has allowed us to achieve so much. We have designed, tested and implemented a programme that has enabled the treatment of nearly 50% of this collection.
This year is a pivotal moment in the Library's history as we are preparing to launch a new, major phase of this vital conservation programme. This will sustain the work we started to preserve and stabilise our extensive collections and will also lay the foundations for our critically important and ambitious venture to improve the environment for the collections in the Long Room. Now more than ever, the Library needs the support of our alumni community. We need your help to ensure that Trinity can continue its long tradition as a guardian of human knowledge by conserving our great Library and its iconic treasures for the world.
What your gift can do
Support from Trinity's alumni and friends will be pivotal to the future success of the Library conservation programme and will greatly enhance our ability to secure funds from other sources.
There are many ways in which you can support us:
You can contribute towards cleaning and stabilising books in the Long Room.
You can help to purchase essential equipment for the conservation laboratory.

You can assist us in digitising our rare books, providing online access to people everywhere.
You can provide support for a conservation student.
Legacies to the Library
The Library has benefited enormously from legacy gifts through the centuries with some of the greatest benefactors being the College's own community. Former Trinity Librarian Mary 'Paul' Pollard's legacy of a unique collection of over 10,000 children's books acquired over her lifetime has hugely enhanced the study of children's literature in Trinity. A gift in your will is a generous, farsighted act that will benefit and enhance the Library for years to come. Please contact us to find out how your legacy can make a difference.
To find out more about our library appeal or to learn how you can get involved please contact Eileen Punch via phone on +353 1 896 1714 or email eileen.punch@tcd.ie
Supporters
We would like to express our sincere gratitude to everyone who has donated to our library appeal to date.
Library Appeal Donors
Robin A Agnew
Philip W Allen
David H Allen
Beryl I Anderson
Jonathan W Bailey
Ita Beausang
Eleanor S Belcher
Albert G Bell
Rachel C Benson
Catherine J Bent
Claire M Besnyoe
Peter J Blackburn
Claire J Blennerhassett
John Blevins
Marie Bourke
Barra R Boydell
Arnold T Bradshaw
Anthony W Bradshaw
Harold Brenner
Hugh A Brewster
Philip C Brooks
Patricia A Butler
James P Byrne
Rosheen Callender
Gilbert J Carr
Hugh B Carslake
Marjorie E Chambers
Jonathan E Chawke
Alexander Chestnut
William N Christie
John R Clark
George Clarke
Olive C Coleman
Gerard Conroy
Robert K Corrie
Samantha N Corrigan
Ronald C Cox
Ivan V Crampton
Lawrence J Crane
Jennefer A Crosbie
George H Cudworth
Séan Ó Curraoin
Pauline W Dalzell
Irene Dehaene
Anne-Marie Diffley
Rory M Dooley
Deirdre I Dorman
David E Dorman
Michael J Dowd
Catherine Dowling
John M Downey
Brian E Dowse
Ruth M Doyle
Ann E Duffy
Aquinas T Duffy
Paul V Duffy
Yvonne M Duggan
Edwina M Dunn
Gerard F Dunne
James R Evans
Mary A Fergus
Ronald N Ferguson
Christopher L Fitz-Simon
Aubrey M Flegg
Valerie C Fletcher
Petros S Florides
Petros S Florides
Jacqueline A Fogden
Barbara S Fuller
Carol M Fulton
Anthony J Furlong
Paul M Garvey
John G Gibson
Elizabeth A Gordon
Peter H Gray
Thomas W Griffiths
Helen M Grimes O'Cearbhaill
Desmond W Guinness
Alec F Harden
Natasha Harty
Dominick W Hemeryck
Rosalie H Henry
Carol A Holland
Talya Housman
Máireád T Hughes
George L Huxley
Rupert Indar
Anthony J Jamison
Joseph G Keating
Hilary J Keatinge
Gerard D Kelly
Brenda M Kelly
Robert A Kerr
Maurice A Knox
Christopher Knox
Pamela R Lages
David W Laird
Lisa Lambert
Huntly S Lauder
Norman A Lauder
Joseph F Lavery
Karlin J Lillington
Bertram Livingston
Gavin D Lloyd
Terence E Lovett
David J Lyons
William H Magowan
Irene J Mawhinney
James J McAleer
Carl P McCann
Dominic McEvoy
Aine M McGrath
Charleen McGuane
Pauline M McHenry-McGarry
David P McKay
James G McKenna
Dermot D McMahon
Hamish M McRae
Jane E Montgomery
Gerard F Moran
William O Morrissey
William N Mullan
Jean Mullen
Henry J Murdoch
Verity E Murdoch
Raymond F Murphy
Adrian P Naughten
Edward C Newmark
Crístín M Ní Éanaigh
Nicholas J Nightingale
Juliet E Nowlan
Gearóid Ó Clérigh
Anthony J O'Carroll
Dermot C O'Connor
Eugene A O'Connor
Hilary C O'Donoghue
Louis A O'Flaherty
Barbara P O'Keeffe
Maria B O'Neill
Ann M O'Reilly
Diane I Orr
June E Palmer
Caroline A Parker
Janet E Pasley
Mary E Pike
Thomas G Pockley
Letitia C Pollard
Conor M Quinn
John B Rose
Peter J Ross
Angela S Rossney
Noel Rutherford
Heather E Rutledge
Cormac Ryan
Andreas Rydning
Eda Sagarra
Carolyn Scharfenberg
David C Shaw
Hillas G Smith
Hillas G Smith
Hillas G Smith
Hillas G Smith
Hillas G Smith
Rosaleen Smith-Dunne
Julian J Somerville
Jonathan O Speers
Alan K Spence
Ian S Stevens
Christopher J Stevenson
Loughlin J Sweeney
Barbara P Sweetman FitzGerald
Dorothy A Talbot
Reginald D Taylor
Gillian M Taylor
Minu Thomas
Eleanor M Ticher
David B Tomlinson
Shu W Tung
Thomas D Turpin
Michael Greer Walker
Loftus J Warren
Melissa D Webb
Stephen L White
Mark F Whitty
Jane M Williams
Martin Williams
Marilyn E Wilson
Barbara Wright
Charles A Zarb