Part-time work for students
Student Jobs
We hire Trinity students for many roles within Trinity Development & Alumni ,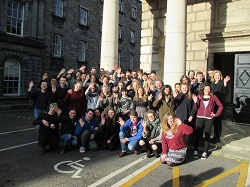 including telephone fundraisers, admin support for campus events and database and IT projects.
Overview of role opportunities at Trinity Development & Alumni
Telephone fundraisers
Our Alumni Appeal phone campaigns engage with Trinity graduates, highlighting the benefits and services available to them and generating funds for a range of projects, scholarships and research across the University. Phone campaigns typically take place in autumn and spring and are a great opportunity to develop a range of skills.
Admin support for campus events
We host numerous events throughout the year for our alumni and friends and often have part-time roles for students within our event team, including registration support, event setup and photography.
Database and IT projects
With an increasing number of alumni each year and a growing office, we carry out several key database and IT projects where students can support the success of these.
We have no current vacancies. Keep an eye on this page for future emplyoment opportunities