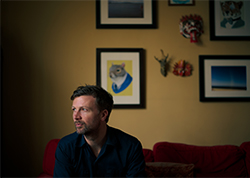 Name: Paul Noonan
Trinity Qualification: B.A., B.A.I. (1995)
Title: Lead vocalist of the band Bell X1
About: Paul Noonan played with the Alternative-Rock troop Bell X1 throughout his Trinity days. Since graduating the band have released several successful albums and are second only to U2 as Ireland's most popular rock band.
What is your fondest Trinity memory?
Having been to boys-only schools till then, I do remember walking through the front gate early on and being walloped by the sense of newness and excitement of it all - the hustling and cat-calls of the various Society stalls, the leafy oasis in the busy city centre…
When and why did you start to sing?
Songs were always there at home, and I started playing music (Recorder! Bam!) when I was 10. There have always been songs that come along and grab me and to which I'll listen obsessively for a while, maybe sing along… I suppose I then made the leap to writing my own.
How did you get together as BellX1?
We met in secondary school, forming firstly as Juniper, playing at friends' parties and our graduation ceremony I believe. All four of us from that line-up started at Trinity together, and we continued playing during our time there, including a Battle of the Bands in the Buttery!

What has been your greatest challenge working in the music industry?
Ha! I suppose it's been trying to make good work from album to album, for all of us to feel invested and that we can stand over what we do. The industry has changed hugely in our time and we've become a pretty resilient self-sustaining yoke...
What has been your proudest achievement so far?
That we're still here, doing it. When we get a message from someone for whom we are a band that's been part of their fall for music, I'm reminded of my own journey - listening to REM when I was 18 or 19... it's such an intense time, those first throes of how music hits us, knowing we'll be wed for life!
What are you looking forward to most about performing in College Park this week?
We haven't played in a while, so to play again will be wonderful - though I fear I may be overcome by memories of my time there and get soppy. I have a very fond memory of an evening drinking and making happy outside the Pav, I think it was when the final exams finished, on a balmy Dublin evening and the star-cloth thrown back.
What gets you up in the morning?
Making the kids damn lunches…
Who would you invite to your dream dinner party?
I do enjoy a dinner party, though am often and maddeningly stressed about the small matter of making the food, until a little drunk. I certainly wouldn't want any of my (unmet) heroes or otherwise persons of note to have to deal with that.
What advice would you give to budding musicians?
Control the means of production! I think learning to record well is as important as playing an instrument or writing songs. 'Cos if it's good, you can get it out online and people will come.

What's next for BellX1?
We go on tour with Tori Amos doing the posh Concert Halls of Europe in September.

How do you stay connected with Trinity as a graduate?
I occasionally wander through the campus, wistfully reminiscing about my time there, enjoying the immovability and grandness of the buildings, probably boring my children a bit until we get to the Science Gallery…

*We are delighted that six alumni and students (Anne McDonald, Claire Nicholl, Ciara Hackett, Sinead Bracken, Cathal O'Connor and Chris Murray) have won tickets to the upcoming Summer Series Concerts that Bell X1 will be performing at.