Interviews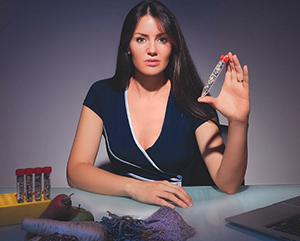 Name: Dr Nora Khaldi
TCD Qualification: Ph.D. in Bioinformatics and Molecular Evolution (2008)
Title: Founder and CSO at Nuritas
About: Nora is a mathematician with a PhD in Molecular Evolution and Bioinformatics. Nora's research has focused primarily on protein evolution and comparative genomics. Throughout her career, Nora's ambition has been to disrupt the status quo in areas that have been void of technology by introducing new ways of thinking, big data, and new algorithms.
What was your childhood ambition?
I wanted to do something I enjoy. I loved science so I wanted to be a scientist.
What made you decide to do your Ph.D. in Bioinformatics and Molecular Evolution at Trinity?
My background is pure maths and I was always a huge fan of biology so I was looking for something that could combine both disciplines which are usually very separate. Bioinformatics was the perfect field as it combined my passions of mathematics, biology and computer science.
What was your inspiration for founding Nuritas?
I really wanted to truly transform and improve the health of billions of people around the world. By reducing the cost of the discovery and development of therapeutic ingredients, I felt I could help people prevent, manage, or cure many of their diseases and, ultimately, help create cost-effective solutions for all.
How has Nuritas developed as an organisation since 2013?
I left college in early 2014 to found Nuritas and since then we have made huge leaps. The company went from employing only myself to a current team of just under 20 people and we are now constantly hiring. We have our own laboratories and have invented and discovered some incredible new therapeutic peptides, filed many patents and have started many clinical studies. We have received major international investment and increased the global awareness of Nuritas. We have also won some incredible international awards such as the Forbes Reinventing America Award which recognised the global impact our technology will have on the future of food and health.
What has been your greatest professional achievement to date?
I don't think in those terms, my goal is to globally advance health and help people around the world to access therapeutic ingredients that can help them prevent disease, live healthier for longer, and manage or cure disease. And until I have reached this goal I feel that I have not achieved all that is possible.
What do you love the most about your work?
Great science, cutting-edge ideas, going from a computer prediction to a tangible disease-beating ingredient that we make in our laboratory which has a very specific health benefit.
What research projects are you working on at the moment?
Developing peptides with very specific targets in the human body. In other words, we are identifying food peptides that would have an effect on particular receptors within the body, which in turn will have positive downstream effects on our health.
What do you enjoy doing in your leisure time when you are not making ground-breaking scientific discoveries?
Drawing, painting, rollerblading, dancing and swimming (a little too cold in Ireland though!).
What advice would you give to science students considering a career in research?
If you like a monotonous job then science is not for you. It's different every day and I love the variety of it. You're inventing the future definition of things. Science projects are usually new and you can't just Google to find an answer. It's a tough area, and if you are not a 100% committed it's a very competitive and hard area to develop in. However, if you are committed and good at what you do it's a great ride.