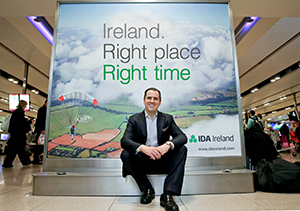 Name: Martin Shanahan
TCD qualifications: B.Sc. (Mgmt.), M.A. (1994)
Title: CEO of IDA Ireland
What do you enjoy most about your work?
I enjoy the variety and constant challenge of my very busy role as CEO of IDA Ireland. There is no such thing as a typical day. If in Dublin I will be in the office from 7.30am. My days are a mixture of marketing Ireland to potential investors, working with existing client companies, managing the organisation and interacting closely with Government. I have no set finishing time – lots of evenings and weekends are taken up with travel, client meetings and events.
In your role of CEO of IDA what has been your biggest challenge?
Trying to find the time to do all of the above! To be serious though, I would say that the competition for Foreign Direct Investment (FDI) has increased in recent years. Ireland competes with jurisdictions across the globe, cities of scale with bigger populations so winning new investment will always be a challenge and we will never be complacent about that. What we have to focus on when making the case for Ireland in boardrooms around the globe is Ireland's key strengths – a vibrant talent pool, a track record, a stable tax regime, clusters of activity and increased competitiveness.
What achievement are you most proud of?
I was CEO of Forfás – Ireland's Policy Advisory Agency on Enterprise, Trade, Science, Technology and Innovation from 2010 to 2014. It was a very challenging time for Ireland. I would like to think that some of my advice on the enterprise and job agenda helped to make a difference.
In your opinion what are the top three attractions for international companies setting up in Ireland?
There are a range of factors, but I would start with the ability to source talent as a key driver in Ireland's success, which combined with Ireland's strong track record of attracting global companies, makes a compelling case for FDI. This is underpinned by our strong tax offering, which rests on a central pillar of a 12.5% tax rate.

These three factors are supplemented by the ease of doing business here in Ireland, the education system and our access to European markets. The proof that these factors continue to resonate with investors can be seen in Ireland's recent inward investment statistics. IDA Ireland client companies have the highest level of employment in the agency's 67 year history at present, with total employment at overseas companies now standing at 187,056 people.
The Trinity alumni network extends over 130 countries worldwide. Why is having a global network so important in business?
IDA has 19 overseas offices, from Boston to Tokyo. We are in the marketplace meeting companies every day and telling them the Irish story. Our executives literally pick up the phone to potential investors and get meetings with key influencers in these companies. IDA executives use their connections and relationship building skills to get to the decision makers and these relationships are nurtured over time for months, or years in some cases, until the investment decision is made in favour of Ireland. That relationship is then carried over to Ireland. The relationship between Ireland and overseas companies has stood the test of time, with the numbers providing compelling evidence; there are over 187,056 people employed in foreign-owned enterprises in Ireland. The relationship has benefitted both Ireland and our valued investors, and the evidence for this is in the experiences of individual firms who have come here, many of whom have linkages with Ireland over many decades.
How do you like to spend your free time?
I try to get to the gym or swim during the week but sometimes the schedule simply won't allow it. I really enjoy hosting dinner with friends at home. I also enjoy reading and GAA.