Interviews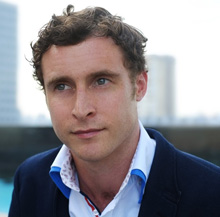 Name: Jonathan Cloonan
Degree/Masters: BA (2007) Economics & Social Studies
M.A. (2007) Business, Politics

Tell us a little bit about what you are currently up to?
I'm very lucky. WPP, the world's largest marketing communications group, hired me three years ago and I've worked in our advertising and media agencies on almost every continent ever since. Right now, I'm in NYC. For the last six months, I've been working as a digital strategist in Ogilvy, our biggest ad agency and for the rest of 2013, I'll be working in VICE Media who we invested in last year. VICE are the fastest growing youth media company in the world and are widely known as the next MTV so I'm thrilled to be here. New York feels like the centre of the media world. There is always something exciting going on. I'm incredibly busy but loving it.
To get the attention of WPP you started a blog about the company and took the WPP Fellowship Twitter handle. Do you think that people need to be more creative and daring in order to stand out from the crowd when it comes to applying for positions?
I think it's case-by-case and industry-by-industry. Advertising is a creative industry so it made sense to take a creative approach to stand out from the crowd…especially when 2,000 other candidates were gunning for the same role! I doubt that the same plan would have worked for an accountancy firm or a solicitors office. However, unemployment is off the charts at the moment so I do think it's important to differentiate yourself in some way to get noticed.
As part of the WPP Fellowship Program you have worked on three continents, which is your favourite and why?
Asia was particularly fascinating. I was based in Singapore and constantly traveled all over South East Asia and China for meetings with my clients. I was blown away by the economic growth over there. The work dynamic is interesting in Asia as, for the most part, there is a strict hierarchy and a incredibly respectful work manner which is very different from the more aggressive work environment of NYC or LA.
What did it mean to you to be named in Forbes magazine's 30 Under 30 list of young innovators and entrepreneurs?
I was really honoured and massively humbled. I have so much respect for the other people on the list, so to see my name listed beside Mark Zuckerberg, Lady GaGa and Rory McIlroy was surreal, to say the least. The listing also attracted attention to a 'medutainment' TV show in Vietnam that I created and, as a result, it looks like the show is being commissioned in China and Taiwan so I've seen the benefits pretty quickly.
What is the most useful piece of advice you've ever received?
I'm a huge believer in following your passion, whatever that may be. It's not about salary, job title or pleasing anyone else; it's about finding what it is that you love to do. Once you figure that out and work hard, success (however you define it) will follow.
What are your Top 3 Desert Island Discs?
Any of the Fight Like Apes albums
Arcade Fire – The Suburbs
Nirvana - Unplugged in New York
What are your plans for the future?
I definitely want to stay in the creative world and within marketing communications. I love trying to solve problems for brands, or the larger world, using creativity. Advertising and media allows me to do this everyday. Above all though, I just want to be happy and healthy. Anything else is a bonus.