Interviews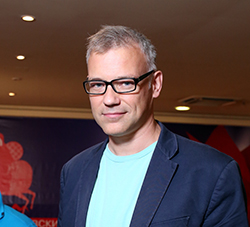 Name: Johnny O'Reilly
Degree: B.A. Russian (1994)
About: Writer, Director, Producer. Films include Moscow Never Sleeps, The Weather Station, Co/Ma (Documentary).
What made you decide to study Russian in Trinity College?
Back in 1989, when I was filling out my CAO form, Russia was very much flavoUr of the month. Gorbachev and Reagan had just ended the Cold war in Reykjavik, and the world's attention was turned on this massive country which was finally opening up after years of suppression. Like the rest of the world, I knew that the future of Russia would be interesting, so I signed up to study it in Trinity. To the delight of our class, the Berlin wall came down only a month into our first term and our Contemporary Russian Politics class became the "what's happening right now in the news" class.
What do you remember most about your time in Trinity?
During my first two years, my energy was mostly focused on pinballing around college and the city centre in the pursuit of fun and adventure. Lecture halls were merely pit stops along these journeys and the Library was a place to crash out in. It wasn't until third year that I really became interested in my studies. In the days before the internet, the library was the nearest thing to it – you could choose any subject, grabs a few books on it, meander through them and then get distracted by a new topic. It's amazing that a copy of almost every book that's been published is held there. I loved the place and ended up going back there for years even after I had graduated.
A resident of Russia for over 12 years, how are you enjoying life in Moscow?
Despite the economic recession, the political repression and the war, Moscow's a great place to be! It's the biggest city in Europe and is the nearest thing we have to an Asian-style megapolis. It's a 24-hour city full of kinetic energy with a throbbing arts scene, great cafes, restaurants and a crazy nightlife.
The best thing about Moscow is the people. Russians seem to live life at greater amplitude to us in the West. There's more suffering, but there's also more celebration in their lives. And there's more drama. This is a great inspiration for any writer, filmmaker or person working in the creative arts.
Media and political structures in Russia have recently been taken over by backward, nationalist ideologies and the economy has nosedived, so the atmosphere in the country has changed somewhat. However, political upheaval and economic recession is water off a ducks back for Russians so life is still normal for most people there.
Tell us a little bit about the route you took into writing and directing?
I knew I wanted to be a filmmaker before I went to college, but I felt that I needed to gain a deeper understanding of the art of storytelling by studying literature and philosophy at Trinity. The Russian department were enlightened enough to allow me to present creative rather than analytical work as my final year thesis. So, I wrote a parody of Dostoevsky's NOTES FROM THE UNDERGROUND, called NOTES FROM UNDER MACDONALDS in which the underground man rails against the capitalist assault on Russia following the breakup of the Soviet Union. It was pretty facile story, but by "challenging" Dostoevsky in this way, I managed to gain some youthful confidence to continue as a writer.
I did a couple of month-long workshops on filmmaking in New York University, and then set about getting any kind of experience I could in the world of film. I worked on professional film sets as an assistant, but only started to learn the craft properly through making corporate videos and short films.
Described as your love poem to city of Moscow, where did your inspiration come for your latest film - 'Moscow Never Sleeps'?
Moscow's the biggest city in Europe, but no one ever visits it. And most of the information people in the West receive about Russia is delivered through the filter of geopolitics. Most westerners have no idea of what the place is like. So I wanted to make a film that would capture the spirit of the city and showcase it's unique atmosphere and humanity to the world. I decided that a multi-narrative structure would be the best way to do this. So the idea of MAGNOLIA set in contemporary Moscow was always the intention. The kernel for each story originated from what I absorbed while living in Moscow – half stories, interesting characters, dramatic situations from the real world. I just used these details to develop narratives which reflected the way I perceive Russian people. I tried to be balanced, to show both the cruelty and the compassion, the cynical and the aspirational.
The film received rave reviews at the Galway Film Fleadh in July. What do you think are the key differences between the film industries in Ireland and Russia?
It's said that Russia is very good at reinventing their past, but not so much at imagining the future. This is understandable given the scale of the country, the current political atmosphere and the inability of the Russian establishment to form consensus opinions about the country's past. Perhaps because of this, there's a feeling that Russia is punching below its weight in the filmmaking world at the moment. In contrast, Ireland seems very modern. For a country our size, Irish films and other forms of cultural expression do well perhaps because our cultural and historical identity is so clearly defined. We take our Irishness for granted and are able to move forward to seek inspiration and new opportunities from other cultures without feeling bogged down by notions of cultural identity.
What advice would you give to aspiring writer/directors?
Find people more experienced than yourself to work with and learn from them.
What is your prediction for the best Oscar film?
THE REVENANT will win.