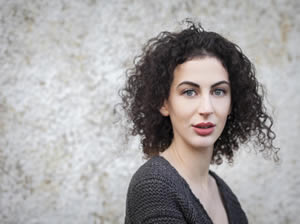 Name: Breffni Holahan
Qualifications: B.A. (2015)
Title: Actress and a multi-disciplinary theatre-maker

About: Breffni Holahan is a Dublin-based theatre-maker and actress. In 2016, she formed a theatre company, MALAPROP, along with some like-minded folk that she met while studying at Trinity and as a DU Players member. Above all, MALAPROP is a playful company which results in work that aims to challenge, delight, and speak to the world we live in (even when imagining different ones).

What inspired you to start up MALAPROP?
MALAPROP was formed in 2016 following the success of our debut production, LOVE+. We were awarded the Spirit of Dublin Fringe and Project Arts Centre Commission Award, which was a much-appreciated thumbs-up for us to keep working and making together. We came to realise that what we had was a good thing and that to let it fizzle out would be a shame, so we set our sights on improving our work and methodologies in an effort to contribute to the already vibrant Irish theatre landscape. Since then, we have produced three works of which we are super proud (LOVE+, BlackCatfishMusketeer, and JERICHO), and we premiered our latest new work at the Dublin Fringe in September entitled Everything Not Saved.
How did you start working together?
All seven members of the theatre collective - Breffni Holahan (Drama & English), Claire O'Reilly (Drama & Film), Molly O'Cathain (Drama), Maeve O'Mahony (Drama), Carla Rogers (Film & Modern Irish), Dylan Coburn Gray (Music), and John Gunning (The Lir) - are proud Trinity alumni who met while studying and, more often than could possibly be considered productive, skulking around DU Players. We had all collaborated in various combinations before getting together to form MALAPROP – the end result is quickly becoming bigger and bolder than the sum of its parts. Starting up an arts collective isn't easy in this climate (brr!), but we have been extremely lucky to have the support of key players in the industry. Getting the go-ahead from Dublin Fringe and Project Arts Centre, and receiving advice from the Irish Theatre Institute, Rough Magic, and Theatre Forum has encouraged and shaped us. It's important to get a clap on the back and to be assured that, no matter how draining, participation in the arts eco-system is worth the slog.

How did your Trinity education nurture your inner social-entrepreneur?
Trinity prepared me for life after full-time education as best as a university can. Academically, I learned about what it is that forms the historical and theoretical basis of everything we think and feel and, thus, create. Try as I may, I'm unlikely to ever shake the inner voice with which Drama graduates are often left that seeks justification for every creative decision: "Why that? Why this? What would you write if you had to logbook this decision?". In DU Players, I learned about how a theatre works, how it operates, and what it can do for society, which, as it turns out, is loads. While studying works of writers and theatre artists worldwide, I often found myself wondering, "How do they do it? How do they motivate themselves to create from nothing?" and I kept thinking that that kind of motivation was not available to me/my generation. I still think this from time to time, but co-founding MALAPROP has proven that part of me wrong.

Tell us about your experience since leaving Trinity?
Since leaving Trinity, I have been kept busy balancing acting opportunities and work with MALAPROP. Most notably, I've been traveling a lot as an actress, visiting international festivals with leading theatre companies such as Dead Centre and Brokentalkers who I admire and am learning a lot from. It's been great to see the world and to have such an enjoyable excuse to do so. I embrace what the future holds for me as an artist, and hope I can continue to maintain that balance between acting – my passion – and fulfilling my entrepreneurial potential with MALAPROP.
I must admit to the inevitable, intermittent longing to return. Late nights in the theatres aside, I called House 19, Botany Bay home, so leaving the nest was difficult. However, even since accepting my fate as a professional, the Drama department and the Lir have been immense resources for MALAPROP to this day, and I maintain a deep connection to the place and its people; one of (hopefully mutual) pride and loyalty. I will always take the long way home just to take it all in and think to myself "I went here! Who let that happen?!".

Tell us about the two productions that are due to be re-produced as part of the Edinburgh Fringe Festival 2017.
LOVE+ was initially produced as a final year undergraduate project at the Samuel Beckett Centre. It went on to receive Dublin Fringe's highest honour, the Spirit of Fringe and Project Commission Award, in 2015. LOVE+ was listed by The Irish Times as a Cultural Highlight in the same year and the script was published by Oberon in 2016. Put simply, it's about the inevitability of human/robot relationships. The play has since been through multiple incarnations as we update it in accordance with the development of the subject matter.
Our second production, BlackCatfishMusketeer, is a play by Trinity Music Scholar, Dylan Coburn Gray, about online dating, and was first produced at Lir Studio One. It was nominated for Best New Play at Dublin Fringe 2016. The runs at Edinburgh Fringe will be international debuts for both productions, and indeed for MALAPROP as a collective. We're ready, excited, and, yes, very nervous!

What are the next steps for MALAPROP?
We'll have a lie-in one of these days. In the meantime, though, we'll keep ourselves very busy with the upcoming Edinburgh and Dublin Fringes. We will, of course, continue to welcome any opportunities that may come our way and graft to find opportunities that don't find us. We plan on continuing to make work in response to the world we call home, and to share that work with whomever cares to partake in the discourses we hope to continue to open.

What advice would you give to budding theatre makers?
Expect to get a burning itch. Expect to struggle to scratch it. For a while. Get frustrated that you don't have a 9-5 and job stability and probably won't ever own your own house. Get over it. Expect to stretch yourself in ways you didn't even know were possible until you finally scratch the surface of your itch. Expect that to feel really good. For a while. Then expect to get an itch somewhere else. Expect that new itch to seem really so very far out of your reach. All over again. Then expect to surprise yourself by scratching that itch even better than you scratched the last. Repeat.