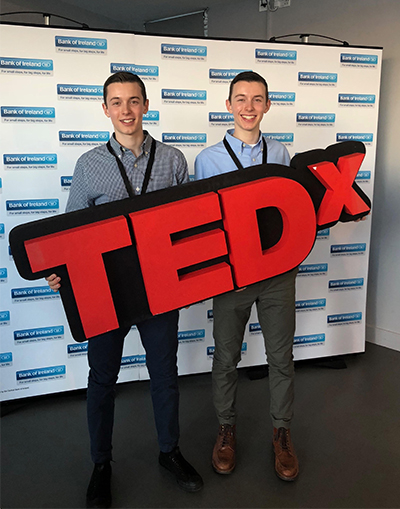 Names: Andrew and Mark Ansell
About: Andrew and Mark are third-year exchange students from U.C. Berkeley. They have interned in a number of tech companies including Tesla, Microsoft and Apple and co-created TheTechTwins, a YouTube channel helping students break into the tech industry. They also founded Momentum, the first speaker series in Berkeley's College of Engineering, hosting events on topics including internships, entrepreneurship, and resilience.
Tell us about your unique route to education?
We're 19 year-old identical twins from UC Berkeley in California, and are currently third years studying abroad for the semester at Trinity. We're both pursuing simultaneous degrees in Mechanical Engineering and Business Administration because we love building products other people can use, and value the business skills needed to take these products to market and scale. Growing up, although we were succeeding inside the classroom, our family had consistent financial struggles and in 2012 we became homeless. In our recent TEDx talk at TEDxTrinityCollegeDublin we discussed our experience maintaining optimism, developing resilience from a young age, and harnessing grit to succeed at one of the top universities in the world and to work in Silicon Valley. Amidst what many would call their ultimate fear, we were still able to achieve academically and personally.
Why did you decide to do a student exchange in Trinity?
We come from an international family, our mom is Armenian from Lebanon and our dad from
New Zealand. Growing up, we really admired our parents for their perspectives that were so different from those that many of our peers had at school. Our mom was forced to leave Lebanon at 13 years old because of a civil war, and spent some of her early life in West Africa with her family. Our dad spent the majority of his young life in New Zealand. In fact, some our heritage on his side traces back to Ireland! We chose to study in Dublin because it is widely known as the tech capital of Europe, and we have both worked in the tech industry in the U.S. - Dublin allows easy access to the rest of Europe, and we've been able to travel around Europe. Trinity is also a world-renowned university and we wanted a quality education abroad. The students here are very nice and smart, and we've made friends who are ambitious to change whichever segment of the world they are passionate about.
What has been the highlight of your time at Trinity so far?
Delivering our TEDx talk, titled 'Homeless to Silicon Valley: A Life Without Fear' at Trinity on March 7, 2018 was a highlight for both of us. This was the first time we had told anyone about the trajectory of our lives and it was an honor to be chosen by Trinity students to share this on the TEDx stage. We reached out to the TEDx team before we arrived in Dublin, then prepared and delivered a shorter version of the talk just nine days after we arrived. It was a whirlwind of an experience for which we are very grateful.
You've just launched #TheTechTwins, tell us about it?
We started TheTechTwins because we saw a gap in the resources available to help students break into the tech industry, motivated by personal experience. In middle school, we would consistently watch Apple product releases in full, and felt inspired by what Steve Jobs was able to do with his company. At Berkeley, we have interned at Apple, Tesla, and Microsoft, and have created our own networks of professionals working in tech. We created our YouTube channel to explain how we got our internships and to help others who feel that working in tech is inaccessible or completely out of reach.
What was the impetus for you to set up the Momentum Speaker Series?
The Momentum Speaker Series is a TED-style student speaker series we created in the UC Berkeley College of Engineering. Third and fourth year students at Berkeley were interning at Google, doing research in forward-thinking labs, and creating their own startups. We wanted to learn from them and thought our peers could benefit from this information too so we pitched and created Momentum Speaker Series during our second year. We host three events per year, focused on internships, entrepreneurship and startups, and triumphing over challenges. Each event brings together about six student speakers who have experience in this field. The speakers gain public speaking experience and a recorded talk, while attendees get to hear from a range of perspectives at once. There's also a Q&A session, followed by networking over pizza. We think the idea of a student-to-student speaker series can help more students than just those at Berkeley so we are looking to expand.

What is your proudest achievement to date?
Andrew: I think mine is a group of character traits. I am most proud of the tenacity, resilience, and
compassion I have developed during college. Many people have told us countless times that what we have wanted to do is impossible, from the simultaneous degree to interning at companies like Apple. I am proud of the hard work I've put in to make what I want a reality, and also that I recognize the importance of sharing these stories along the way.
Mark: I'm most proud of something that happened in my senior year of high school. I applied for a national scholarship, thinking I would try my best and see what happened. After not being invited by my school to apply, I won the top $50,000 award, out of nearly 20,000 applicants. This experience showed me that I can achieve whatever goal I fully commit myself to. I share this, because I think it's important for people to own their own goals and know they have everything within them to make these goals a reality. It also showed me the importance of not being influenced by others' doubts, judgements, or opinions.
What are your plans for the future?
Andrew: In the short term, Mark and I will be returning to the U.S. for the summer to intern in the tech
industry. I'll be doing Engineering Project Management at Apple in their Cupertino Headquarters and Mark will be doing Program Management at Microsoft in Washington. After that, we'll be back at UC Berkeley as seniors completing our degrees. After college, I see myself doing Product/Project Management. Meanwhile, we'll be sharing our insights through our YouTube channel and organizing the Momentum Speaker Series.
Mark: I definitely want to keep learning in whatever I do. We both also see a lot of value in gettings MBAs and would like to get those after working for a few years. We're also aware that what we work on in the future might not be invented yet!