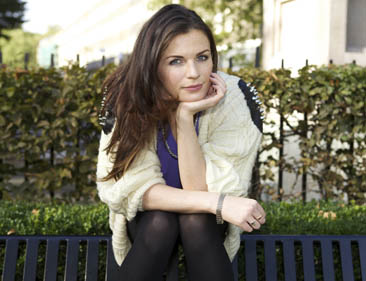 Name: Aisling Bea
Degree/Masters: B.A. (2006)

Tell us how you got into comedy.
While I was at Trinity I was in a sketch group called HBAM with some fellow insecure dopes. We had a few solid years messing about and most of us have gone on to have careers in writing or comedy in some form. I started stand-up a couple of years ago, the acting was chugging along nicely and I knew if I didn't give it a go, I'd regret it. It's a very different kettle of fish to acting but requires an equal amount of dedication and sleepless nights.


What is the best one-liner you've ever heard?
Aisling, you've passed your driving test.

How do you handle hecklers at your gigs?
I go silent, look them straight in the eye and let one solitary tear float down my cheek, then I throw the microphone at their partner's head and storm off. If that fails, I use "comedy".

What are your Top 3 Desert Island discs?
I only get three?! I hope this Desert Island has a pub. Right, at the MOMENT, I would say:
1. You've Got The Love by Candi Staton
2. A remix of: Creator by Santigold and Come Walk With Me by M.I.A – a remix is cheating, but I have nothing to lose because I'm alone on an island.
3. The Island by Paul Brady

What is the most useful piece of advice you've ever received?
Don't compare yourself to others, not their looks, their careers, their love lives. Keep your eyes on your own path or you'll trip up glaring over the hedge – also good hiking advice.

Who would you invite to your dream dinner party?
Do they have to be alive? This dinner will be awkward if they do. I'd invite the late Seamus Heaney, the late Doris Lessing, the late Maureen Potter - all of whom seemed to have had good vibes and I'm sure they wouldn't be fussy eaters. Then I'd have the very not late, but late late Gay Byrne, (Kathleen obviously welcome to tag along), the comedians Bill Murray and Steve Martin and Sinéad O'Connor because I'm sure she'd have a tune. Then I'd have my sister Sinéad, because we live together and it would be awkward if I had to have her stay upstairs hungry and lastly my friend Brona who'd do good intros while I'm preparing the starters and would do a good post-match commentary when we'd be doing the dishes. "Did you see Bill Murray getting a taxi home with Sinéad O'Connor at the end? Scandal, maybe we should have given them less ouzo."

Twitter seems to be very popular among comedians. Have you ever tweeted anything that you wished you'd kept for your routine or is it a good sounding board for jokes/topics?
I like to use it as a sounding board. I often throw out mini ideas and gags that I then work into sets. You've only 140 characters to work with, so it often forces you to be economical and sometimes more clever with what words you use, which is always a good thing in the writing process. That said I've tweeted a LOT of nonsensical balderdash: "@WeeMissBea Has anyone seen my glasses?"