Update from College Secretary and Chief Operating Officer to students and staff
8 October 2020
Dear colleagues and students,
With the Government's decision for the whole State to move to Level 3 in the Government's Plan for Living with COVID-19, we wish to confirm that the situation remains unchanged for us in Trinity for now as we are already operating at Level 3 with the universities also having enhanced protective measures in place.
Implications of Level 3
In summary this means:
In many programmes teaching is mainly online, primarily in the Faculty of Arts, Humanities and Social Sciences. Some in person teaching in the Faculties of Health Sciences and Engineering, Mathematics and Science is continuing as planned either because it is laboratory, practical or other teaching requiring physical presence or because it is required for professional accreditation
Timetables have not changed
All research activity continues in line with approvals
Lab-based work and practicals are taking place
The Libraries remain open
The Buttery remains open for a takeaway service
Travel to/from Trinity by public transport is permitted for education and teaching purposes.
Coming onto campus
Staff travelling to work from a county other than Co. Dublin during the current Level 3 Government restrictions will need a letter from their line manager. HR is issuing a new template to all line managers who will authorise people in their area where necessary to come to work. Please remember that current staff and student ID cards are required to access the campus.
Online Class Spaces
Working with the SU and GSU, some additional spaces have been created for students' use on campus - Online Class Spaces - to help you stay safe.
The Online Class Spaces are bookable spaces to use if you are already on campus for a face to face class and have an online class shortly before or after. Please bring your laptop and your headphones.
Located in the Public Theatre (Exam Hall), Front Square, Botany Bay Marquee and The former Bank, Hamilton Building, these Online Class Spaces are open 9am-6pm, Monday to Friday. To book them either scan this QR code or click this link: Book Online Class Space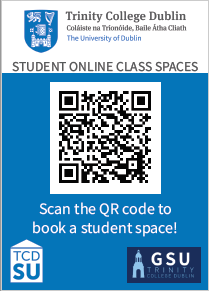 Student Breakout Spaces
As previously communicated, these are bookable spaces for you to use in breaks between classes, to eat your food, have a €1 coffee and keep warm and dry in a socially distanced way.
Open 9am-6pm, Monday to Friday they are based in the Dining Hall (upstairs until the Buttery closes at 4pm then moves to the Buttery Vaults), New Square Marquees (one for each Faculty), Botany Bay Marquee (reserved for Trinity Hall students), Goldsmith - the lobby and common room, TBSI - the Knowledge Exchange, and St. James's Hospital - Old Stone Building Student Spaces. To book them either scan this QR code or click this link: Book Student Breakout Space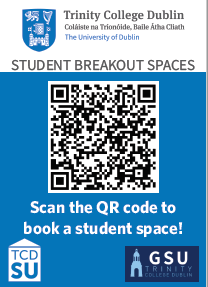 Trinity Sport
As part of the Healthy Trinity initiative we encourage our community to be as physically active as possible. The Trinity Sport Centre is open every day with an online booking system in operation for specific hours and a host of online group fitness sessions. The outdoor sports facilities are open and there is also a range of activities tailored for students in Trinity Hall. To see how Level 3 of the Living with COVID-19 plan affects Sport activity, please click here and to watch our Sport Centre customer journey check out our video here.
Keeping safe
We all have a part to play in helping reduce the spread of COVID-19. Please remember that face coverings are now mandatory for all teaching and learning events for all students and staff, in all the Libraries and in internal public spaces on campus. For students and staff returning to campus, please follow our 'Top 10 Tips' which you can see in animated form here.
We will continue to update you by email and social media but please also look at the www.tcd.ie/about/coronavirus for answers to detailed questions.
Stay safe, stay well. Bígí slán agus sábháilte.
Kind regards
John Coman, Secretary to the College
Geraldine Ruane, Chief Operating Officer
John Coman, Rúnaí an Choláiste
Geraldine Ruane, Príomhoifigeach Oibríochta