Archive 2008/ 2009
Michaelmas Term 2008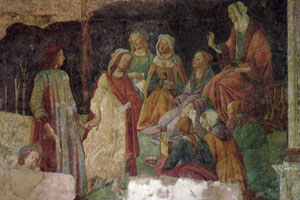 NOVEMBER 2008
Wednesday 19 November-Friday 21 November 2008
'From Manuscripts to Incunabula':
A Series of Talks and Seminars on Manuscripts and Early-printed Texts by Dr David Rundle (University of Oxford)
Programme of Events
Wednesday 19 November
Henry Jones Room, Old Library, 3.30 p.m.-4.45 p.m.
Consultation with Dr Rundle of College manuscripts.
Swift Theatre, 7.30 p.m.
Public Lecture: Dr Rundle will give a paper on manuscript-hunting and the relationship between England and Italy in the Renaissance: 'English Light on Renaissance Humanism'
Thursday 20 November
Arts Building, Room 4050A, 2 p.m.-4 p.m.
Palaeography Workshop by Dr Rundle. Materials will be provided. Open to all.
Friday 21 November
Foster Place, Room 212, 10 a.m.-12 a.m.
Palaeography Tutorial led by Dr Rundle for MPhil students of the Centre. Please contact Sarah Alyn Stacey
if you would like to attend but are not a student of the Centre.
DECEMBER 2008
Thursday 11 December-Friday 12 December 2008
Workshop on Greek Palaeography: Reading Greek Manuscripts
Poster (Filename: workshop-on-greek-palaeography-poster.doc [Size: 792 KB])
Full Programme (Filename: workshop-on-greek-palaeography-programme-of-events.doc [Size: 408 KB])
Programme of Events
Thursday 11 December
Swift Theatre, 7.30 p.m.
Public Lecture: Dr Niels Gaul (Central European University, Budapest; Former Dilts-Lyell Research Fellow in Greek Palaeography, University of Oxford in association with Lincoln College, Oxford): 'Greek Palaeography, Byzantine Scholarship and Textual Criticism'
Friday 12 December
Swift Theatre/Henry Jones, 9.30 a.m.-1.30 p.m.
Workshop on Greek Palaeography: Reading Greek Manuscripts
This is a workshop aimed at postgraduates in all disciplines, but notably Classics and Medieval History, and it will examine majuscule, calligraphic minuscule, and cursive minuscule bookhands.
Swift Theatre, 3.30 p.m.
Public Lecture: Dr Barbara Crostini, author of A Catalogue of Greek Manuscripts Acquired by the Bodleian Library since 1916: 'Cataloguing Greek Manuscripts '
The talk will be followed by an exhibition of Greek manuscripts held in Trinity.
NB. For further details about this event, please contact the organiser, Savvas Neocleous
Hilary Term 2009
JANUARY 2009
Post-Graduate Research Seminar
(continuing through the rest of the academic year) - t.b.c.
From 6 January onwards (for 16 weeks)
Room 4096, Arts Building, 7.30 p.m.-8.30 p.m.
Reading Medieval French Literature through Tristan et Iseult
(Filename: cmrs2009-of-course.doc [Size: 68 KB])
Lecturer: Dr Juliet O'Brien (UCD/TCD).
This seminar series (lectures followed by discussion) will focus on Tristan et Iseut, around and through which we will read some of the most stirring and beautiful 12th-14th c. French poetry, short verse narrative, and romance; and see how these forms are inter-connected. Some Occitan texts and extracts are also included. The lecture-portion of the course will situate readings in their immediate and larger-scale context, covering background history, cultural setting, literary allusions, and intersections with current questions in literary criticism.
Readings will include:

Old French and Occitan lyric poetry and short verse narrative
Béroul, Thomas, et al, Tristan et Iseut
Chrétien de Troyes, Romans
Abelard and Heloise, Letters
Aucassin et Nicolette
Floire et Blanchefleur
Heldris de Cornüalle, Le Roman de Silence
Le Roman de Flamenca
Guillaume de Machaut, Le Livre du Voir dit
Jean Froissart, Dits
Alain Chartier, La Belle Dame sans merci

While a sound reading knowledge of modern French will be useful, no prior knowledge of Old French is required. Indeed, the course will be accompanied by (optional) progressive weekly grammar exercises - on the readings - for those participants who wish to learn or refresh their Old French. All materials will be provided.
The group is open to all: undergraduates, postgraduates, staff of Dublin universities, and the general public.
Cost: 8 Euro/class; 6 Euro concessions; TCD staff and students free; special rate for 16 classes: 100 Euro. Please make cheques payable to 'TCD Account no. 1-Centre for Medieval and Renaissance Studies'.
For further details, contact Juliet O'Brien or Sarah Alyn Stacey
FEBRUARY 2009
Tuesday 24 February-Thursday 26 February 2009
A Celebration of the Middle Ages and the Renaissance.
In Collaboration with The Society for Renaissance Studies.
Programme of Events
Tuesday 24 February
Swift Theatre, 7.30 p.m.
Public Lecture: the renowned author and historian, Alison Weir, will talk about her latest book, Katherine Swynford: the Story of John of Gaunt and his Scandalous Duchess (Jonathan Cape, 2007; Vintage Books, 2008).
'Alison Weir's hugely popular history books are as gripping as novels' (The Times)
'Alison Weir writes compellingly. Her art is such that the reader is swept along by the story, scarcely noticing how very complicated that story is' (The Literary Review)
'Alison Weir is one of our best popular historians and one, moreover, with an impressive scholarly pedigree in Tudor history' (Frank McLynn, The Independent on Sunday)
Wednesday 25 February
Téatar Máirtín Uí Chadhain, 7.30 p.m.
Public Lecture by the eminent academic and Professor of Cultural History, Peter Burke (University of Cambridge), author of 23 books, including The Italian Renaissance (1972), Popular Culture in Early Modern Europe (1978), The Fabrication of Louis XIV (1992), The Art of Conversation (1993), A Social History of Knowledge (2000), 'Eyewitnessing' (2000), What is Cultural History? (2004) and Languages and Communities in Early Modern Europe (2004). His work has been translated into 28 languages.
He will speak on 'Cultures of Translation in Renaissance Europe'
Thursday 26 February
Téatar Máirtín Uí Chadhain, 7.30 p.m.
Public Lecture: Professor Peter Burke (University of Cambridge): 'The Renaissance in Global Context'
The Centre is delighted to host this talk in collaboration with the Society for Renaissance Studies. It is one of a series of free public lectures held at venues around the UK and Ireland. The series, Exploring the Renaissance, addresses the state of studies in the Renaissance across a range of disciplines. For further information, please consult the website of the Society for Renaissance Studies
MARCH 2009
Thursday 19 March-Saturday 21 March 2009
Borderlines Annual Conference: "Neither here nor there": Breach-Building and Boundary-Living in Medieval Culture
The Centre is delighted to co-host with UCD this annual post-graduate conference. For further details, contact Pat O'Brien and Nicole Volmerin.
Trinity Term 2009
MAY 2009
Friday 29 May 2009
Swift Theatre
Dublin and the Pale in the Renaissance: a one-day conference. Details to follow.
Back To Top