News & Events
2016/17
November: Minister Mitchell O'Connor launches Gender Equality Taskforce for Higher Education
October: The Launch of Trinity Centre for Gender Equality and Leadership
September: Annual Conference of the European Access Network (EAN)
August: HEA publishes 2016 gender-disaggregated data on the staffing of Irish higher education institutions
June: "Athena SWAN: Driving Gender Equality in Irish Universities" Talk & Networking Lunch
March: International Women's Week: Women in Research Panel Discussion
Minister Mitchell O'Connor launches Gender Equality Taskforce for Higher Education
Mary Mitchell O'Connor, Minister of State with special responsibility for Higher Education (6th November 2017) has announced the establishment of a Gender Equality Taskforce.
The Minister has appointed this high level taskforce to prepare a prioritised three year action plan, in consultation with stakeholders.
The Task force will also oversee a national systems review of the recruitment and promotion policies and practices currently in place in higher education institutions, with a view to identifying good-practice and highlighting areas that need improvement. This will feed into the development of actions for the action plan.
For full press release see https://www.education.ie/en/Press-Events/Press-Releases/2017-Press-Releases/PR17-11-06-2.html
The Launch of Trinity Centre for Gender Equality and Leadership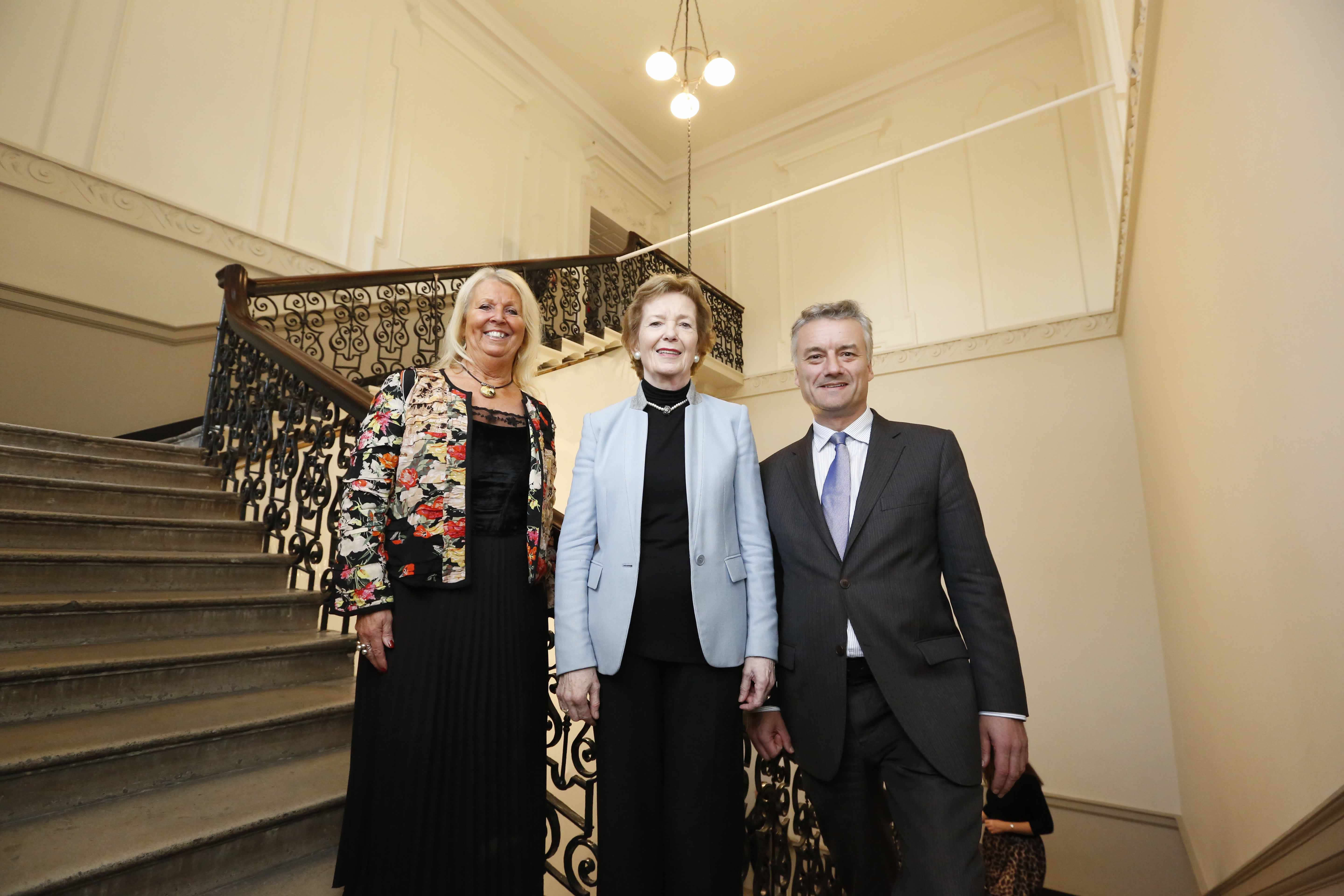 The Trinity Centre for Gender Equality and Leadership was officially launched on Wednesday 11th October at Regent House, TCD, with a special address by Dr Mary Robinson, Chancellor of the University of Dublin: "Gender and Climate Change - The need for Women's Leadership". She was welcomed by the Provost.
Dr Mary Robinson's address

26th Annual Conference of the European Access Network (EAN)
Equality and Diversity in Higher Education
ArbeiterKind.de and the University of Giessen hosted the 26th Annual Conference of the European Access Network (EAN) from 20 to 22 September 2017. Under the title of "Sharing stories of empowerment: Creating new strategies for diversity and inclusion in higher education" the conference invited international practitioners, academics and other interested participants to attend workshops, lectures, plenums and open spaces to discuss equality and diversity in higher education. As one of the keynote speakers, Professor Eileen Drew of Trinity College Dublin took gender as her main focus, and spoke on "Turning gaps into GEPs (gender equality plans): Lessons for equality and diversity from Trinity College Dublin".
For a preview of her address click here: "Turning gaps into Gender Equality Plans: Lessons for Equality and Diversity from Trinity college Dublin".
European Platform of Women Scientists (EPWS) talk to Prof Eileen Drew, Director of TCGEL, in September's Interview of the Month.
Read more here http://epws.org/interview-of-the-month-tcgel/
August 2017
Advancing Gender Equality in Irish Higher Education Institutions: Launch of Higher Education Institutional Profiles by Gender: HEA publishes 2016 gender-disaggregated data on the staffing of Irish higher education institutions
A year on from the publication of the Report of the Expert Group: HEA National Review of Gender Equality in Irish Higher Education Institutions (June 2016), the Higher Education Authority (HEA) has published the second iteration of the Higher Education Institutional Staff Profiles by Gender, presenting gender-disaggregated data for 2016 on the leadership, governance, management and staffing of the universities, affiliated colleges and the institutes of technology, along with updated 3-year-average data (for 2014–2016) on the gender-breakdown of professors, associate professors, senior lecturers and lecturers. Read more here
New Trinity Policy and Guidelines for supporting staff who are breastfeeding
Now published to the HR website: http://www.tcd.ie/hr/assets/pdf/procedure-equality-breastfeeding.pdf
June 2017
"Athena SWAN: Driving Gender Equality in Irish Universities" Talk & Networking Lunch, Tuesday 6th June 2017
Guest Speaker Professor Rob de Bruin, UCL, talked about co-leading his department's effort on Athena SWAN for the past eight years, and implementing their vision of #simplygoodpractice: "Where something is not fair or can be even better, we work to change it"
For more information see here
March 2017
International Women's Week: Women in Research Panel Discussion
A Women in Research panel discussion was held to celebrate International Women's Week, with audience contributions and questions. The discussion focused on the experiences of women in academia and research, including topics such as: impostor syndrome, visibility of female experts in the public, parenting while working on research contracts (maternity leave, child care, etc.).