Dental hygiene (diploma)
Course Type: Undergraduate
Course Code: TR802
No. of Places: 8
Min Entry Points 2012: 435* points
Duration: 2 Year(s) Full Time
Award: Diploma
Specific Entry Requirements: See requirements
Restricted Entry:

This is a restricted entry course. Applications must be submitted by 1 February 2013.

Applicants will receive a questionnaire in March to be completed and returned.

How to apply: See how to apply
Apply
To apply to this course, click on the relevant Apply Link below
Non-EU Applicants
Mature Student - Supplementary Application Form

Read the information about how to apply as a mature student, then select the link below to complete the TCD Supplementary Application Form for mature students.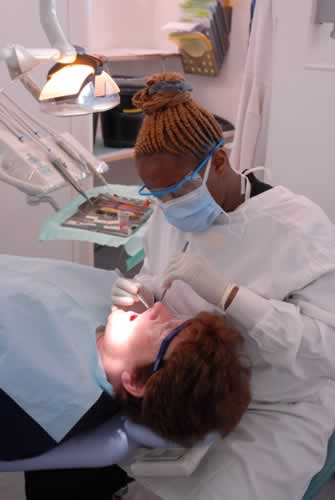 What is a Dental hygienist?
The dental hygienist provides preventative oral care to both children and adults including those with special needs in collaboration with a registered dentist in a clinical setting. This includes treatments to prevent or control periodontal (gum) disease and dental decay, advice and counselling in relation to lifestyle habits such as diet and smoking. The dental hygienist also provides oral health education to both individuals and groups of people and can be involved in the planning, delivery and evaluation of oral health promotional programmes. The dental hygienist works within the dental team and with other groups of health care workers to provide a holistic approach to patient care.
Is this the right course for you?
If you have an interest in working in oral health, and particularly preventative oral health, then this course is right for you. You will need to be able to develop good patient care skills, so an empathic personality and good communication skills are important. You need to be a good team player and show initiative to achieve the best for people in your care.
Course overview
This two-year course is based in the Dublin Dental University Hospital at Trinity College. It has academic, project-based and clinical components which are carried out in the Dublin Dental University Hospital, Health Services Executive and general hospital settings. Emphasis is on small-group interactive learning, health promotion projects, evidence-based learning, and clinical practice. You will be integrated with undergraduate dental science students and dental nursing students for some elements of the programme.
Course content
The curriculum has a modular design and some modules are prerequisites for others.
First year modules
Module 1: Introduction to applied clinical science (20 ECTS)
Introduction module
Microbiology and cross-infection control
Dental pathology and disease
Physiology and medical emergencies
Psychology and social concepts
Introduction to orthodontics
Head and neck anatomy
Pharmacology
Module 2: Introduction to clinical practice (25 ECTS)
Basic preventive and therapeutic oral care
Restorative and prosthetic materials and therapy
Dental radiography
Module 3: Clinical practice and health promotion (15 ECTS)
Computer skills
Public dental health services
Presentation and communication skills
Clinical practice
Second year modules
Module 4: Health promotion practice (15 ECTS)
Applied psychology
Health promotion and; project work
Smoking cessation counselling
Professional responsibilities
Module 5: Evidence based practice (10 ECTS)
Human diseases and general pathology
Periodontology & implantology
Research methods
Cariology & paediatric dentistry
Module 6: Clinical practice II (30ECTS)
Clinical experience in a variety of settings
Radiography - portfolio of experience
Administration of local anaesthesia
After qualifying as a dental hygienist you will be able to:
Describe the role of the dental hygienist and function within a dental team in oral health promotion and the provision of primary health care
Plan, implement and evaluate oral educational activities for groups and individuals
Carry out procedures to measure and assess the levels of oral health and oral hygiene
Debride and polish the teeth
Place fissure sealants
Apply fluoride-containing preparations and desensitising agents to the teeth
Recognise abnormalities in the mouth and inform the dentist
Take dental radiographs
Administer local anaesthetic for dental hygiene procedures
Place temporary dressings and re-cement crowns temporarily
Assessment
Assessment is by written examinations during the two years, a community-based health education project, competence tests in various clinical procedures, completion of various logbooks, clinical credits demonstrating of a reasonable level of patient care and a final written and clinical examination.
Your degree and professional practice
The Diploma in Dental hygiene conferred by Trinity College Dublin entitles graduates to register immediately after graduation as a dental hygienist on the Register of the Irish Dental Council. This registration is mandatory for working as a dental hygienist in Ireland.
Career opportunities
As a dental hygienist, you have the option of being self employed or employed. You may find employment in general or specialist dental practices, in the Health Services Executive, in hospitals and institutional settings and within the commercial sector.
Further information
www.dentalhospital.ie (Select the Education link)
Contact: Lecturer in Dental hygiene: Catherine Waldron RDH, MSc.
E-mail: catherine.waldron@dental.tcd.ie
Tel: +353 1 612 7369