Staff
Centre Director - Professor Sam Cromie
It is a great privilege to be Director of the CIHS – to work with a team of highly experienced and dedicated researchers, to address the real challenges faced by diverse sectors, to produce solutions that put people front and centre.

The focus of my research has been on developing a sophisticated understanding of the application of human factors and safety management principles in real operational situations. I have over 22 years' experience of action research in healthcare, aviation, pharmaceutical, process, manufacturing and maritime sectors and have worked with great organisations such as Aer Lingus, Rolls Royce, Airbus, British Airways, SAS, Cathay Pacific, EASA, Pfizer, BP & Statoil.

I have served on the JAA Maintenance Human Factors Subcommittee, working groups of the European Aviation Maintenance Training Committee and as an advisor to the HSE National Incident Management Team. I also run a training and consultancy business, delivering tailored human factors and safety management solutions to the aviation sector. This keeps my implementation focus sharp– the solution has to work for the end user.
Assistant Centre Director - Professor Siobhán Corrigan
I am Director of the online Masters in Managing Risk and System Change and Assistant Director of the Centre for Innovative Human Systems. My research focuses on working in partnership with industry in understanding the complexities of managing and implementing change and improving overall risk and safety performance. All of my projects are characterised by multifaceted industry collaboration allowing for the transfer of research-based knowledge from College into industry and services in order to meet societal and community challenges.

My current research focuses on understanding human behaviour, organisational learning, stakeholder collaboration, leadership and managing the risk in implementing change. I have played a leading role on a number of high profile EU, national and industry funded research and training projects and has an extensive range of collaborations with national and international industries, universities and research institutes. I am also an active member of a number of working groups both at EU and national level tasked with setting the research agenda for the future. I am a member of the LERO (The Irish Software Research Centre) https://www.lero.ie/, a certified STAMINA Human Factor trainer and I have substantial experience in the development, delivery & evaluation of Human Factors, Safety Management and Change Management training.
Centre Founder - Professor Nicholas McDonald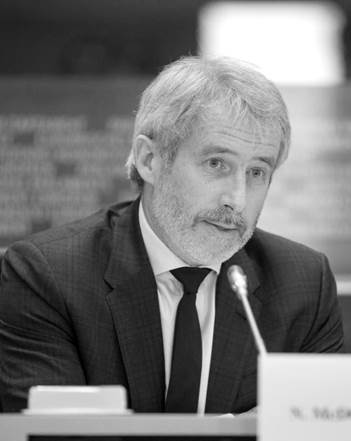 I have spent my career pursuing research on the role of people in complex systems with a focus on risk, safety, change, emergency response and system design. My early research convinced me that the answers must come from the system much more than the individual. Together with a group of aviation professionals, human factors practitioners and researchers we founded the Aerospace Psychology Research Group in 1996, which I then directed. Since then I have led and contributed to a series of international collaborative European-funded research projects progressively developing a systemic approach to human factors, initially focused on aviation, then broadened to other industries – process industry, emergency services, and more recently, health. Reflecting this, the APRG morphed into the Centre for Innovative Human Systems.
Initiating the on-line Masters in Managing Risk and System Change in 2015 fulfills part of a mission to turn this research into practice. In late 2017 I retired as a full time academic and from directing the CIHS and the Masters programme, retaining a part-time role contributing to the Masters program and new research, but above all, using my time to focus on the implementation of the ideas, models, methods and tools we have been developing over the years, seeking to bridge the gap between theory and practice.
Centre Operations - Paula Hicks
Having worked in Trinity College Dublin for over 20 years, I have gained extensive experience in a variety of roles, including Project Management, Research Centre Operations, Strategic Planning, Lecturing and Business Analysis. I joined CIHS in 2013, managing the day to day operations of the Centre, whilst also working closely with the Director and Management Team on Strategic Planning. I hold a Diploma in History of Art, Teaching Diploma in IT Skills, and a Masters in Health Informatics.

Prior to this role I worked as a research project manager in the Centre for Health Informatics where my expertise was in the use of innovative technology solutions and interventions to support improved psychosocial outcomes for children in hospital, leading two award winning projects. I have also developed modules and lectured to various programmes in the area Health Informatics, and have published a number of book chapters and journal articles.
Course Administrator & Centre Support - Rory Carrick
I have worked with Trinity College Dublin for the past fourteen years in a variety of roles including Undergraduate and Postgraduate admissions, examinations and a number of years coordinating the School of Business MBA programme. Additionally I have worked extensively on a college wide change management project. I joined the CIHS in 2015 to coordinate the Online M.Sc. in Managing Risk and System Change as well as support the CIHS involvement in research project planning and management.

I am a quadruple graduate of Trinity College holding a B.Sc. in Business and IT along with a Postgraduate Diploma in Project Management and am currently pursuing a M.Sc. in Digital Marketing Strategy. In addition I hold a Diploma in Counselling and Psychotherapy and a Diploma in Sports Nutrition.