MEPs attend PROSPERO Project Event to Learn About Groundbreaking Advances in Aviation Safety Systems
On Tuesday 3rd February 2015 the FP7 research project PROSPERO (PROactive Safety PERformance for Operations) hosted an EU engagement event in the European Parliament in Brussels. The event previewed the project's research into the next generation of aviation safety and risk management systems. This meeting was officially hosted by Sean Kelly MEP, full Member of the Industry Research and Energy Committee (ITRE) in association with PROSPERO coordinator CIHS, Trinity College Dublin and project partner Carr Communications, Dublin. EPP Vice Chair and full Member of the Transport Committee, Marian–Jean Marinescu MEP moderated the session.
The event was well attended by MEPs, EU stakeholders, PROSPERO project partners and leading industry experts including airlines, regulators and safety managers.
PROSPERO is coordinated the Director of the CIHS, Professor Nick Mc Donald and involves the following CIHS staff and Dr. Siobhán Corrigan, Dr. Daniele Baranzini, Dr. Chiara Leva, Fabio Mattei & Paula Hicks
Speaking at the event, Marian-Jean Marinescu MEP said:
"PROSPERO is a very worthwhile FP7 project that is aiming to contribute to the EU's ambitious objective of reducing the aviation accident rate by up to 80%. EU citizens need to feel safe when they are flying in European skies. I am delighted to see that this EU funded project has achieved groundbreaking results in the area of aviation safety management systems. I also look forward to seeing how this project can be exploited to enhance safety in other high risk industries such as energy, transport and healthcare for example."
Speaking about the event, Sean Kelly MEP commented:
"I was impressed by the industry insights shared by representatives of airlines, regulators and safety managers at the PROSPERO event. It is encouraging to see that all key players in the aviation industry are openly collaborating and sharing data to make the aviation safety system even safer for passengers in the EU. Safety remains the number one priority for the industry."

The project coordinator for PROSPERO, Professor Nick McDonald from Trinity College Dublin said:
"This event was an excellent opportunity to demonstrate the results of the PROSPERO project to date. As an FP7 funded project, it is important to demonstrate value to the EU and taxpayers. This project will further enhance the safety levels of an already ultra safe aviation system by addressing existing gaps in the analysis and management of risk."
The PROSPERO project partners also launched their newest corporate video at the event to show how the project will develop proactive ways of managing and reducing the systemic risk of aviation accidents, both in everyday operations and through planning and change processes"
Photographs from the event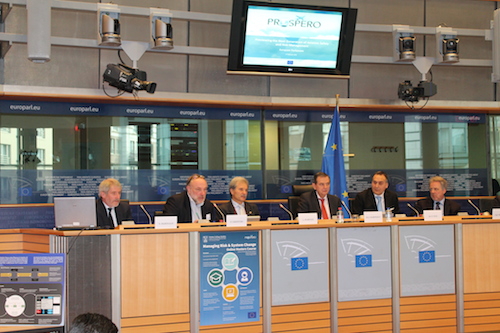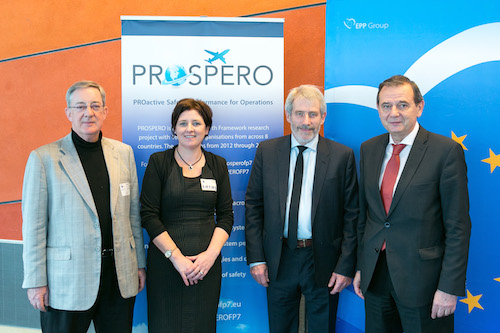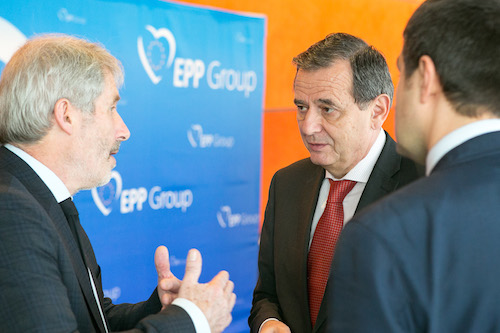 About PROSPERO:
The key objective of the PROSPERO (PROactive Safety PERformance for Operations) project is to demonstrate a capability to improve safety across the Air Transport System. It will integrate a set of tools and technologies, using quantitatively and qualitatively rich methods, to enable organisations understand the systemic risks they face, including the risks associated with change.
PROSPERO will develop proactive ways of managing and reducing the systemic risk, both in everyday operations and through planning and change processes. Thus, it will contribute to the substantial elimination of human error and the achievement of the EU's strategic requirement to reduce the accident rate by 80%.
Project Partners
Aeroporti di Roma, Italy.
Alitalia, Italy.
Athens International Airport, Greece.
Carr Communications Ltd., Ireland.
Corballis Consulting Ltd., Ireland.
Deep Blue SRL, Italy.
Innaxis Research Institute and Foundation, Spain.
Jeppesen GmbH, Germany.
Kite Solutions SRL, Italy.
Kungliga Tekniska högskolan, Sweden.
Reducing Risk Exposure, Norway.
Società Abruzzese Gestione Aeroporti, S.p.A., Italy.
Swedavia, Sweden.
Technical University of Crete, Greece.
Thales Avionics SAS, France.
Trinity College Dublin, Ireland (Project Co-coordinator).