Roinn na Gaeilge agus na dTeangacha Ceilteacha
Bunaíodh Cathaoir na Gaeilge i Scoil na Diagachta sa bhliain 1840 agus bhí sí faoi scáth na Scoile sin anuas go dtí an bhliain 1918. Ina measc siúd a bhí ina n-ollúna le Gaeilge sa chéad seo áirítear beirt de mhórscoláirí na dteangacha Ceilteacha, T. F. Ó Rathaile agus Daithí Ó hUaithne, agus duine de mhórscríbhneoirí cruthaitheacha na linne seo, Máirtín Ó Cadhain. Is mór an t-ábhar mórtais don Scoil an caighdeán ard scoláireachta a bhain siad siúd amach i léann na Gaeilge agus déanaimid ár ndícheall an caighdeán sin a chothú i gcónaí.
Tugann an suíomh idirlín seo eolas faoin taighde sa Roinn, na cúrsaí atá ar fáil do mhic léinn agus imeachtaí i saol na Gaeilge taobh istigh den Choláiste agus taobh amuigh de trí naisc éagsúla. Má tá tú ag smaoineamh ar thabhairt faoi chúrsa bunchéime nó iarchéime anseo linn, táim cinnte de go gcabhróidh an suíomh seo leat.
Beidh fáilte agus fiche romhat.
Damian McManus PhD, MRIA, FTCD
Ceann Roinne agus Ollamh le Luath-Ghaeilge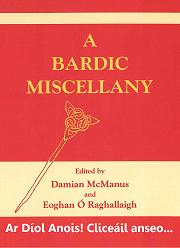 The Chair of Irish was instituted in the School of Divinity in 1840 and remained part of that School until 1918. Among its occupants in the present century were two of the most accomplished Celtic scholars, Thomas F. O'Rahilly (1919-'29) and David Greene (1955-'67), and one of the finest creative writers in Modern Irish, Máirtín Ó Cadhain (1969-'70). Eleanor Knott and E. G. Quin also held professorships in Early Irish in the School. Great pride is taken in the excellent standards in Irish and Celtic Studies set by these scholars.
This website guides you through the research interests of the Irish Department and through the courses available to students. If you are thinking of studying Irish at undergraduate or postgraduate level, I hope this site will be of help to you.
You will get a warm welcome.
Damian McManus PhD, MRIA, FTCD
Head of Department and Professor of Early Irish
News!