Interprofessional Learning
The interprofessional education curriculum in the Faculty of Health Sciences Trinity College Dublin aims to prepare our Health Sciences graduates to be collaborative-practice ready. In recognition of the challenges of an ageing society and greater number of people living with chronic disease, we strive to provide our health science graduates with the skills needed to work well as part of a multidisciplinary team to provide the best care for patients with multi-morbidity and address a wide range of complex medical needs.

Interprofessional education is a common theme integrated throughout all schools of the Faculty of Health Sciences. Together, the four schools deliver 14 undergraduate degree programmes, providing numerous opportunities for students to engage with a diverse number of professions and providing the platform for complex, multidisciplinary, interprofessional education initiatives. The Interprofessional Education Curriculum is coordinated by Dr Emer McGowan, Assistant Professor, Interprofessional Learning Coordinator for the Faculty. The Faculty Interprofessional Education Steering Committee, which has representation from the four Schools, works with Dr Guinan to develop integrated, Faculty-wide interprofessional initiatives.

The interprofessional education curriculum has been designed with the knowledge that patients receive better care when health providers from all health disciplines work together. The goals of this collaborative practice are:
Improve patient outcomes
Reduce errors and improve patient safety
Improve health professional job satisfaction
Reduce stress among health care providers
Increase efficiencies and innovations
Interprofessional Learning Workshops
The annual interprofessional learning workshops provide a simulated multidisciplinary team setting for students to work with interdisciplinary colleagues from across the Faculty. The workshops currently involve students from nine undergraduate degree programmes – Medicine, Dental Science, Dental Hygiene, Pharmacy, Physiotherapy, Occupational Therapy, Human Nutrition and Dietetics, Radiation Therapy and Clinical Speech and Language. Students generate interprofessional solutions to a patient-centred case study following small group workshops. Small groups are designed to be interprofessional with student representatives from the majority of Disciplines providing a unique, multidisciplinary student experience. The interprofessional education experience prepares students for an ever-changing health care system where interprofessional collaboration and teamwork are essential.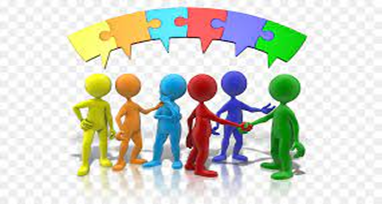 Image: 'Learning with, about and from each other'