Graduation Exhibition 2020
The 2020 MMT Virtual Graduate Exhibition took place on . Students presented their work online on the Twitch platform and the launch party was held virtually in Mozzila Hubs on .
The launch party consisted of four virtual rooms with students and their posters assigned to each room.
Room 1 - Alex Borwick, Mauricio Flores Vargas,Tanay Chowdhury, Foteini Tryferopoulou
Room 2 - Serena Conese, Amal Joseph, Pierrick Chauvet
Room 3 - Kristine Stresman, Raymond Hill, Robert Cleaver-Redmond, Christopher Hearty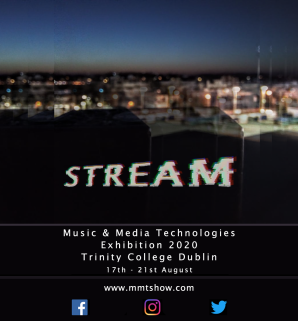 ONLINE VIDEO PRESENTATIONS
Video presentations and content from the 2020 Student Exhibition of the Music and Media Technologies M.Phil. programme in Trinity College Dublin can be viewed on youtube.
Amal Shaju Joseph
Alex Borwick
Christopher Hearty
Foteini Tryferopoulou
Kristine Stresman
Maurico Flores Vargas
Pierrick Chauvet
Ray Hill
Robyn Avery
Serena Conese
TC
View All - youtube playlist of MMT Student Projects 2020:

LINK TO YOUTUBE PLAYLIST:
https://youtube.com/playlist?list=PL9KsO0rGiCdVkCi_wk4SlLyPh8L0sZb9S