TUESDAY
Choice of 2 Fresh Soups Daily
Supreme of Chicken with couscous & pine nut crust
Grilled Beef burger with side salad and low fat dressing
Spicy lamb with chickpeas served with steamed rice and fresh coriander
Savoury root and lentil casserole
Broccoli
Savoury Potato
WEDNESDAY
Choice of 2 Fresh Soups Daily
Hoisin Pork chops served with pak choi and stir fried noodles
Baked Leg of lamb marinated in yogurt & turmeric served with pickled red onions salad
Thai Beef Stir fry with rice and naan bread
Roasted Mediterranean vegetables served on a rustic baguette with pesto
French Beans with grated carrot
Parsley Potatoes

THURSDAY
Choice of 2 Fresh Soups Daily
Roast Turkey crown served with turkey jus and fresh cranberries
Poached Supreme of Salmon with ginger and sesame broth served with steamed rice
Chicken curry served with savoury rice
Vegetarian Falafel
Baton Carrots
Champ Potato
FRIDAY
Choice of 2 Fresh Soups Daily
Ginger Chicken cooked in ginger & fresh chilli's served with noodles
Poached Smoked Cod & leek sauce
Trinity Paella
Butternut squash chilli served with steamed rice
Minted Peas
New baby potatoes with fresh coriander
College Health Week Salads 2019
Watermelon, black olives and feta cheese with fresh mint
Grilled roasted vegetables with cous cous and fresh herbs
Grated carrot, toasted sesame seeds with puy lentils and lemon dressing
Broccoli, grated carrots, red onion, toasted almonds in yoghurt dressing
Potato, chorizo & spinach
Noodle salad with peppers, red onion, beansprouts and mangetout, soya & ginger with duck/beef/ pork
Good eating habits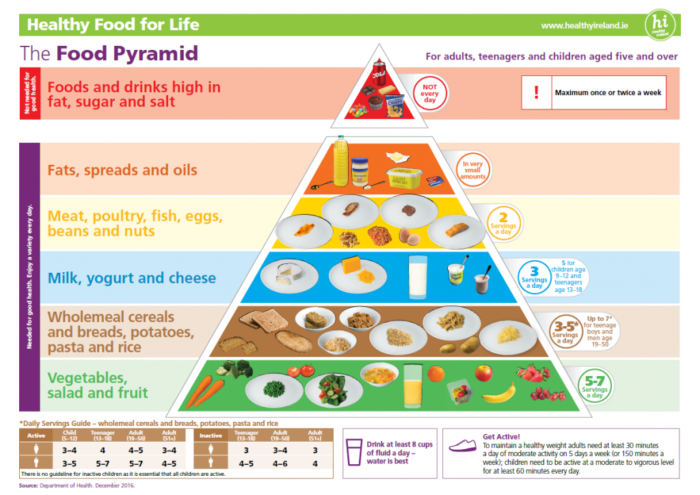 Drink water, little and often throughout the day.
Eat something in the morning – it does not have to be first thing as you jump out of bed, but eating something when you get up will replenish your blood glucose levels and fuel your brain and your body.
Eat at least 5 portions of fruit and vegetables a day – they're great as snacks and if you have at least 1 serving per meal, you'll easily make this target.
Go for colour. Check you are eating a variety of colourful fruit and vegetables – think yellow, red, green and orange.
Eat as wide a variety of foods as possible. If you can count up the number of different foods you eat on your 10 fingers, you need to add more kinds to your diet. This will help you get a greater choice of nutrients and fibre sources.
Avoid long periods without eating. This will help stabilise your blood glucose levels and make you less likely to over-eat, or grab an unhealthy snack, later.
Rate your food hunger. On a scale of 1–5 (1= starving, 5= stuffed). Aim to eat before you reach "1" and stop eating before you reach "5".
Take time to eat. It sounds obvious, but it will help you eat more balanced diet and avoid excess calorie intake. Studies show that individuals eat up to 15% more calories when they are in rush at meal times.
Chew your food. Proper chewing can aid your digestion, and has been shown to reduce symptoms off irritable bowel syndrome.
Avoid fad diets. There are no miracle foods – good health requires you to eat a variety of quality food in moderation.
Or go French perhaps...