Launch: Monday, the 27th of March 2017 at 1 pm on Front Square
DU Dance will be showcasing a 'Healthy Trinity' by performing a short mixed piece involving several dance styles in Front Square, to promote healthy fun exercise in the form of dance!
Theme: "Healthy Trinity: We're all in this together".

Did you know that research suggests that happiness spreads up to three degrees of separation from us: if you're happy, your best friend's sister, hairdresser's spouse, your girlfriend's landlord and colleague's son will also be happier!
We're encouraging everybody in Trinity to create a culture of "We're all in this together". For this week (and beyond), do something e.g. cook a healthy meal for friends, do some volunteering, bring your friend or a colleague who does no exercise to one of the classes, do a random act of kindness or just to be present for people and listen!
In this year's programme we have addressed the four pillars of health and wellness: exercise, nutrition, sleep and mindfulness.
We have four inspirational talks during this year's Health and Sport week with great competitions for all those who attend (come to any of the talks and be in for a chance to win a Trinity Ball ticket plus a 200 euro giftcard at Keith Wood's event):
Tuesday - Trinity's own Mark McGauran and David Lynch
Wednesday - Anne Geary from "Irelands fittest Family"
Thursday - David Gillick, former Olympian
Friday- Keith Wood, former Ireland Rugby Captain and Healthy Ireland Chairperson
Take part in any of the FREE exercise classes or try a new sport, enjoy some nourishing food in our catering outlets, have some holistic treatment and join the meditation sessions or mindful tree walk.
For details on everything listed here go to our Programme Page
Healthy Eating
Trinity Catering is providing a Healthy menu for the week.
How Can Trinity Make it Easier To Eat Healthily?
We've drafted a Healthy Eating Policy. Our next step is a discussion document on Healthy Eating in Trinity. Please download the document here and email Martina Mullin on health.promotion@tcd.ie with your comments on it.
Put Up Healthy Eating Posters
One of our fantastic volunteer students Jessica (you know who you are!) designed these posters. We're encouraging students and staff to put them up near where you study/work. Click on the pictures to download them. If you'd like some printed ones email Martina on health.promotion@tcd.ie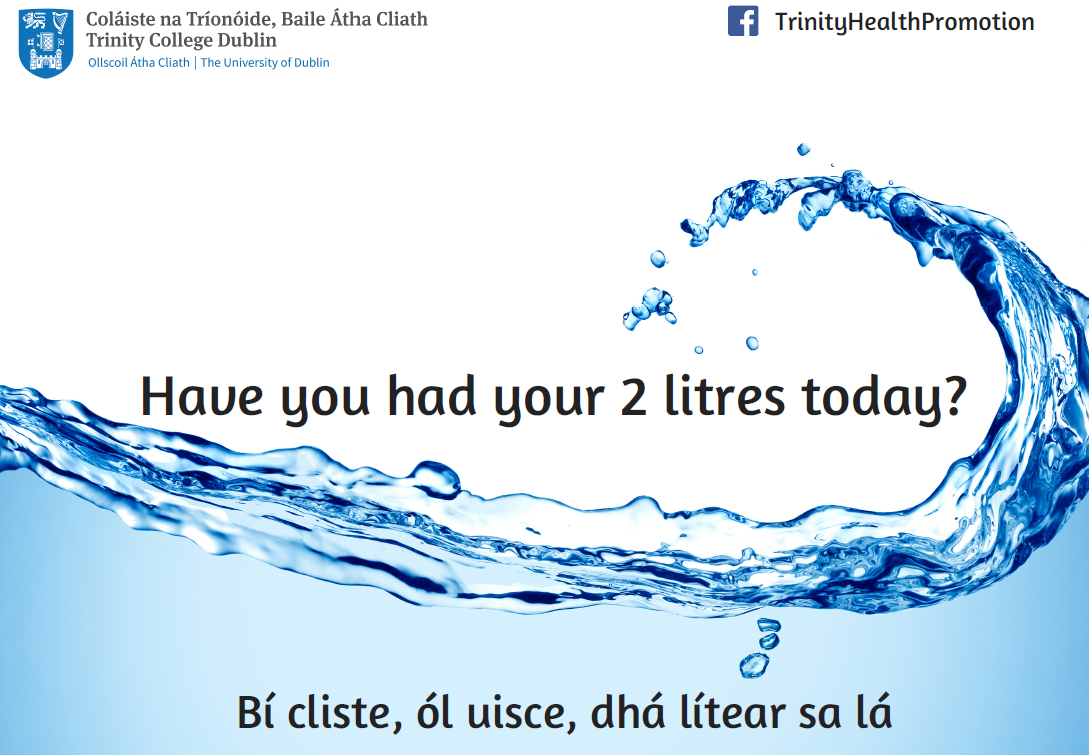 Mindful Eating
Eat at least one meal a day without checking up Facebook/Instagram/Twitter at the same time. Look, smell and taste.
And here's the strange thing about feeling good about food. If you look forward to eating, if you enjoy sharing food with your family and your friends, then it actually makes the food even better for your health. Go with your gut!
Physical Activity
Exercise Hour for Staff
As usual, during the Week, all Trinity staff are entitled to take Exercise Hour which is an hour out of work to exercise. To show support for Exercise Hour, College Health will close for one hour during Health and Sports Week and the doctors, nurses and administrative staff will spend that hour exercising.
We are aware that for many people finding an hour out of work is difficult but we encourage staff members to take Exercise Hour too. As you know, regular exercise is beneficial to mental and physical health. It is also an opportunity to spend time with your colleagues having fun. More details here.
You can see the full programme of the weeks events.
Free Sports Centre Classes
As usual Trinity Sport are being SUPER generous. There's lots and lots free classes. Check out the programme.
Free Yoga
Megan Kuster and Sports Centre will be offering free Yoga sessions.
Trinity Sport Campus 5K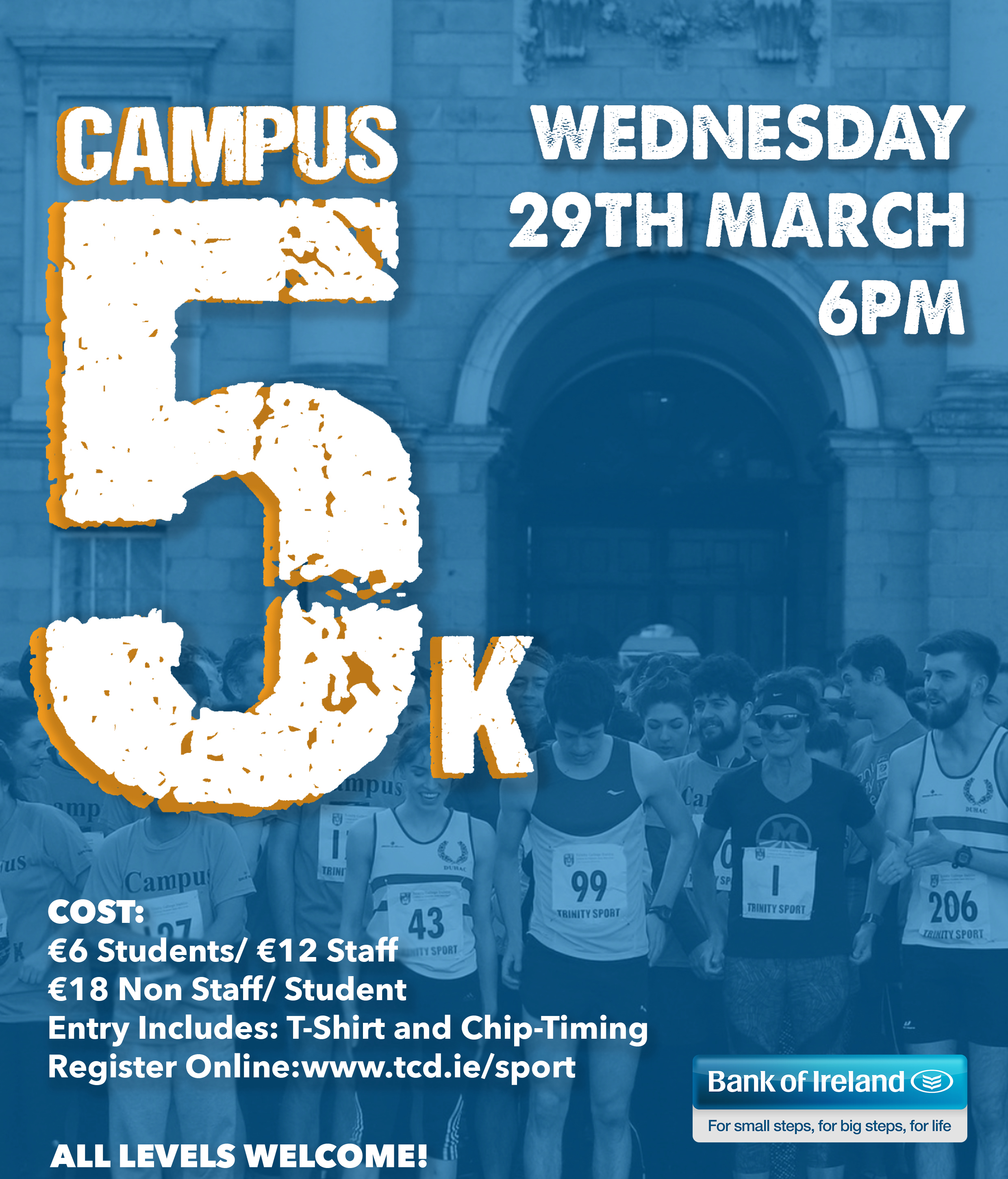 The annual Campus 5k is a great opportunity for students and staff to get active.....whether running or jogging the fantastic setting of the College. The event is focused on participation and is aimed at all levels....so get involved.
To register click here. (Booked out!)
Mindfulness
Mindful tree walk
Gather at the Campanile on Friday at 1.05 to enjoy the amazing trees
on the campus with David Hackett who will tell us about the trees
and Karita Saar Cullen, College physio and Mindfulness instructor
will guide us to experience the trees through Mindfulness.Plus you
are getting fresh air and stop being sedentary.
Mindfulness Meditation
Karita, the College Physio and Mindfulness Instructor will give early morning guided meditation sessions where you become aware of the thoughts, body and emotions which will help you to make the best choices for the rest of your day and life perhaps! Karita's advice includes
Take time to be quiet with yourself. Meditate, pray or go fishing!
Savour the moment. Enjoy what you are doing now, instead of re-living the past or anticipating the future.
Health Checks
The College Health Centre will have nurses in the Arts Building (Tuesday, 1 to 2 pm) and Dining Hall (Thursday, 1 to 2 pm) to do free blood pressure testing and BMI. Come along, all welcome.
Sponsorship
DUNNES STORES South George's Street
Lombard Pharmacy (15% discount for staff and students at all times)
Freshii
The Pavillion Bar
Trinity Sport
College Health Service
Student Union