Update from College Secretary and Director, College Health Service to staff and students
29 October 2020
Dear colleagues and students
With the whole State now operating at Level 5 of the Government's Plan for Living with COVID-19, below is a brief summary of the Provost's and my email of 20 October outlining the implications for College:
Implications of Level 5
The current arrangements for teaching at Trinity remain as they have been. We are maintaining a balance of on-campus and remote learning for the remainder of the semester.
The restrictions already in operation are likely to continue for the rest of the semester.
Research is continuing.
Labs and tutorials are continuing to be delivered face-to-face.
The Library continues to provide essential services to support researchers and students, more information here.
Campus residences remain open.
Online study spaces and student breakout spaces remain open. Watch a new video from the SU and GSU presidents explaining more about them here.
The Buttery and The Perch are open for takeaway only. Don't forget that there is 50% off everything in the Buttery Restaurant for all students when purchasing food with your TCard.
Trinity Sport's facilities (indoor and outdoor) are closed. Sport clubs' fixtures, activities and the hosting of club training are also cancelled. Trinity Sport has moved its services online with an extensive timetable of live and on-demand classes, please see here.
All of these points are in line with Government advice and the clarification provided by the Minister for Further and Higher Education, Research, Innovation and Science, Simon Harris, TD as to what Level 5 means for universities, please see here
What to do if there is a confirmed case of COVID-19 on campus?
If there is a suspected case of COVID-19, the staff member or student must be tested, await the result and not attend College. No further action is required at this point.
Tests may be carried out if someone has symptoms of COVID-19 or if they are deemed to be a close contact of a positive case of COVID-19.
If you are tested because you have symptoms, and if your result is negative, you may return to College after 48 hours without symptoms.
If your result is positive, your Head of School/Unit/TRI must contact College Health at covidnotify@tcd.ie . If positive, you will need to continue to self-isolate until both of these apply:
It has been at least 10 days since you first developed symptoms and
You have had no fever for 5 days in a row.
If you were tested because you were deemed to be a close contact, and if you test positive, the above applies, but, if you test negative, you must continue to restrict your movements for 14 days as you could still have the virus. A second test may be arranged for you after 7 days by the contact tracers.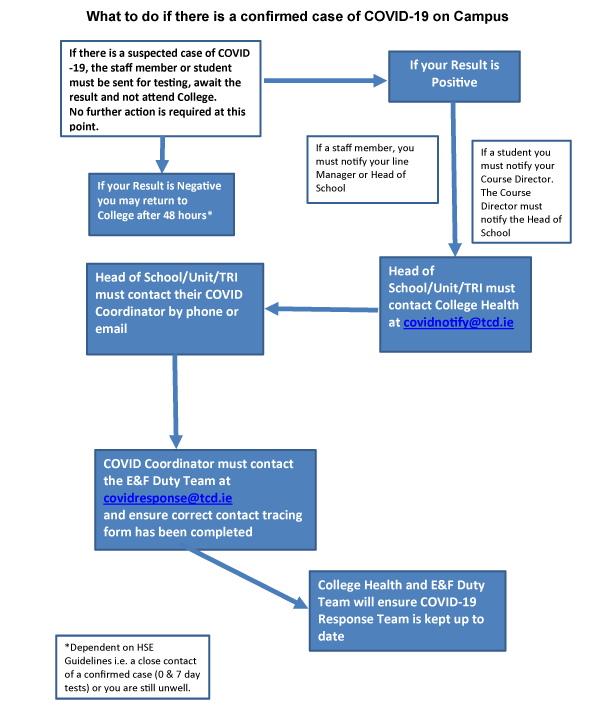 The two contact tracing forms that make up part of Trinity's COVID-19 Response Plan are now available as a Pdf -fillable documents for use by the Head of School/Unit's team to circulate upon the notification by a staff or student of a positive case.
We would like to thank you all for adapting to the ever-changing situation and working together to help stop the spread of this pandemic. It has been challenging and we as a College community have risen to this challenge.
Kind regards,
John Coman, Secretary to the College
Dr David McGrath, Director, College Health Service