Update from College Secretary to students and staff
16 October 2020
Dear students and colleagues,
The national COVID-19 situation continues to become more serious. The Government has moved three border counties - Cavan, Donegal and Monaghan - to Level 4 and introduced a nationwide restriction on visits to other households from last night in an attempt to reduce the spread of the virus. The only visits that will be allowed are those for essential reasons such as childcare or on compassionate grounds. We should all bear this in mind when considering who we visit and where we travel. For these purposes, those living in an apartment are considered to be a household.
Trinity, and the other universities, has introduced special extra measures in addition to those required under Level 3 and we are effectively operating at Level 4 for most purposes. These special measures include pre-booking of library, online study and breakout spaces, limiting access to the main campus to students and staff with current ID cards, screening and on campus sampling/testing for COVID-19 and physical distancing measures at essential in person teaching events. All these measures are aimed at improving your safety while on campus.
Trinity's COVID-19 Response Plan
COVID-19 is within the community and unfortunately it will be something that we have to live with as a college community throughout the coming year. Trinity's COVID-19 Response Plan has been circulated to all Heads of Schools/Units and the Executive Summary has been sent to all staff. Below is the flow chart outlining steps to take if you become aware of a confirmed case of COVID-19 on campus.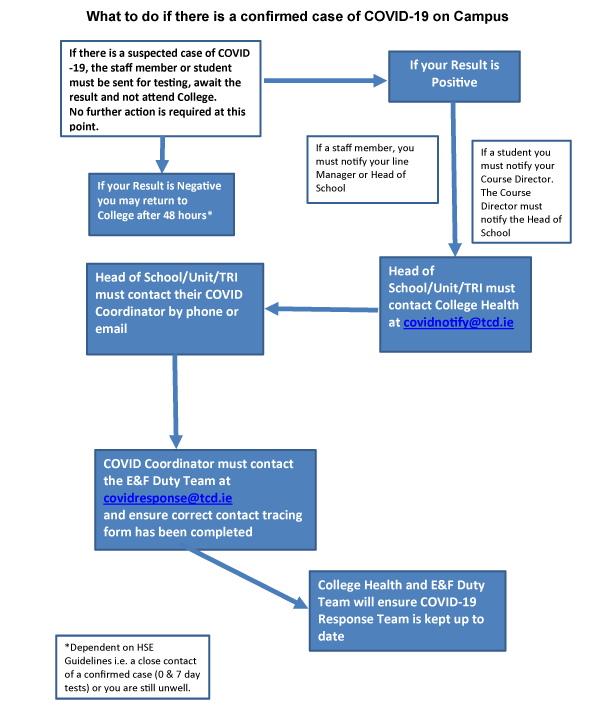 Your wellbeing and available supports
It is important to look after yourself and others. Times such as these are stressful for many people, and uncertainty makes this worse.
As students, please remember that you can find support from your Tutor or Senior Tutor's office at ST.Office@tcd.ie if you are an undergraduate and the PG support officer Martin McAndrew at pgsupp@tcd.ie if you are a postgraduate. Student Counselling is available at student-counselling@tcd.ie while the Chaplains are available at chaplain@tcd.ie . Please see here for more information regarding student supports and services.
Both Students' Unions are also available to help you in finding social support through on and offline ideas and can be contacted respectively through the undergraduate SU president Eoin Hand at president@tcdsu.org and the postgraduate GSU president Gisèle Scanlon on president@tcdgsu.ie
Staff can avail of Inspire Workplaces Counselling Services as part of Trinity's
Employee Assistance Programme
service. You can find useful information on the
HR website
about working from home and staying healthy at home.
Keeping safe
We must take all preventative measures to prevent the spread of the virus. The advice on face coverings, hand washing, cough and sneeze good practice and physical distancing needs to be reinforced by all of us and is still the way in which we will flatten the curve as we did in May. Thank you for all the great efforts that students and staff are making to comply with the public health advice.
Stay safe, stay well. Bígí slán agus sábháilte.
John Coman, Secretary to the College
John Coman, Rúnaí an Choláiste