Integrated engineering (common entry programme)
Apply
To apply to this course, click on the relevant Apply Link below
Non-EU Applicants
Mature Student - Supplementary Application Form

Read the information about how to apply as a mature student, then select the link below to complete the TCD Supplementary Application Form for mature students.
Advanced Entry Applications

Read the information about how to apply for Advanced Entry, then select the link below to apply.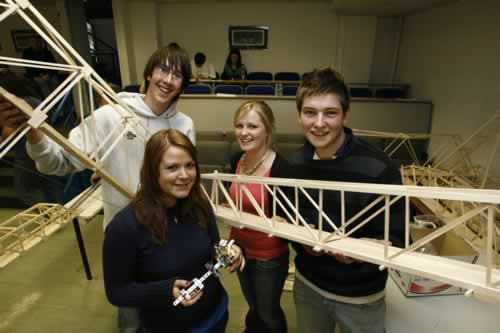 What is Engineering?
Engineering is about being creative. Engineers make things possible by using mathematical and scientific principles together with analytical and design skills. They tackle existing problems by developing new solutions through innovative technologies. They also expand the frontiers of society by developing advanced materials, sustainable energy systems, construction technologies, transport systems and telecommunications infrastructure.
Is this the right course for you?
Engineering is a constantly evolving profession. As an engineer, you will need to be adaptable both to the rapid development of new ideas and technology and to the shifting requirements of industry and society. Ideally you will be a good communicator and will also be capable of working as part of a team. Above all, you must be a problem solver. You must be creative and able to synthesise and analyse information from different sources to arrive at efficient and practical solutions.
Course overview
The B.A.I. (Integrated engineering) degree programme is based on two years of general engineering, providing students with a firm grounding in the principles common to all disciplines, followed by two years of specialisation. Graduates are professionally accredited engineers with both a broad-based understanding of the whole discipline and a detailed knowledge of their chosen specialist area. The aim is that graduates will be able to continuously train themselves, to adapt and move into related or newly emerging areas as their careers develop after graduation.
The Freshman years
All students follow a common programme for the first two years. The Junior Freshman (first) year comprises introductory courses in engineering science, mathematics, computer science, physics, chemistry, mechanics, electricity and magnetism, graphics and computer-aided engineering, and a group design and build project.
In the Senior Freshman (second) year, students take further engineering science modules and complete two more group design and build projects. This allows you to explore all the possibilities open to you in advance of making your final decision about what specialism to concentrate on.
While every effort is made to allow students to study the course they choose, the B.A.I. Management Committee reserves the right to allocate the available places. In some departments the number of places for students of any one year may be limited. Timetable difficulties may also reduce the number of options available.
What happens next?
At the end of the Senior Freshman (second) year you choose one of the six specialist areas:
Biomedical engineering
Civil, structural and environmental engineering
Computer engineering
Electronic engineering
Electronic and computer engineering (joint programme)
Mechanical and manufacturing engineering
Courses in the Sophister (third and fourth) years aim to broaden and deepen your knowledge and understanding of the specialism you have chosen to follow to degree level.
Subjects are studied in much greater detail and students undertake real-life, practical projects. If you choose Civil, structural and environmental engineering you could end up testing the pre-cast concrete used to build the Paddington to Heathrow railway; if you choose Computer engineering, you might find yourself building a microprocessor system.
A substantial design project will be part of your final-year assessment in each discipline.
5th Year Options
Students graduating after 2012 will require a Masters degree to be directly eligible for Chartered status. Therefore the School offers several options for a 5th year leading to a Masters degree (M.A.I.).
Double qualification with INSA de Lyon
Suitably qualified students may, at the end of their second year, apply for transfer to the double qualification programme, run jointly with the INSA de Lyon, the largest Engineering School in France. Instruction at INSA de Lyon is through French and students will be required to have a high standard of language competence before participating on the programme. At the end of a five-year double qualification programme TCD students may receive, in addition to the B.A.I., the DiplÃŽme de l'INSA, which confers full professional accreditation in France.

M.A.I. (Domestic - Option 1)
This entails spending the 4th and 5th year in Trinity College, undertaking additional modules in the specialisation as well as a group project in 4th year and a significant individual project in 5th year.

M.A.I. (Domestic - Option 2)
This option allows student to spend one semester of their 4th year undertaking a supervised work placement. The remainder of their 4th year and the 5th year are spent in Trinity College undertaking additional modules in the specialisation. Students complete a significant individual project in 5th year.

M.A.I. (International - Option 1)
This is offered in collaboration with the European CLUSTER Programme, a consortium of 12 universities. The student spends their 4th year abroad and returns to complete their 5th year at TCD. The other partner universities are: Technical University of Catalonia, Barcelona; Technische Universitat Darmstadt; Technische Universiteit Eindhoven; Institut polytechnique de Grenoble; Instituto Superior Tecnico Lisbon; Katholieke Universiteit Leuven/Université Catholique de Louvain; Helsinki University of Technology; Karlsruhe Institute of Technology; Ecole Polytechnique Fédérale de Lausanne; Politecnico di Torino; KTH Royal Institute of Technology Stockholm.

M.A.I. (International - Option 2)
This is offered in collaboration with the UNITECH Programme, a consortium of 9 universities and 15 multinational corporate partners. Students will spend one semester in a partner university followed by a six month internship with one of the corporate partners.
Partner universities: Chalmers University of Technology, Gothenburg; ETH Zurich; Loughborough University; Politecnico di Milano; RWTH Aachen University; Universitat Politecnica de Catalunya, Barcelona.

Integrated engineering at a glance
All students in TR032 follow common first and second years. At the end of the second year you will select one of six alternative degrees as outlined below.
Junior Freshman (first) year
Lectures - 16 hours per week
Tutorials - 5 hours per week
Laboratory work - 6 hours per week

Engineering mathematics I and II
Series and limits, differentiation, integration, ordinary differential equations
Vectors, linear algebra, complex numbers, introduction to probability and inference

Computer science I
Introduction to computer systems and software; problem solving, algorithms and programming

Physics
heat, light and sound, laboratory work

Experimental methods
This module introduces students to modern experimental techniques for engineering. The students gain experience with a variety of sensors used in engineering systems and examine the role of error and uncertainty in measurements and analysis. Exposure to and experience in using commercial software for data acquisition and analysis. Provides experience in working in a team in all aspects of the laboratory exercises, including set-up, data collection/analysis and report writing.

Mechanics
Statics - Newton's laws, forces, moments and couples, equilibrium, analysis of structures, friction, virtual work, hydrostatics
Dynamics - kinematics and kinetics of particles and of rigid bodies, simple harmonic motion and vibration

Electricity and magnetism
Electric circuits - electrical quantities, lumped-circuit elements, analysis of electric circuits, meters and measurements
Electrical energy systems - AC power systems, magnetic circuits and transformers, electromechanics, rotating machines
Electronic analogue and communication systems - ideal operational amplifier, introduction to communication systems

Graphics and computer-aided engineering
An introduction to the basic principles of engineering drawing and graphics, drawing office work, introduction to the use and practical application of computer-aided engineering software tools and packages.

Introduction to professional engineering
The aim of the course is to introduce the students to the role of the professional engineer and all that it entails. The key point of the course is to emphasise that this role has more than a technical side and that all decisions made and actions taken can have social, economic, ethical, regulatory and political implications. An associated objective is to promote critical thinking and critical analysis skills and most importantly to begin to get students to deal with more open ended questions and develop the ability to work independently.

Engineering design project I
Students design, build and test a Roman mangonel (catapult) according to a Conceive-Design-Implement-Operate (CDIO) compliant methodology. Students apply engineering sciences through learning-by-doing project work to provide a framework to encourage creativity and innovation, to develop team work and communication skills through group-based activity and to foster self-directing learning and critical evaluation.

Chemistry
General chemistry, physical chemistry, organic chemistry

Senior Freshman (second) year
Lectures - 16 hours per week
Tutorials - 5 hours per week
Laboratory work - 4 hours per week

Engineering mathematics III and IV
Partial differentiation; Laplace transform; Fourier series and transform; probability theory; vector calculus; linear algebra; optimisation and graph theory

Solids and structures
Mechanics of solids - properties of solids, stress and strain, failure criteria; applications
Structures - pin-jointed structures; analysis of beams; design of beams

Computer science II
Basic concepts of computer programming; object-oriented programming; classic data structures; representation and algorithms

Thermo-fluids
Fluid mechanics - principles of fluid motion; laminar and turbulent flows; pipe flows; free surface flows
Thermodynamics - mechanical work processes of closed systems; mass and energy conservation; heat engines; the second law of thermodynamics

Electronics
Analogue electronics - discrete analogue electronics; linear integrated circuits; analogue/digital conversions
Digital electronics - combinational logic; sequential logic; digital circuits

Engineering and the environment
To introduce students to the main environmental issues associated with engineering activity and to become aware of public concern about processes which affect the environment.
To develop the concept of sustainability in engineering practice and the main environmental and ethical issues regarding generation and use of energy.

Materials
Electrical - semiconductors; conduction processes; p-n junction; semiconductor fabrication
Mechanical - manufacture of materials; microstructure and heat treatment of steel and alloys
Civil - concrete technology; reinforced and pre-stressed concrete; timber technology

Engineering design project II
This is a full semester design and build project for a refugee shelter that meets the needs of a well-defined specification for a hostile environment. Students design and build a temporary demountable and adaptable structure, understand recycling strategies and elements of sustainable design. Students work in groups either as the team leader or a team member and work on a multi-disciplinary project, define a design problem and carry out the necessary analysis and calculations, and manage the construction of a shelter.

Engineering design project III
This module introduces the challenge of electronic systems design. The project is an example of 'hardware and software co-design' and the scale of the task is such that it requires teamwork and a co-ordinated effort. Each group has access to the basic shell of a vehicle that includes the motor assemblies, battery holders and sensors. The design objective is to build a computer controlled autonomous vehicle with motor-driven wheels and position sensors.

Sophister (third and; fourth) years
Engineering mathematics
Management for engineers
Select one of the five specialisations below:
Biomedical engineering
Civil, structural and environmental engineering
Mechanical and manufacturing engineering
Electronic engineering
Computer engineering
Electronic and computer engineering (joint programme)

There is an optional language course in French or German, with certification, in the Senior Freshman and Junior Sophister (second and third) years. Both courses continue over the two years.
Assessment
Assessment in each of the first two years is by means of written examination, primarily at the end of the last term combined with continuous assessment of coursework during the year. Typically, end-of-year examinations contribute at least 50% towards your grade in each subject. The design projects are assessed entirely by continuous assessment.
Career opportunities
The B.A.I. is a professional degree accredited by Engineers Ireland and is recognised by a large number of engineering institutions outside Ireland. It will be your gateway to a wide and varying career path. See the specialist areas below for further details of career opportunities.
Further information
www.tcd.ie/Engineering
Tel: +353 1 896 1142
www.facebook.com/TrinityEngineering
@tcdengineering

Graduate profile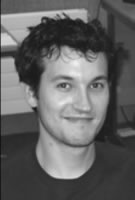 Simon Dobbyn B.A., B.A.I, Ph.D.
Simon Dobbyn B.A., B.A.I, Ph.D., took a fulltime undergraduate degree here and continued his studies as a post graduate in the computer graphics group where he received his Ph.D. He recently received funding from Enterprise Ireland with the aim of forming a games middleware company.
The reason why I did Engineering was because I was interested in mathematics in school and I wanted to work in the computer games industry. However, since I was not sure whether computer science was for me, I felt that Engineering was a good choice since it allows you to specialise in different streams at the end of the course.
I think Engineering is a really good course to take, as it provides a good foundation to the core subjects related to the different fields such as maths, physics, and programming in the first two years. This means that by the third year, you have a comprehensive understanding of many different subjects, and you can then specialise in the field you are most interested in."
Simon graduated with a B.A. and B.A.I. in 2001 and finished his Ph.D. in 2006, entitled Hybrid Representations and Perceptual Metrics for Scalable Human Simulation".