Italian (TSM)
Course Type: Undergraduate
CAO Course Code: TR001 (TSM)
No. of Places: 30
Min Entry Points for 2014: 425 – 580 points (Points per TSM combination)
Duration: 4 Year(s) Full Time
Award: B.A.
Specific Entry Requirements: See requirements
Course Options:

Italian (TSM) cannot be studied as a single honor course. It must be combined with one other subject within the two-subject moderatorship (TSM) programme. TSM is a joint honor programme. An honors degree is awarded in both subjects. For subjects that combine with Italian see TSM: possible combinations.

Alternatively, Italian may be selected as one of the two languages studied in the European studies programme (TR024).

Italian can be studied ab initio (from beginner level) within both TSM and European studies.

How to apply: See how to apply
Admission Requirements
For Admission requirements please click
here
Apply
Click on the links below to see the available options
Course overview
Having played a leading role in shaping European civilisation, Italy today is one of the world's most dynamic economies, famous for style, design and innovation. If you want to develop an in-depth knowledge of Italy's people and culture, the Trinity course gives you the opportunity to develop your interest in a systematic way. We also help you meet the challenge of mastering a new language; you can start Italian here as a complete beginner. There is close contact between students of Italian and staff; you will receive individual attention and will be encouraged to discuss your progress at all times.
Is this the right course for you?
Italian is an excellent subject choice if you have a natural flair for languages, and enjoy exploring foreign countries and their cultures, or if you want to follow a career in the multilingual Europe of today.
Course content
The Freshman years
In the Junior Freshman (first) year, you will follow an intensive course in grammar, translation, conversation, audio/video and computer-based language learning.
We provide about eight classroom hours per week, mostly devoted to language learning including grammar, conversation and other activities, together with assignments to be carried out independently. You will be introduced to modern Italian history, poetry, drama and fiction.
In the Senior Freshman (second) year you continue with language courses, Italian literature including Dante's Inferno and other key texts from the Renaissance, together with Italian cinema and cultural studies.
The Sophister years
The Junior and Senior Sophister (third and fourth) years focus on major authors of the medieval, Renaissance and later periods, including contemporary perspectives on Italy and its culture. Options are available in literature, language, film, history and society. There is a continuing emphasis on strengthening your language proficiency and developing higher-level skills in translation, text editing and writing.
In your final year the programme includes courses on Italian language varieties, key works by Dante, Boccaccio, Machiavelli and others, with a thematic approach to the modern period. Optional topics can be studied in depth, and you will research a substantial dissertation on an agreed theme.
Assessment
There is a combination of written, oral and aural examinations, in addition to essays and continuous assessment of coursework and assignments.
Study abroad
A minimum two-month stay in Italy will be required at some time over the duration of your course. This can be broken into convenient shorter visits. You can also apply to spend your second year at a European university through the Erasmus programme. We have links with the Universities of Bologna, Trieste and Pavia.
Career opportunities
Advanced language skills are sought after in today's job market- even here in Ireland, where many companies sell their products and services into Europe. Our graduates end up in all kinds of jobs: business, law, public administration, import-export, writing, journalism, translation, theatre, PR, diplomacy, corporate recruitment, finance, football management, teaching of all kinds, and even banking. Some have opted to live and work in Italy. Many do further study, selecting postgraduate courses in arts, social sciences, and European studies, while others have opted for professional training in law, marketing, journalism, teaching, acting, translation, interpreting and business.
Did you know?
Trinity is ranked 42nd in the world for Modern languages (by the QS World University Rankings 2014).
Further information
www.tcd.ie/Italian Tel: +353 1 896 2062 E-mail: italian@tcd.ie
Specific Entry Requirements
Graduate profile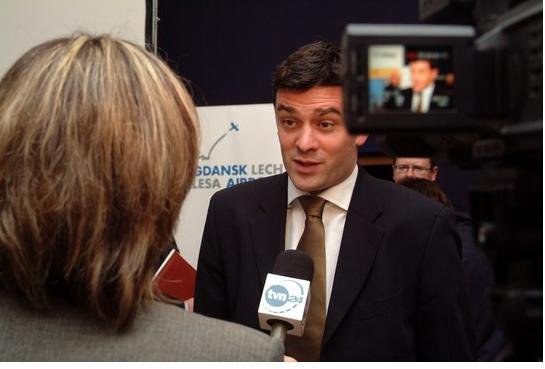 Peter Sherrard.
Peter Sherrard graduated in Italian and French in 1998, and went on to work in senior management with Ryanair. He was Country Manager for Italy, and later became Director of Communications with the airline before switching to the same role with the Football Association of Ireland. He took up his post with the FAI at the same time that the Irish national team acquired its first Italian manager, Giovanni Trapattoni.
We asked Peter how Italian studies had worked out for him. Hereplied: "Italian is a huge asset and helped to open many doors early in my career. Being a niche skill, it gives rise to all sorts of experience which would not normally be available to most arts graduates. With self belief, luck and desire to learn quickly, Italian graduates can soon find themselves managing complex business situations and given responsibilities far greater than offered to their peers. There are so few of us, that employers can often have little choice but to do so."In my own case, I was made county manager for Italy, (Ryanair's second largest market after the UK) at the age of 26. I would never have had this opportunity so early on, were it not for my knowledge of Italian. Although my last two jobs were not dependant on Italian and drew instead on the other skills it had allowed me to access, I still try to use it wherever I can. The current Italian flavour of Ireland's football team management means that I am not short of opportunities."