Admission Requirements
For Admission requirements please click
here
Apply
Click on the links below to see the available options
To apply to a course, click on the relevant Apply Link below
Read the information about
how to apply
as a mature student, then select the relevant link below to complete the TCD Supplementary Application Form for mature students.
Read the information about
how to apply
for Advanced Entry, then select the relevant link below to apply.
Why study Geography?
Geography is truly interdisciplinary as it spans a broad spectrum of the social, biological, informational and physical sciences. As the world becomes interconnected, geographers are well placed to bring their understanding and skills to bear on social and environmental issues. An important attribute of geographers and one that is highly regarded in the workplace, is their ability to combine multidisciplinary knowledge with a wide range of transferable skills, including critical thinking, report-writing, numeracy and IT-literacy. These can be applied to careers which directly incorporate a geographic dimension, such as environmental consultancy or urban planning, and to wider areas such as business and public service.
Course content
The Junior Freshman (first year) TSM geography modules aim to provide a flavour of the breadth of the subject, focusing on materials that are dealt with in greater depth in later years, while challenging students to integrate the different approaches and forms of knowledge that characterise the modern discipline of geography.
In the Junior Freshman year, students take three introductory modules in geography:
Physical geography: provides a basic introduction to the large-scale controls and processes that have influenced the physical landscape of the earth, and that have provided the conditions for the evolution of a variety of life forms, species, habitats and ecological systems including those that led to and subsequently influenced human existence.
Environmental geography: introduces key concepts relating to nature, culture and the environment, and interactions between humans and their environment, using case studies from the fields of conservation, environmental degradation and environmental hazards.
Human: introduces the subjects of global urbanisation, the socio-spatial structure of the world economy and the processes generating variations and changes in levels of human well-being. It also examines aspects of globalisation including the realities of living in a 'shrinking world' and the emergent 'black holes of globalisation', as well as considering the nature of development.
Participation in lectures and seminars is in line with other TSM subjects. Certain practical exercises are completed outside the allocated class time.
The Senior Freshman (second year) geography modules cover issues relating to cultural, economic and historical geography, and to natural and human-modified environmental processes and systems. Research skills are developed further through the collection and analysis of geographical data module which includes a fieldwork component.
The Sophister years
For details of modules in the Junior and Senior Sophister (third and fourth) years, see Geography (TR071). Students may also opt to take a number of modules outside Geography in their Sophister years.
Assessment
A combination of continuous assessment and end-of-year examination is used.
Study abroad
There are opportunities for students to spend all or part of the third year studying abroad at Exeter, Bordeaux, Paris, Utrecht or Stockholm universities.
Career opportunities
A wide range of career options is potentially available to Geography graduates. The combination of a broad-based discipline and training in highly relevant transferable skills is valued in today's job market, where adaptability and flexibility are widely regarded as assets. Careers taken up by graduating Geography students in recent years include urban and regional planning, environmental consultancy and research, teaching and overseas development as well as positions in such areas as financial services (including insurance), foreign affairs, leisure and tourism.
Did you know?
In recent years, Sophister year Geography students have been involved in fieldwork in Iceland, Mallorca and Zambia, and in making digital video documentaries as part of their assessed work.
Geography at Trinity is ranked in the top 100 geography departments in the World (by the QS World University Rankings 2014).
Further information
Tel: +353 1 896 1576
Student Profile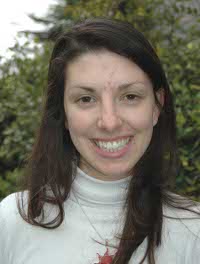 Celine Walsh

I chose to study Geography as it is a broad course, covering a wide range of topics from physical and environmental to social, economic and historical geography. This varied aspect of Geography appealed to me as I was uncertain which career path I wanted to take when I finished secondary school. I would have the opportunity, over the four years, to discover what I was passionate about. Throughout my time in Trinity, I have thoroughly enjoyed studying Geography. The department is friendly, open and approachable. Fieldtrips are organised around Ireland and abroad, such as Mallorca and Iceland. Students are given the opportunity to study overseas also. I spent my third year in Stockholm University, in Sweden, studying Human Geography through the English language. Studying and living in Sweden was an eye-opening experience. I spent my time with people from all over Europe and beyond. This has influenced my growing passion in migration studies. I hope to continue studying in this area as a Postgraduate in the Trinity Immigration Centre. Also, as a student in Trinity, I have been given the chance to take part in new activities, in the clubs and societies, such as rock climbing, yoga, and African drumming. I believe the learning environment and social activities in Trinity gives the students the opportunity to realise their full potential.