Undergraduate
Science (common entry programme)
B.A.; 4 years full-time; 320 places; 515*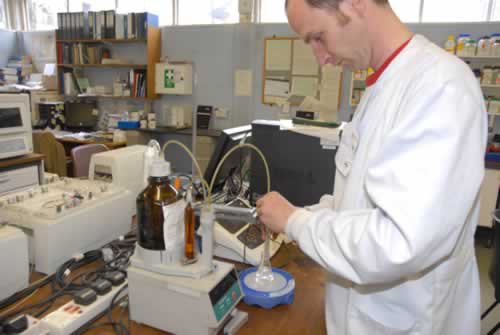 What is Science?
Science is making critical contributions to conservation and the new world economy, and to our health and welfare. Scientific knowledge had been used to develop modern medicine, the mobile phone, the worldwide web, and new ways to save and generate energy. There is much to learn and much more to be discovered. Discoveries made by scientists have changed our world. We have a deep understanding of how the natural world works. We know much about how the physical world evolved from the Big Bang 13 billion years ago, how our planet evolved from stellar debris and how modern man diverged from other hominids in the last 150,000 years. We know the structure of DNA and the genetic code of a human being, the TB bacterium, of rice and many other organisms.
Why study Science at Trinity?
Science is diverse, progressive and exciting. It provides students with a broad foundation in Science (student choose 3-4 subjects for their first two years), followed by the opportunity to specialise in one of 16 areas for their final two years. Graduates of this course have excellent career prospects across the whole spectrum of the sciences. The Science course in Trinity offers:
Outstanding teaching by scientists and mathematicians who are at the forefront of their field worldwide.
Research-led teaching by world leaders in their fields.
Excellent laboratory facilities.
Field and laboratory work supported by many subjects.
Continuously updating and revising course structures ensuring excellent qualifications.
Opportunities for study abroad before and after graduation.
Opportunities to carry out research as part of your course.
Excellent career prospects in Ireland and abroad.
What will I study?
A key feature of the first year in Science at Trinity is that you don't have to choose your modules before you start. On your first day you will meet with scientists who will advise you on your options. Courses in the first two years are designed to introduce you to and train you in the fundamental sciences. By the end of the second year you will have moved far beyond the extent of science as it is taught at school and will understand better where your real interests lie. At this point you have the opportunity to focus on one of sixteen specialist areas for your final two years.
FIRST YEAR
Choose modules to the value of 60 credits for the year (30 per semester) from the following subjects:
Biology (20), Chemistry (20), Geography (20), Geology (10), Mathematics (20), Physics (20), Foundation Physics (10).
SECOND YEAR
Choose modules to the value of 60 credits for the year (30 per semester) from modules within the following subjects:
Biology (50), Chemistry (20), Geography (20), Geology (20), Mathematics (20) and Physics (20).
THIRD AND FOURTH YEARS
Choose one of the following 16 specialisations:
Biochemistry, Chemistry, Environmental Science, Functional Biology, Genetics, Geography, Geology, Immunology, Microbiology, Molecular Medicine, Neuroscience, Physics, Physics and Astrophysics, Physiology, Plant Sciences, Zoology.
Careers
Our graduates pursue a wide variety of careers in, for example:
Hospitals and commercial laboratories
Biotechnology and food science industries
Electronics and telecommunications
Biophysics
Automation and computing
Chemical and pharmaceutical industry
Electronics, computer and IT industries
Engineering
Energy and mining industry
Water industry
Agriculture and food industries
Biological or psychological research
Hospital and medical services
School teaching
Media (e.g. Liz Bonnin – biochemist, Ella McSweeney – zoologist)
Accountancy and financial services, stockbroking, insurance and banking
Environmental management
Universities and research institutes
Science Course Structure
Year 1
Choose subjects to a total of 60 credits (credits are listed in brackets below):
Mathematics (20), Mathematical methods (10)
Biology 1101 (10), Biology 1102 (10)
Chemistry 1101 (10), Chemistry 1102 (10)
Geography 1021 (10), Geography 1022 (10), Geology 1101 (10)
Physics (20), Physics – Foundation Physics for the Life and Earth Sciences (10)
Year 2
Choose 3 subjects to a total of 60 credits (credits are listed in brackets below):
Mathematics (20), Geography (20)
Biology (20), Geology (20)
Chemistry (20), Physics (20)
Years 3 and 4
Select one of:
Biochemistry
Chemistry
Environmental sciences
Functional biology
Genetics
Geography
Geology
Immunology
Microbiology
Molecular Medicine
Neuroscience
Physics
Physics and astrophysics
Physiology
Plant sciences
Zoology
See: www.tcd.ie/Science/prospective for further details.
Further information
Visit us: If you are considering studying Science at Trinity please contact us by email to arrange a visit.
Email: science@tcd.ie | Tel: +353 1 896 2829 / 2022
See our introduction to Science presentation and student profiles: www.tcd.ie/science/prospective
Visit our frequently asked questions page: www.tcd.ie/science/prospective/faqaboutscience.php
---
Graduate Profile
Ciara Maguire
First Year Science Student and Intel Women in Technology Scholar
I have always had a keen interest in science and a curiosity for the world around us. The general science course at Trinity is perfect for me. I have the opportunity to explore a variety of scientific fields before specialising. I chose Trinity as its science departments are internationally renowned and it is a college at the forefront of scientific discoveries. I relished the thought of such a challenging and inspiring atmosphere.
In addition to the academic elements of College life I am also enjoying and embracing all that the College has to offer. Each week presents new, interesting and exciting events.
Coming to Trinity has opened a window of opportunities, the many societies and clubs have allowed me to learn new skills as well as meet new and interesting people. The vibrant and inclusive atmosphere on campus reassures me that I have made the right choice coming to Trinity.



Course Options
Award
B.A.
Duration
4 years full-time
Points Required
515*
Number of Places
320
CAO code (Central Applications Office code) is
TR071
Minimum entry points required are 515*
More information on minimum entry points
---
Admission Requirements
For general admission requirements please click here
Leaving Certificate
HD3 or OC3 Mathematics

HC3 In two of: physics, chemistry, biology, mathematics, physics/chemistry, geology, geography, applied mathematics or agricultural science

GCSE
Grade B Mathematics
Advanced GCE (A-Level)
Grade C In two of physics, chemistry, biology, mathematics, geology, geography or applied mathematics
Combinations of subjects not permitted: Physics/chemistry with physics or chemistry Agricultural science with biology Applied mathematics with mathematics
Other EU examination systems
See www.tcd.ie/Admissions/undergraduate/requirements/matriculation/other/
---
Apply
To apply to this course, click on the relevant Apply Link below
EU Applicants
Read the information about how to apply, then apply directly to CAO.
Mature Student – Supplementary Application Form
Read the information about how to apply as a mature student then select the link below to complete the TCD Supplementary Application Form for mature students.
Science, 4 years full-time Closing Date: 01/FEB/2016
Non-EU Applicants
Advanced Entry Applications

Read the information about how to apply for Advanced Entry, then select the link below to apply.
CAO code (Central Applications Office code) is
TR071