Geology
Course Type: Undergraduate
Course Code: TR071
Min Entry Points 2012: 470* points
Duration: 4 Year(s) Full Time
Award: B.A.
Course Options:

Students who wish to study Geology apply to the Science degree (TR071) and may select Geology as their specialist area for the 3rd and 4th years.

Junior Freshman (first) year prerequisite: Geology 1101

Senior Freshman (second year) prerequisite: Geology GL2205, GL2206.

For details of the first two years of the Science course, including entry requirements, see TR071: Science (common entry).

How to apply: See how to apply
Apply
To apply to this course, click on the relevant Apply Link below
Non-EU Applicants
Mature Student - Supplementary Application Form

Read the information about how to apply as a mature student, then select the link below to complete the TCD Supplementary Application Form for mature students.
Advanced Entry Applications

Read the information about how to apply for Advanced Entry, then select the link below to apply.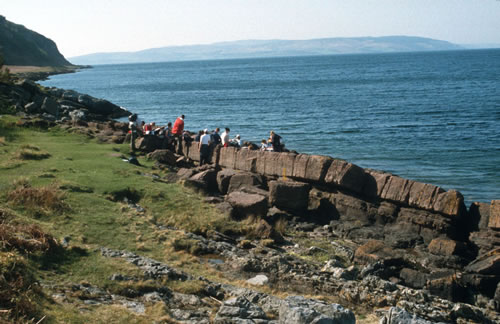 Third year students on a field course in the Isle of Arran

What is Geology?
Geology is the science of the Earth. It investigates the composition and evolution of this dynamic planet and its living organisms. It embraces the study of such diverse topics as dinosaurs, volcanoes, meteorites and earthquakes. It also deals with the origin and concentration of the materials on which our society is based.
What will you study?
For details of the topics covered in the Junior and Senior Freshman (first and second) years see TR071: Science (common entry). Fieldwork is an essential and integral part of Sophister (third and fourth year) geology.
In the Junior Sophister (third) year, a thorough grounding is provided in all major branches of geology. You will learn how each of the rocks contains information on the processes that formed them and the environment in which this took place. You will also study their response to forces in the Earth which cause them to bend, buckle and crack; the measurement of geological time; investigation of the subsurface; and the evolution of life. In addition, you will learn skills in computing and data presentation.
In the Senior Sophister (fourth) year you will take three compulsory courses:
Project (recent projects incorporating fieldwork have been based in various parts of Europe and also in North America)
Fieldwork
Geological literature and seminars
You will also select seven optional subjects from a wide range covering both academic and applied areas of geology. Optional subjects include:
Petroleum geology and exploration
Continental tectonics and landscape evolution
Hydrogeology and groundwater quality
Global igneous petrology
Metamorphic petrology
Planet formation and the early Earth
Introduction to micropalaeontology
Palaeobotany, palynology and organic petrology
Economic geology
Laboratory project
Radiogeneic isotope geoichemistry and mass spectometry
Study abroad
There are opportunities for students to spend part of their Junior Sophister year abroad, we have formal agreements with Uppsala (Sweden) and Clermont-Ferrand (France), but other locations are also possible.
Career opportunities
Recent graduates have found professional career opportunities with mining companies, civil engineering firms, geological and environmental consultancies, oil companies, organisations based in computing and information systems, and government geological surveys. There is currently a global shortage of geoscientists. Geology graduates are also highly valued in more generalised fields of employment (e.g. in the finance sector) due to their adaptability, their many transferable skills and their experience at dealing with incomplete data sets.
Did you know?
As a student of geology, you will undertake a two-week field trip to a tectonically active region in Spain.
Further information
www.tcd.ie/Geology
Tel: +353 1 896 1074