Admission Requirements
For Admission requirements please click
here
Apply
To apply to this course, click on the relevant Apply Link below
EU Applicants

Read the information about how to apply, then apply directly to CAO

Mature Student - Supplementary Application Form

Read the information about how to apply as a mature student, then select the link below to complete the TCD Supplementary Application Form for mature students.
Advanced Entry Applications

Read the information about how to apply for Advanced Entry, then select the link below to apply.
What is Chemistry?
Chemistry is a central science. Without it, many modern disciplines, such as materials science, molecular biology and environmental science, would not be possible. Modern chemistry and chemical technology are vital and are major contributors to modern lifestyle in areas as diverse as food production, health, medicines and communications. Chemists are molecular engineers involved in developing novel target compounds for applications as diverse as pharmaceuticals and drugs, photo- and electro-responsive materials, and polymers and catalysts.
What will you study?
Junior Sophister (third year) modules will cover the three main disciplines:
Inorganic chemistry - organometallic chemistry, catalysis, group theory, bio-inorganic chemistry, spectroscopic methods, identification and characterisation of compounds, inorganic polymers
Organic chemistry - organic synthesis, spectroscopy, stereochemistry, heterocyclic chemistry, reaction mechanisms, amino acid and peptide synthesis
Physical chemistry - macromolecules and interfacial chemistry, spectroscopy, quantum chemistry, kinetics, electrochemistry, thermodynamics, analytical chemistry, chemisorption and catalysis
In addition there are modules on environmental chemistry, computer programming, maths and physics, and you have the option of taking complementary modules from other disciplines.
Lectures are complemented by laboratory experimental classes where you will gain experience in more sophisticated preparative chemical techniques and will also be able to carry out your own spectroscopic analyses and computer-based modelling.
In the Senior Sophister (fourth) year, lectures consist of core fundamental material and an extensive range of optional courses that allow each student to develop her/his own particular interests. The practical component of this year is an extended research project, which you will carry out from September to December. This may be conducted in Trinity or in an academic laboratory abroad. A wide range of projects at the forefront of chemistry are available within the many research areas located in the School.
Study abroad
The School of Chemistry has exchange agreements with a large number of other universities where students carry out their final-year research projects, from September to December. Centres where students have completed their research projects in recent years have included Vienna, Berlin, Bologna, Toulouse and Utrecht in Europe and McGill and Duke Universities in North America. The areas of research cover modern chemical interests such as cancer chemotherapy and DNA chemistry, through device fabrication and materials processing, to homogeneous catalysis and supramolecular chemistry.
Assessment
You will be assessed by a combination of continuous assessment and end-of-year examinations.
Career opportunities
The chemical and pharmaceutical industries, which contribute some 20% to Ireland's exports, are excellent employers of Trinity's chemistry graduates. Former graduates of chemistry are working in companies such as Henkel, Pfizer, Glaxo-Smith-Kline and Bristol Meyers Squibb. Patent offices, government advisory and information services, libraries, public analytical laboratories, schools and third-level institutions also employ chemists. Or you may decide to carry out postgraduate research leading to a higher degree either in Trinity or in another university in Ireland or abroad. Other equally successful routes graduates have taken in the past include careers in the business and financial-services sectors, and in management.
Did you know?
As well as offering a broad choice of topics for study in the traditional areas of chemistry (organic, inorganic and physical chemistry), the School of Chemistry has research strengths in the cutting-edge areas of medicinal and biological chemistry, materials and nano-chemistry, and computational chemistry.

Students can select a range of lecture courses from topics as diverse as the chemistry of cancer, biological polymers and synthetic materials, metal chelation therapy, catalysis and molecular recognition and synthetic receptors, providing fascinating illustrations of the basic modes of chemical reactivity. These topics are used to review important chemical principles, to gain insight into the history of discovery, and to become acquainted with cutting-edge research that fills the pages of the scientific literature and occasionally enters those of the popular press.
Further information
Tel: +353 1 896 1726 / 2040

Graduate Profile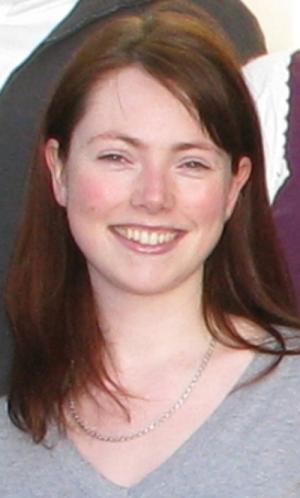 Dr. Serena Corr
Ph.D, School of Chemistry, Trinity College Dublin
Currently: Postdoctoral Researcher, Materials Research Lab, University of California, Santa Barbara

I began my Ph.D in 2002, after completing my undergraduate degree in Chemistry in Trinity College. As part of the final year degree programme in Chemistry, I carried out a 3 month research project under the supervision of Professor Yurii Gun'ko and I was delighted to begin a Ph.D as part of his research group. My research focused on the preparation, functionalisation and characterisation of magnetic nanoparticles for potential biomedical applications. I loved my time at Trinity College and doing a Ph.D at the School of Chemistry was one of my best experiences. I had the opportunity to carry out an exciting research project and to contribute to a fascinating field of materials chemistry. Not only did I get to work in a great research group, but I got the chance to collaborate with other groups in the School of Chemistry, Physics, Clinical Medicine and Neuroscience. As part of my experience as a Ph.D student, I travelled to conferences and meetings around the world to present some of our results. It was through one conference in Japan that I was offered a postdoctoral position at the Materials Research Laboratory at the University of California, Santa Barbara, where I am currently carrying out research on metal oxide nanowires. I thoroughly enjoyed my time as a postgraduate in Trinity and my experience there has really helped me in my current position.