Biochemistry
Course Type: Undergraduate
CAO Course Code: TR071
Min Entry Points for 2014: 505* points
Duration: 4 Year(s) Full Time
Award: B.A.
Course Options:

Students who wish to study Biochemistry for their degree apply to the Science degree (TR071) and may select Biochemistry as their specialist subject for the 3rd and 4th years.

Junior Freshman (first year) prerequisites: Chemistry CH1101 and Chemistry CH1102. Also, Mathematics or Mathematical methods.

Senior Freshman (second year) prerequisites: Biology BY2201, BY2203, BY2205 and BY2208.

For details of the first two years of the Science course, including entry requirements, see TR071: Science (common entry).

How to apply: See how to apply
Admission Requirements
For Admission requirements please click
here
Apply
To apply to this course, click on the relevant Apply Link below
EU Applicants

Read the information about how to apply, then apply directly to CAO

Mature Student - Supplementary Application Form

Read the information about how to apply as a mature student, then select the link below to complete the TCD Supplementary Application Form for mature students.
Advanced Entry Applications

Read the information about how to apply for Advanced Entry, then select the link below to apply.
What is Biochemistry?
Biochemistry is the study of the molecular design of life. It provides an understanding of the structure and function of the building blocks of life (proteins, lipids, DNA and RNA). This subject area is also an integral part of medicine, as it helps us to understand the mechanics of how disease and disorders occur. It is also an essential component of biotechnology, where processes for the production of foods and fuels, and enzymes or other proteins are developed. Knowledge of the structure of proteins implicated in human disease is also useful for the design of new drugs. All major pharmaceutical companies have significant investment in biochemistry to help aid their pipeline of new drugs and therapies for cancer, infectious diseases, and other pathological conditions.
What will you study?
The courses in the Junior Sophister (third) year provide a broad knowledge and understanding of the fundamentals of biochemistry - from the behaviour of simple cells to the complex development and organisation of the human being.
Topics include:
Protein science
Membrane biology
Cellular regulation
Immunology
Eukaryotic gene structure
A research project in the area of biochemistry forms an essential part of the Senior Sophister (fourth) year. Examples of research areas from which projects may be chosen include drug design and development, cancer, neurobiology, parasitology, immunology, metabolism and cell signalling. The School of Biochemistry and Immunology also has the best facilities in Ireland for studying the 3D structure of the molecules of life.
Study abroad
The School participates in an Erasmus scheme which offers the opportunity for students to spend their third year studying in a university in the United Kingdom, France or Germany.
Career opportunities
This course equips you to work in all major aspects of biochemistry, cell biology and molecular biology. You may decide to continue your studies at the postgraduate level and subsequently take up a career in industrial, medical or academic research. Alternatively, you will be qualified to work in hospitals and commercial laboratories dealing with biotechnology, food science, pharmaceuticals or diagnostics. Biochemistry graduates benefit from their training in terms of critical thinking, analytical reasoning and presentation and communication skills. Consequently, our recent graduates are in high demand in careers not directly related to biochemistry such as communications, information systems, teaching and management, accountancy, patent law and merchant banking.
Further information
Tel: +353 1 896 1608
Graduate Profile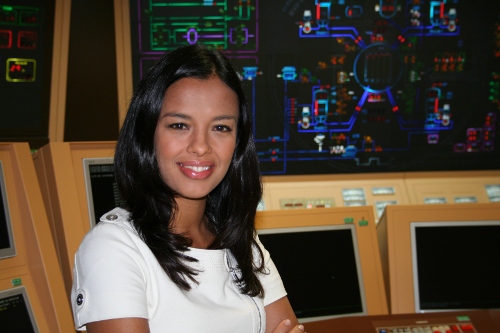 Liz Bonnin
Science and Wildlife TV Presenter, Masters in Wild Animal Biology and Conservation.
B. A. Mod. Biochemistry
Ever since I moved to Dublin I wanted to go to Trinity College. I used to walk around the walls of the college, saying to my school friends Some day I am going to go there!". Thankfully I made it into the college and I still believe it is the best college in the country.
The first two years of the course were excellent, made up of a large year, covering all the sciences including zoology, genetics and microbiology giving us a really knowledge of each discipline. By the third year, you got to choose the science you wished to specialise in and because I had a natural ability for biology and chemistry, combined with the fact that I found the whole idea of understanding all biological processes down to their chemical equations really interesting, I chose Biochemistry. The classes at this stage were much smaller and therefore you got a lot more out of each class.
Studying Biochemistry at Trinity College certainly gave me a real sense of achievement and there is no doubt that the discipline you learn, the skills you acquire and the experiences you have here will last you a lifetime. I am always very proud to say I went to Trinity.
I applied for my Masters at the Zoological Society of London last September and although I had not specialised in Zoology, which was a requirement for the course, the fact that I went to Trinity certainly made a big difference. Trinity College has an excellent reputation for its academic standard and having a degree from the college will undoubtedly open doors for you in the future - it certainly did for me!
Graduate profile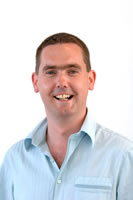 Name: John Rouse, B.A. (Biochemistry)
Job Title: Principal Investigator/Scientist
Why did you choose TCD?
At the time I applied, TCD had the reputation for being the best university in the whole of Ireland - and it still does! The average class size in the junior (third) and senior (fourth) sophister years in Natural Sciences, when students start to study a specialised" topic, is much smaller than in other universities. This means it is easier to discuss interesting topics during lectures, and to ask questions. In addition, the choice of disciplines available for specialising in was brilliant, and is even greater these days. These factors together with the course description, which sounded very interesting, led me to choose TCD. And it turned out to be the right decision - 100%! Also, it's a lovely place.
What did you think of your time of TCD?
It was pretty amazing. In the first two years, classes are big and you have the chance to meet a lot of people; I still keep in touch with people I met at that stage. If you are really interested in science then the first years are incredible because at last, you can scratch past the surface of really interesting topics only alluded to in secondary school. You learn about things, weird and wonderful that you didn't even know existed! I'm now a biochemist and I really only discovered this discipline in my second year at TCD, I didn't really know about it before. At the end of the second year, you choose a specialised subject - biochemistry in my case - and become part of the relevant department. That's nice because you kind of enter in a more intimate environment, like a family. Lectures in third and fourth years are amazing because you get to learn about your favourite subject in great detail; I couldn't get enough! One set of lectures I heard in fourth year inspired me to start working on a topic that I still work on today.
Where did you go next?
I went to do a Ph.D. - a doctorate - in biochemistry at the University of Dundee, because it is one of the best research centres in the world. I spent three great years there and was lucky enough to be one of the first people to discover a new enzyme in cells that we subsequently found to be important for fighting infection. When I finished my Ph.D., I went to do post-doctoral research at the University of Cambridge, UK. In 2002, I went back to Dundee to set up my own research laboratory and that's where I have been ever since. These days we are trying to understand what goes wrong in cells before they turn cancerous and how cells deal with DNA damage.
How did being at TCD help your career?
TCD graduates are in serious demand in Dundee and in many other universities that I have visited around the world. The extremely high standard and depth of training at TCD is very highly regarded and a high percentage of graduates have gone on to do very well in science. These days, more and more people have primary degrees - some are of a higher standard that others. There is a more competition than ever for research posts and other jobs but a degree from TCD really does provide graduates with a major advantage.