Undergraduate
Pharmacy
B.Sc. (Pharm.); 4 years full-time; 75 places; 560*
What is Pharmacy?
Pharmacy is the study of all aspects of drugs, both natural and synthetic in origin, including their chemistry, their uses in medicines, and how they work within the body. Pharmacists work in a variety of settings – community pharmacies, hospitals, long-term care facilities, and within the pharmaceutical industry to name just a few. In many respects, their role as a key healthcare professional is to help people achieve the best results from their medications.
Is this the right course for you?
While this degree is an essential requirement if you wish to practise as a community or hospital pharmacist, Pharmacy at Trinity opens up a wide variety of professional opportunities in both industry and the healthcare sector. A strong interest in science is important to fully enjoy the course.
Why study Pharmacy at Trinity?
Trinity is ranked in the top 100 universities in the world for Pharmacy and Pharmacology (QS World University Rankings by Subject 2015). The School of Pharmacy and Pharmaceutical Sciences has world class facilities with research space in the Trinity Biomedical Sciences Institute (TBSI), which develops Trinity's leadership position in immunology, neuroscience and cancer. The School also has purpose built teaching spaces in the Panoz Institute, including the Boots Unit, a technology-enhanced learning space which allows students to dispense drugs and develop communication skills.
Structured professional placements are integrated throughout the new programme. A particular strength of the Trinity programme is the research project, which may take place abroad and gives students the opportunity to develop focused laboratory or field research with one-to-one supervision.
What will you study?
The Pharmacy syllabus has been designed to provide you with an all-round education in both the basic and pharmaceutical sciences and in the practice of pharmacy itself. The five-year integrated Pharmacy programme comprises a variety of approaches to teaching Pharmacy by friendly, dedicated, enthusiastic and approachable staff: lectures, seminars, tutorials, workshops, small-group teaching, problem-based learning, site-visits, computer-assisted learning, web discussion boards, wikis, online group assignments, communication skills, career planning, clinical case studies, inter-professional learning, laboratory and dispensing practicals and a research project.
Modules are assessed by final examinations and continuous assessment, such as written assignments, essays, lab reports, OSCEs (objective structured clinical examinations), etc. which contribute to the overall mark in a module. There are approximately 16 hours of lectures, 6 hours of laboratory classes and 1 tutorial per week over the course of the Junior Freshman (first) year. Work experience in clinical and non-clinical settings will be distributed over the second, fourth and fifth year of the integrated Pharmacy programme.
FIRST (JUNIOR FRESHMAN) YEAR
Physiology, Cell and Molecular Biology, Biochemistry, Organic and Inorganic Chemistry for Pharmacy, Physical Pharmacy I, Pharmaceutical Analysis I, Introduction to Pharmaceutics and Formulation, Mathematical Methods and Pharmaceutical Calculations, Practice of Pharmacy I, General Principles of Pharmacology.
SECOND (SENIOR FRESHMAN) YEAR
Properties and Analysis of Materials Used in Medicines, Physical Pharmacy, Formulation and Pharmaceutical Technology, Practice of Pharmacy II, Pharmaceutical Biochemistry and Biotechnology, Molecular and Chemotherapeutic Pharmacology and Clinical Therapeutics, Blood, Cardiovascular and Renal Pharmacology and Clinical Therapeutics.
THIRD (JUNIOR SOPHISTER) YEAR
Medicinal and Pharmaceutical Chemistry III, Natural Sources of Drugs and Substances Used in Medicines, Sterile Products and Advanced Pharmaceutical Biotechnology, Practice of Pharmacy III, Endocrine and Reproductive Pharmacology and Clinical Therapeutics, Respiratory and Gastrointestinal Pharmacology and Clinical Therapeutics, Malignant Disease, Immunopharmacology and Pharmacology of the Eye and Clinical Therapeutics, Neuropharmacology and Clinical Therapeutics.
FOURTH (SENIOR SOPHISTER) YEAR
Organisation and Management Skills, Professional Skills Development, Professional Practice, Pharmaceutical Data Analysis and Bioinformatics, Medicinal and Pharmaceutical Chemistry IV, Pharmacokinetics, Pharmacodynamics, Biopharmaceutics and Drug Metabolism, Practice and Therapeutics and Professionalism and Ethics, Research Project.
FIFTH YEAR (M. PHARM. YEAR)
Industrial Pharmacy, Complementary and Alternative Medicine: Context, Legislation, Standards and Practice, Advanced Drug Delivery and Molecular Pharmaceutics, Practice of Pharmacy and Integrated Pharmacy Skills, Addiction Pharmacy, Supply of Medicines and Organisation and Management Skills, Leading the Safe and Rational Use of Medicines, Professional Practice and Public Health, Practice Research Project.
In the fourth and fifth year, you will undertake a research project. The following are some examples of research projects which students have undertaken in the past:
Prevalence of smoking among inpatients in Tallaght Hospital 2005-2012 and hospital usage of nicotine replacement products
Anticancer drug design: Chemistry and biochemistry of novel ß-lactams
In vitro release studies of insulin-loaded nanoparticles in the presence of simulated gastrointestinal (GI) fluids
A comparison of amorphous solid dispersions prepared by film casting and spray drying
Development and characterisation of budesonide-containing nanoparticles for inhalation
SUMMER RESEARCH PLACEMENT PROGRAMME
We encourage our students (second and third year students) to undertake the summer research placement programme.
This programme allows pharmacy students to carry out their research projects abroad (UK, Germany, Austria, France, US) over the summer (12 weeks) as part of their undergraduate degree programme. Students are either funded by the Erasmus programme or the School.
Careers
Your career prospects as a Pharmacy graduate are excellent. Employment opportunities exist in community, hospital and industrial pharmacy, as well as in state services such as medicines licensing. In addition, you can opt to undertake research, or apply for entry to one of the postgraduate courses in hospital, industrial or community pharmacy. See: http://pharmacy.tcd.ie/postgraduate/ for further details.
Further information
Email: pharmacy@tcd.ie
Tel: +353 1 896 2809
---
Student Profile
Abhishek Wilson Pallippattu
I have to admit that I was extremely nervous and did not know what to expect on my first day as a Pharmacy student. However, after four years in Trinity, I can say without any doubt that these have been the best years of my life. The B.Sc. (Pharm.) degree provides a perfect balance between academic knowledge and applying this knowledge practice. The small class sizes also mean that the lecturers take time to get know the students. There is no doubt that the course can be challenging; however, this is finely balanced by the social aspect of the course.
Graduate profile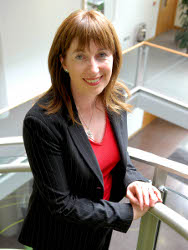 Dr Mairin Ryan, Lecturer in Pharmacoeconomics in the Dept of Pharmacology and Therapy
Following a pre-registration year in hospital pharmacy practice I took up a position as clinical pharmacist in St. James's Hospital and subsequently assumed responsibility for delivery of inpatient and outpatient clinical pharmacy services for HIV/AIDS patients. I then did a Ph.D. in the Dept. of Pharmacology and Therapeutics, Trinity College focussing on pharmacoeconomics of HIV therapy. I subsequently moved from clinical practice to become the Chief Pharmacist at the National Centre for Pharmacoeconomics. I am now a lecturer in pharmacoeconomics in the Dept. of Pharmacology and Therapeutics and the lead investigator for a program of economic analyses of HIV clinical trials in Africa. I am also a member of the scientific advisory board for the Infectious Diseases Institute at Makerere University in Uganda. I and two graduates from the Trinity College medical school co-founded the Ralta Global AIDS Foundation in 2004, a registered charity which focuses on improving outcomes for Africans with HIV/AIDS and other poverty related conditions. In 2007, I was appointed as Director of Health Technology Assessment at the Health Information and Quality Authority where the team will be responsible for conducting health technology assessments to inform national health policy and service decisions. I feel that my training as a pharmacist has been an invaluable basis for my work to date, obviously as the starting point for developing clinical pharmacy skills but also in my current role. Health technology assessment is a research-driven process which involves compiling all of the evidence around investment in new technologies including drugs and assessing that evidence to inform the best decisions for patient care; which is essentially what pharmacists are trained to do."
Student profile
Margaret Donnelly
Studying Pharmacy at Trinity College is a truly unique experience. At the end of your four years you achieve so much more than the B.Sc. Pharm. You are taught skills that can be applied to a wide variety of careers. While at times the academic side was challenging, the lecturing staff are always supportive and are only too happy to offer help and guidance to those who ask. There is a unique community spirit fostered in the School. This is reflected in the students who always support and encourage one another in achieving their goals. We are very lucky in having our own social society, DUPSA (Dublin University Pharmaceutical Student's Association) which has been crowned 'Best small-medium society' in College. DUPSA are well renowned for hosting some of the best social events during the term, not least the Pharmacy Ball which is always a night to remember. To study Pharmacy at Trinity College was definitely one of the best decisions I've made!"
Student Profile
David Corcoran (Senior Sophister 2011)
I had a keen interest in Science in school but was still unsure about what direction I would take at third level. I can honestly say that the B.Sc. Pharm. programme at Trinity is perfect for anyone who enjoys the scientific side of things, but would also like the certainty of a rewarding career upon graduation. The degree course is really well balanced between both the academic knowledge required for any science degree and the clinical skills essential for pharmacy practice. I feel that after four years, it is this balance that really makes pharmacy graduates uniquely attractive to prospective employers. I think the relatively small number of students on the course helps create a real sense of identity and community amongst the students, something which isn't always reflected in other larger courses. The small class sizes ensure that the lecturers really take time to get to know their students and are always available to help with any problems they may have. The pharmacy student society, DUPSA, organises several social events throughout the year which are not to be missed, culminating with the Pharmacy Ball. There is no doubt that this course can be challenging at times, but I feel that it was a privilege to have studied Pharmacy at Trinity. I have made some friends for life and unlike many graduates at the moment; I can look forward to the great employment prospects upon graduation."
Student Profile
Naomi Hodgins (Senior Sophister 2011)
On my first day as a Pharmacy student in Trinity College, I had no idea what to expect. Four years later, my time in the School of Pharmacy has been an amazing experience. Not only has a B.Sc. Pharm equipped me with the skills and qualification to work in a diverse range of careers, but it has also given me a close-knit group of friends and many happy memories of my time in College. The School of Pharmacy has a friendly atmosphere with approachable lecturers and a real sense of comradeship between the students. With many lectures and lab practicals in a wide range of subjects, the course can be challenging at times. However, help is at hand if there are any problems, and lecturers are always there to answer questions or deal with any issues that may arise. There is also a great social aspect to the course with our own society, DUPSA, giving students the chance to socialise with their class and other years of the course. Many events are held throughout the year with the annual Mystery Tour and Pharmacy Ball being highlights of the year. Studying Pharmacy in Trinity College is definitely an experience I would recommend!"
Course Options
Award
B.Sc. (Pharm.)
Duration
4 years full-time
Points Required
560*
Number of Places
75
CAO code (Central Applications Office code) is
TR072
Minimum entry points required are 560*
More information on minimum entry points
---
Admission Requirements
For general admission requirements please click here
Leaving Certificate OC3 or HD3 Mathematics HC3 Chemistry HC3 In one of physics, biology, mathematics, applied mathematics, geography, geology or agricultural science GCSE Grade B Mathematics Advanced GCE (A-Level) Grade C Chemistry Grade C In one of physics, biology, mathematics, geology, geography or applied mathematics Other EU examination systemsSee www.tcd.ie/Admissions/undergraduate/requirements/matriculation/other/
Restricted entry
Precautions against Infectious Diseases Offers of admission to the following courses are made subject to certain vaccination requirements and/or certain negative test results. " Clinical Speech and Language Studies " Dental Science, Dental Hygiene, Dental Nursing, and Dental Technology " Medicine " Nursing and Midwifery " Occupational Therapy " Pharmacy " Physiotherapy " Radiation Therapy " Social Studies (Social work) Full details are available at: http://www.tcd.ie/study/eu/undergraduate/ admission-requirements/infectious-diseases.
Students on courses with clinical or other professional placements may be required to undergo Garda vetting procedures prior to commencing placements. If, as a result of the outcome of the Garda vetting procedures, a student is deemed unsuitable to attend clinical or other professional placement, he/she may be required to withdraw from his/her course. Students who have resided outside Ireland for a period of 6 months or more will be required to provide police clearance documentation from the country (including different states) or countries in which they resided. Garda vetting forms will be distributed (as part of the student orientation information) to students who have been offered a place in Trinity. The completed forms must be returned to the Academic Registry prior to registration.
Note: In order to qualify to register as a pharmacist with the Pharmaceutical Society of Ireland students must also complete a fifth year, culminating in a M.Pharm. degree. There will be a postgraduate fee associated with the fifth year on the postgraduate register in Trinity, payable by the student. The M. Pharm. degree carries with it an entitlement to apply for registration as a pharmacist.
CAO code (Central Applications Office code) is
TR072