Computer science and language
B.A. (Moderatorship); 20 places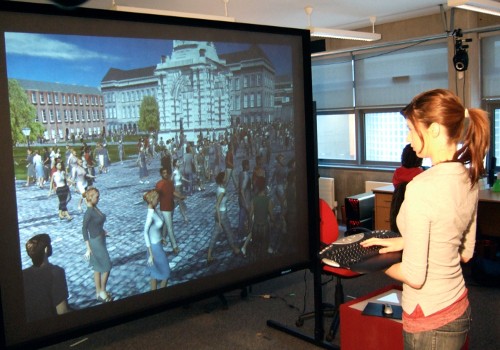 What is Computer Science and Language?
The Computer Science and Language (CSL) degree combines computer science with the mastery of a particular language (French, German or Irish) and with the study of linguistics, which is the scientific study of language in general and the associated technologies concerning language. The chosen language (French, German or Irish) is studied to degree level, with emphasis on aural, oral and written fluency.
This course develops a unique combination of skills – technical, mathematical, analytical and communicative. In doing so, it provides two of the most sought after skills today: degree-level fluency in a second language and a degree in computing, opening up hosts of future career possibilities. Many of these careers also involve the third degree-level strand of the course – linguistics. Predictive text in telephones, automatic speech recognition in directory enquiries, and machine translation are just three examples of technologies that derive from computational linguistics; countless others are on the horizon.
Computer Science and Language: The course for you?
This course will appeal to students with strengths in analytical reasoning and an affinity for mastering languages, but who do not want to choose between arts and sciences. While the course involves 50% focus on mathematics and computing, 25% on linguistics and 25% on the language, the optional elements allow students considerable flexibility to rebalance their major focus. If you enjoy mathematics, languages and problem solving and are interested in combining topics in creative and insightful ways, then this may be the right course for you.
Computer Science and a Language @ Trinity
This degree is one of the most interdisciplinary on offer, bridging both computer science and the arts. The skills acquired in the study of computing, together with the study of language and linguistics, open doors to world mobility and employability.
Trinity is listed in the top 100 universities in the world for Computer Science and Information Systems (QS World University Rankings by Subject 2015).
Graduate skills and career opportunities
Since the course began in 1985, graduates have moved on to careers that reflect the range of topics within the degree. Graduates will be qualified to work as language specialists, information technologists or software specialists in any of the IT, banking, translation, publishing or multi-media sectors. A number work as software engineers in international consulting firms. Some have embarked on careers in professional translation; others have moved into primary and secondary-level education. About 65% of graduates work in software engineering (whether in a mainly English speaking country or in a country where the language of the degree focus is the primary language); about 25% pursue research careers. A number of graduates now hold academic staff positions in Ireland and abroad. Another 10% tend towards a focus in technical translation. Some graduates have taken up employment in government service, e.g. the European Patent Office and the Irish Diplomatic Corps.
Your degree and what you'll study
In the first two years, half of the programme is devoted to computer science and half to the study of linguistics and your chosen language. Computational linguistics is a theme that unifies the three components. A year abroad is an integral part of the programme, further developing language skills and providing first-hand experience of university life in another country. The year abroad provides additional options that enhance the potential for students to define their own specialist areas within the programme. The final year offers students the opportunity to explore in greater depth areas where computers and language meet or in the classical core of the constituent disciplines: computer science, linguistics and a language. Students complete increasingly complex projects in each year of the programme.
All CSL students also participate in the Dublin Computational Linguistics Research Seminar Series. This weekly seminar is hosted jointly by Trinity, UCD, DCU and DIT, rotating annually among these partners. Seminars vary from industry talks to breaking academic research. Sometimes these seminars are given by graduates of the programme.
FIRST AND SECOND (JUNIOR AND SENIOR FRESHMAN) YEARS
Junior Freshman (1st year) modules:
Computer science
Mathematics
Introduction to Programming
Representations and Computation
Linguistics
Introduction to the Study of Language (General Linguistics)
Introduction to Phonetics and Phonology
Introduction to Syntax
Language
Written, oral and aural language fluency
Area Studies
Senior Freshman (2nd year) modules:
Computer science
Discrete and Continuous Mathematics
Data Structures and Programming Techniques
Natural Language Processing
Linguistics
Syntactic Theory
Introduction to Speech Science
Formal Semantics
Instrumental Phonetics
Computational Morphology
Statistics for Linguistics
Language
Written, oral and aural language fluency
THIRD AND FOURTH (SOPHISTER) YEARS
Third year students study computer science and linguistics at as university abroad (typically in Belgium, France, Germany, Austria, or Scotland, depending on the on the language studied). Subjects studied in the first two years of your degree will be continued in your year of study abroad (through your chosen foreign language). In the fourth year you will take advanced modules in interdisciplinary areas such as artificial intelligence, information systems, computer processing of human language, and the analysis and synthesis of the human voice. You will also proceed to advanced study in your chosen language, perfecting both your oral skills and your written skills in translation and essay writing.
Optional modules and a major interdisciplinary project allow you to specialise in areas you particularly enjoy and to shape the degree around your individual strengths. Examples of final-year module options include Computer Graphics, Machine Vision, Advanced Computational Linguistics (involving Speech Recognition and Machine Translation), Fuzzy Logic, and Human Second -Language Acquisition.
ASSESSMENT
Written examinations, course work and projects are all used in assessment. You will also complete a final-year dissertation as part of the degree.
Study abroad
Students who study French or German will spend a year studying at a university abroad and for students studying Irish it is a possibility.
GET IN TOUCH!
Tel: +353 1 896 1765
---
What our graduates say
James Gibbons
"This course provides an exceptional range of skills that allow you to pursue a vast number of options after graduation. For me, it gave a fantastic background to pursue a career in software development. The distinctive combination of subjects encourages flexible thinking and an open-minded approach to problem solving that will prove invaluable to graduates."
Course Options
Award
B.A. (Moderatorship)
Number of Places
20
CAO code (Central Applications Office code) is
TR039
---
Admission Requirements
For general admission requirements please click here
Special Entry Requirements
Leaving Certificate H4 Mathematics H3 in French or German or Irish
Advanced GCE (A Level) Grade C Mathematics, Grade C if presenting French or German, Grade B if presenting Irish
Students choose one language from French, German and Irish. Students must present one of the above grades in their chosen language.
Other EU examination systems See www.tcd.ie/Admissions/undergraduate/requirements/matriculation/other/
---
Apply
To apply to this course, click on the relevant Apply Link below
EU Applicants
Read the information about how to apply, then apply directly to CAO.
Non-EU Applicants
Advanced Entry Applications
Read the information about how to apply for Advanced Entry, then select the link below to apply.
CAO code (Central Applications Office code) is
TR039