Undergraduate
Radiation therapy
B.Sc. (Ther. Rad.); 4 years full-time; 30 places; 515*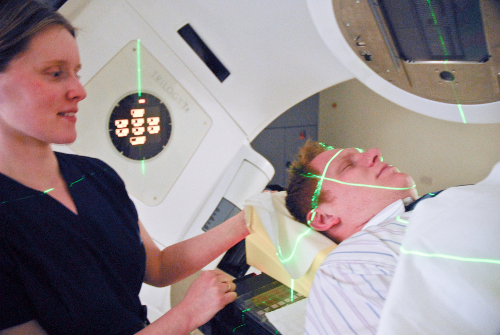 What is Radiation therapy?
Radiation therapy is one of the main methods used to treat patients with cancer. This course qualifies you to work as a radiation therapist – the health care professional who, together with the other multidisciplinary team members, is responsible for the preparation and delivery of a course of radiation therapy. As a graduate radiation therapist you will be the main point of contact for the patient during the course of their treatment and you will be involved in many aspects of their care during their radiation therapy treatment. As radiation therapy is expanding in Ireland and internationally so is the opportunity for role development, making this an exciting time to be entering the profession.
Is this the right course for you?
The radiation therapist requires very specialist skills and the role can be physically and emotionally demanding. The development of your clinical skills requires you to be interested in patient care. You will also need to have a keen interest in the field of science. Working as a radiation therapist will also require you to have good interpersonal and technical skills.
Why study Radiation Therapy at Trinity?
Radiation Therapy is an innovative profession, with constant technological and patient care advancements. The four-year programme will provide you with the necessary academic and practical skills to work in this patient-centred healthcare environment. The programme is delivered by experienced and enthusiastic academic staff, whose focus is on providing you with a research-led, quality learning experience. As an undergraduate student, you will benefit from state of the art facilities including the largest academic radiation therapy localisation and planning laboratory in Europe and a virtual radiation therapy treatment unit. In addition to campus-based learning, you will gain extensive practice education through clinical placements in radiation therapy departments throughout Ireland.
What will you study?
This four-year honours degree gives you a broad academic base on which to develop the clinical skills of radiation therapy. You will be able to analyse, evaluate and make clinical decisions and to initiate, participate in and encourage research in oncology and radiation therapy. There are both theoretical and clinical components to this degree, the emphasis being more on the theoretical component in the first two years and more on the clinical and research component in the last two years. The contact hours are high in this course and the subjects are taught through lectures, laboratory-based practical sessions, workshops, tutorials and clinical placement in the hospital setting. This course assesses both the theoretical and clinical subjects using a variety of methods, including written end-of-year examinations, continuous assessment, individual and group project work, oral examinations, reflective journals and workbooks. A clinical portfolio and research dissertation are a substantial component of the assessment processes in your final year.
A significant clinical component is integral to this course. The clinical sites are the radiation therapy departments attached to the St. Luke's Radiation Oncology Network at St Luke's, St. James's and Beaumont Hospitals in Dublin; Cork University Hospital, University Hospital Galway; the Mater Private Hospital Dublin, St. Vincent's Private Hospital Dublin, the Galway Clinic; the Mater Private at Midwestern Regional Hospital Limerick, UPMC Beacon Clinic Dublin, UPMC Whitfield Clinic, Waterford, and the Hermitage Medical Clinic, Dublin.
The duration of the clinical placement is 4 weeks in Junior Freshman (first) year, 9 weeks in Senior Freshman (second) year, 13 weeks in Junior Sophister (third) year and 15 weeks in Senior Sophister (fourth) year. Part of the clinical placement takes place during the vacation periods and clinical placement consists of 35 hours per week. Students are placed in radiation therapy departments across the country, and accommodation costs for clinical placement are borne by the student.
THE FRESHMAN YEARS
In the Freshman (first and second) years, the course covers the basic sciences – physics, chemistry and biology. You will also study the structure and function of the human body through anatomy, physiology, biochemistry and genetics, and will be introduced to modules in the following areas: psychology, communication, pathology, research methodology and statistics, cancer care, radiation physics and professional attitudes and skills. There are approximately 20-30 hours per week in class in these years.
A clinical component (clinical placement) will introduce you to radiation therapy and will develop your understanding of the complexities of the cancer patient pathway.
FIRST (JUNIOR FRESHMAN) YEAR
First year subjects will cover the following areas:
Biological Principles and Practices
Chemical Principles and Properties
Anatomy 1
Physics for Radiation Therapy 1
Principles and Practices of Cancer Care 1
Psychology and Communication 1
Clinical Practice 1
SECOND (SENIOR FRESHMAN) YEAR
Second year subjects will cover the following areas:
Biochemistry
Physiology
Anatomy 2
Physics for Radiation Therapy 2
Principles and Practices of Cancer Care 2
Psychology and Communication 2
Research Methodology and Statistics
Clinical Practice 2
THE SOPHISTER YEARS
In the Sophister (third and fourth) years, you will study more specialist subjects that are specifically related to cancer and patient care, and complete a research project in this area.
THIRD (JUNIOR SOPHISTER) YEAR
Third-year subjects will cover the following areas:
Principles and Practices of Cancer Care 3
Physics for Radiation Therapy 3
Radiobiology
Radiation Therapy Treatment Planning
Treatment Localisation and Verification
Research Methodology and Statistics
Clinical Practice 3
FOURTH (SENIOR SOPHISTER) YEAR
Fourth year subjects will cover the following areas:
Radiotherapy in Practice
Research Project
Clinical Practice
Study abroad
Students have the option to undertake two weeks of clinical placement in the radiotherapy department of Gemelli Hospital, Sacred Heart University, Rome, Italy in the summer vacation of the third year.
Careers
There is a need for radiation therapists both in Ireland and internationally. The broad scientific content of the degree also means that you will be qualified to start a career in research and development, medical technology or medical marketing.
Further information
www.medicine.tcd.ie/radiation_therapy
Tel: +353 1 896 3234
Email: dougallm@tcd.ie
Information days are held during the year for students interested in finding out more about radiation therapy. For details of the next information day, please contact Daléne Dougall on: +353 1 896 3234; dougallm@tcd.ie
Student profiles: www.medicine.tcd.ie/radiation-therapy/undergraduate/student-profile.php
Graduate profiles: www.medicine.tcd.ie/radiation-therapy/undergraduate/graduate-profile.php
---
Student Profile
Lisa McGrane
I am enjoying Radiation Therapy as it is varied and there is always a new challenge. In the Freshman years, I studied broader science subjects, such as biology, chemistry and physics. In third year we now focus on subjects more specific to radiation therapy, for example treatment planning. Clinical placement integrates the academic learning with the practical work. You get the opportunity to go to different hospitals across the country so there is always something new to see. My class is quite small, which made it easy to make friends and get to know everyone. Societies are a great way to get to know people in other courses.
Graduate Profile
Yvonne Slowey
The radiation therapist is the main contact person for the patient during their radiotherapy and is involved in all aspects of the treatment process. She/he works closely as a member of the multidisciplinary team. Interpersonal and support skills and an ability to work as a member of a team are essential in every day practice.
My typical working day varies with the department or area in which I am working. On the treatment unit I will be part of the team that treats up to 40 patients a day with pinpoint accuracy and empathy. The number of visits each patient must make can vary from 1 - 40 and they require information and support throughout their particular course of treatment. In other areas I might be preparing patients for treatment by taking images with the CT Scanner or Simulator and ensuring that they are in the best position for the treatment to be delivered. I might also work in Treatment Planning where the best treatment field arrangement for dose delivery is defined for each patient. Other areas include brachytherapy where internal sources are used to deliver treatment.
The most difficult part of my job is lack of time to spend with each patient. As more units become available this should be resolved but in my department in the interim we have set up an Information and Support Service facilitated by a dedicated Radiation Therapist who meets the patient regularly throughout their treatment and gives them additional support and information. In other centres radiation therapists are also involved in the review of patients during their treatment.
The most rewarding part of my job is helping and supporting patients through the radiotherapy process which can be quite daunting for them. During the course of their treatment you develop a close relationship with patients and this is beneficial both to them and to us.
The most frustrating element of my profession is the lack of recognition of the work we do. As a small profession we are often confused with other health professionals and not identified in our own right. I am a member of the radiation therapist committee of the national professional body and through this forum we are working to raise awareness of the profile of the radiation therapist.
Student Profile
Ciara Madden
During my time spent as a freshman, the class had to study the general science subjects; biology chemistry and physics. We were also introduced to the different aspects of the radiation therapy profession. We also got first hand experience of working as a radiation therapist during placement in different hospitals. In order to do this placement we had to complete first aid and manual handling courses organised by the College.
In third year I found that the course is a lot more demanding and specialised. It's more geared towards working in the radiation therapy profession. This is reflected in the subjects that we are studying such as radiobiology, cancer medicine and treatment planning. We are doing these subjects in the School of Radiation Therapy in the Trinity Centre in St. James's Hospital rather than on the main Trinity College campus. A good knowledge of physics would be a great asset for this course.
Longer placement periods must be completed in third and fourth year. This gives students the opportunity the opportunity to visit all the different units in the radiation therapy department. Students can work in different hospitals in the country. This gives them the chance to see how the different departments are run. There is clearly very good variety in this course.
The class size is generally quite small. The total number of students in my class is 24. This makes it quite easy to get to know everyone and to make friends. There is a very friendly atmosphere in my class. A class night out is organised from time to time. Students doing radiation therapy have the opportunity to join the therapy society. The therapy ball takes place every year. There are numerous other clubs and societies which students can join if they wish.
Course Options
Award
B.Sc. (Ther. Rad.)
Duration
4 years full-time
Points Required
515*
Number of Places
30
CAO code (Central Applications Office code) is
TR055
Minimum entry points required are 515*
More information on minimum entry points
---
Admission Requirements
For general admission requirements please click here
CAO code (Central Applications Office code) is
TR055