Undergraduate
Medicinal chemistry
B.A.; 4 years full-time; 28 places; 525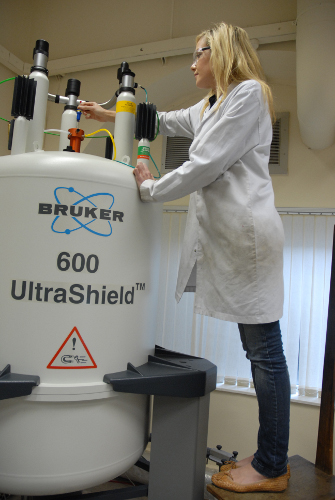 What is Medicinal chemistry?
Medicinal chemists are the creative talent behind the modern pharmaceutical industry. As well as being expert chemists, they have extensive knowledge of molecular design, drug synthesis and the biological function of drugs.
Is this the right course for you?
Yes, if your dream is to design and prepare new drugs, if you want to understand the biological mechanisms by which they operate, if you have a natural flair for chemistry and are interested in developing the skills and expert knowledge relevant to the pharmaceutical industry.
Why study Medicinal Chemistry at Trinity?
Medicinal Chemistry at the School of Chemistry provides you with a broad knowledge of chemistry, but focuses on and extends to topics relevant to the design and production of medicinal compounds and to understanding their biological action.
What will you study?
In the first two years you will follow the Science (TR071) programme, taking chemistry (CH1101 and CH1102), biology (BY1101 and BY1102) and mathematics in the first (Junior Freshman) year. In second (Senior Freshman) year, you will take chemistry and prescribed units of biology with the option of further biology or mathematics modules. In addition, special sessions held specifically for medicinal chemists will introduce you to the ideas and techniques of medicinal chemistry.
THIRD (JUNIOR SOPHISTER) YEAR
In third year, the course will branch off into more specialised aspects of medicinal chemistry, although there will be considerable overlap with the Chemistry degree. This overlap is primarily in organic chemistry; less emphasis will be placed on physical and inorganic chemistry in order to allow for the delivery of medicinal chemistry courses.
Your specialised medicinal chemistry modules will include:
Basic Principles of Medicinal Chemistry
Biochemistry (Protein Structure and Function)
The Autonomic Nervous System
The Fundamentals of Computational Drug Design
Anti-Viral and Anti-Cancer Agents
Anti-Microbial and Anti-Infective Agents (compounds that can combat the microorganisms that cause disease)
Anti-Malarial Chemistry (study of the development of drugs in this area)
Steroid Drugs (study of drugs based on the steroid skeleton)
Industrial Medicinal Chemistry
Lectures are complemented by laboratory experimental classes, where you will gain experience in more sophisticated preparative chemical techniques and will also be able to carry out your own spectroscopic analyses and computer-based modelling.
FOURTH (SENIOR SOPHISTER) YEAR
In fourth year, in addition to core chemistry modules, you will cover the medicinal chemistry of the cardiovascular and central nervous systems, combinatorial chemistry and drug delivery, as well as computational medicinal chemistry and modern analytical methods. Case studies in medicinal chemistry (focusing on specific diseases or drug types) will also feature on your programme.
Practical work in the final year will consist of a research project. This may be carried out either in Trinity under the supervision of a member of staff, in a chemistry department at an overseas university, or in a commercial laboratory.
If you would like more detailed information on all the modules offered, please visit chemistry.tcd.ie/undergraduate/medicinal-chemistry
Study abroad
The School of Chemistry has exchange agreements with a large number of other universities and research institutions where Medicinal Chemistry students carry out their final year research projects from September to December. To date, arrangements have been made for students in European universities such as Regensburg, Madrid, Liverpool, Copenhagen, Montpellier and Bologna. Study further afield in Canada and the USA is also possible.
Careers
As with graduates in other branches of chemistry, the skills acquired during this degree programme will make you highly attractive to employers in a wide variety of areas. In addition to the pharmaceutical industry itself, business, finance, administration and teaching are all possibilities that are open to you as a Medicinal Chemistry graduate. Former graduates of this course are working in companies such as Pfizer, Abbot, GlaxoSmithKline, Servier, and Deloitte and Touche.
Medicinal Chemistry would serve as an excellent primary degree for a graduate course in medicine. Our graduates can also pursue postgraduate degrees either in the School of Chemistry or in other world-class research institutions.
Further information
www.chemistry.tcd.ie/undergraduate/medicinal-chemistry
Facebook: 'TCD Chemistry' | Twitter: @TCD_Chemistry
Email: chemistry.department@tcd.ie | Tel: +353 1 896 3411
---
Graduate Profile
Dr Robin Daly
I would encourage any student wishing to pursue a career in the global pharmaceutical industry to take Medicinal Chemistry. The more varied an undergraduate experience that a student has, the better equipped they are to secure employment in the pharmaceutical industry. Medicinal Chemistry at Trinity can open many doors within both academic and industrial settings.
Course Options
Award
B.A.
Duration
4 years full-time
Points Required
525
Number of Places
28
CAO code (Central Applications Office code) is
TR075
Minimum entry points required are 525
More information on minimum entry points
---
Admission Requirements
For general admission requirements please click here
| | |
| --- | --- |
| Leaving Certificate | OC3 or HD3 Mathematics HC3 In two of: physics, chemistry, biology, mathematics, physics/chemistry, geology, geography, applied mathematics or agricultural science |
| GCSE | Grade B Mathematics |
| Advanced GCE (A-Level) | Grade C In two of physics, chemistry, biology, mathematics, geology, geography or applied mathematics |
| | |
| | Combinations not permitted: |
| | Physics/chemistry with physics or chemistry Agricultural science with biology |
| | Applied mathematics with mathematics |
| | |
| Other EU examination systems | See www.tcd.ie/Admissions/undergraduate/requirements/matriculation/other/ |
CAO code (Central Applications Office code) is
TR075