Medicinal chemistry
B.A.; 28 places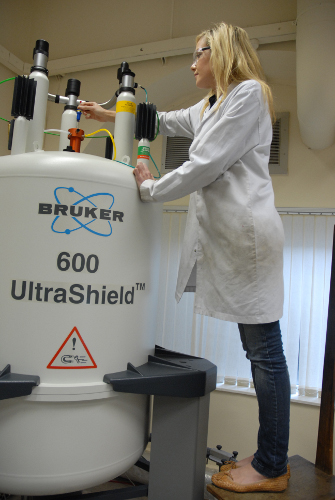 What is Medicinal chemistry?
Medicinal chemists are the creative talent behind the modern pharmaceutical industry. As well as being expert chemists, they have extensive knowledge of molecular design, drug synthesis and the biological function of drugs.
Medicinal Chemistry: The course for you?
Yes, if your dream is to design and prepare new drugs, if you want to understand the biological mechanisms by which they operate, if you have a natural flair for chemistry and are interested in developing the skills and expert knowledge relevant to the pharmaceutical industry.
Graduate skills and career opportunities
As with graduates in other branches of chemistry, the skills acquired during this degree programme will make you highly attractive to employers in a wide variety of areas. In addition to the pharmaceutical industry itself, business, finance, administration and teaching are all possibilities that are open to you as a Medicinal Chemistry graduate. Former graduates of this course are working in companies such as Pfizer, Abbot, GlaxoSmithKline, Servier, and Deloitte and Touche.
Medicinal Chemistry would serve as an excellent primary degree for a graduate course in medicine. Our graduates can also pursue postgraduate degrees either in the School of Chemistry or in other world-class research institutions.
Your degree and what you'll study
You will study foundation courses in chemistry, biology and mathematics in the first two years.
THIRD (JUNIOR SOPHISTER) YEAR
In third year, the course will branch off into more specialised aspects of medicinal chemistry, although there will be considerable overlap with the Chemistry degree. This overlap is primarily in organic chemistry; less emphasis will be placed on physical and inorganic chemistry in order to allow for the delivery of medicinal chemistry modules.
Your specialised medicinal chemistry modules will include:
Basic Principles of Medicinal Chemistry
Biochemistry (Protein Structure and Function)
The Autonomic Nervous System
The Fundamentals of Computational Drug Design
Anti-Viral and Anti-Cancer Agents
Anti-Microbial and Anti-Infective Agents (compounds that can combat the microorganisms that cause disease)
Anti-Malarial Chemistry (study of the development of drugs in this area)
Steroid Drugs (study of drugs based on the steroid skeleton)
Industrial Medicinal Chemistry
Lectures are complemented by laboratory experiments, where you will gain experience in more sophisticated preparative chemical techniques and will also be able to carry out your own spectroscopic analyses and computer-based modelling.
FOURTH (SENIOR SOPHISTER) YEAR
In fourth year, in addition to core chemistry modules, you will cover the medicinal chemistry of the cardiovascular and central nervous systems, combinatorial chemistry and drug delivery, as well as computational medicinal chemistry and modern analytical methods. Case studies in medicinal chemistry (focusing on specific diseases or drug types) will also feature in your programme.
Practical work in the final year will consist of a research project. This may be carried out either in Trinity under the supervision of a member of staff, in a chemistry department at an overseas university, or in a commercial laboratory.
If you would like more detailed information on all the modules offered, please visit our site below. 
Study abroad
The School of Chemistry has exchange agreements with a large number of universities and research institutions where Medicinal Chemistry students carry out their final-year research projects from September to December. To date, arrangements have been made for students in European universities such as Regensburg, Madrid, Liverpool, Copenhagen, Montpellier and Bologna. Study further afield in Canada and the USA is also possible.
GET IN TOUCH!
http://chemistry.tcd.ie/Study/current_students/undergraduate/medicinal-chemistry/ss/index.php
Facebook: 'TCD Chemistry'
Twitter: @TCD_Chemistry
Email: chemistry.department@tcd.ie
Tel: +353 1 896 2514
---
What our graduates say
Rebecca Deasy, Medicinal Chemistry Graduate 2013
"I spent 4 amazing years studying Medicinal Chemistry at TCD. This course provided me with a solid fundamental understanding of chemistry and delved into the biology behind how drugs work. During my final year I had the opportunity to carry out a research project at the University of Calgary, where I worked on finding new methodologies to synthesise KDO glycosides. The varied skills and knowledge I acquired during this 4-year course are to this day invaluable to me. Upon graduating I completed a Masters in Translational Oncology at TCD and am now carrying out cutting edge research at the Broad Institute of MIT and Harvard, one of the world's leading biomedical research institutes."
What our current students say
Deirdre McAdams
"Having left school, I knew I wanted to pursue a career in chemistry. I was particularly interested in the pharmaceutical industry and drug research, but more specifically, the underlying chemistry behind them. Medicinal chemistry covers both these areas. It trains students to analyse, understand and develop concepts within the pharmaceutical sector. Medicinal chemistry students obtain an excellent understanding of the organic chemistry processes involved in designing and developing potential new pharmaceutical agents, while also gaining an exceptional knowledge of how these compounds operate biologically. The interface between the two areas of biology and chemistry is what initially drew me to this degree course and is also what has kept me motivated and inspired throughout my studies."
Course Options
Award
B.A.
Number of Places
28
Options
Students who wish to study Medicinal Chemistry apply to the Chemical Sciences Stream (TR061) and may select Medicinal Chemistry as their specialist area for the 3rd and 4th years at the end of the second year.
---
Admission Requirements
For general admission requirements please click here
---
Apply
To apply to this course, click on the relevant Apply Link below
EU Applicants
Read the information about how to apply, then apply directly to CAO.
Non-EU Applicants
Advanced Entry Applications
Read the information about how to apply for Advanced Entry, then select the link below to apply.
Options
Students who wish to study Medicinal Chemistry apply to the Chemical Sciences Stream (TR061) and may select Medicinal Chemistry as their specialist area for the 3rd and 4th years at the end of the second year.