Science - Advanced Entry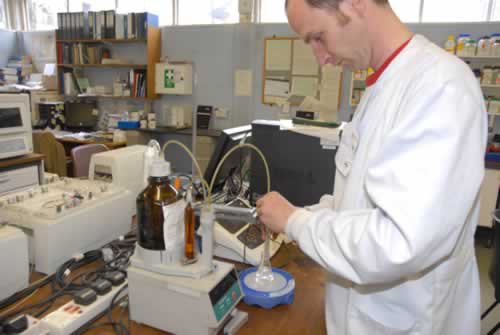 What is Science?
Science is about knowledge: the generation of knowledge through research and its acquisition through learning. Scientific investigation allows us to understand the world about us: how the physical world evolved since the Big Bang approximately 13.8 billion years ago; the nature of the chemical world; the origin of life and its evolution into the spectacular diversity and complexity of life forms that are evident today. Importantly, the application of scientific knowledge has led to world changing developments such as modern medicine, the mobile phone, the world-wide web and efficient methods of energy production. Moreover, as we acquire new knowledge, our understanding of the world changes which in turn leads to new and better applications. There is still much to discover and new applications to be developed. Do you want to contribute ?
Science: The course for you?
Science is an exciting, diverse and progressive programme of study. It provides a broad foundation in Science in the first two years during which students choose to study 3-4 of the basic scientific disciplines. Students then choose to study one of 16 specialist areas in their final two years. Graduates of this course have excellent career prospects across the whole spectrum of the sciences.
Science @ Trinity
Research-led teaching by world leaders in their fields of study.
Excellent laboratory facilities
Research projects with close supervision
Field and laboratory work supported by many subjects
Continuously updating and revising course structures ensuring excellent qualifications
Opportunities for study abroad before and after graduation
Opportunity for internships
Opportunities to carry out research as part of your course
Excellent career prospects in Ireland and abroad
Graduate Skills and Career Opportunities
GRADUATE SKILLS
Science Graduates develop a wide range of skills including:
A working understanding of the scientific method and how scientific knowledge is acquired
A broad understanding of the basic scientific disciplines
A capability for critical thinking and evaluation of current and novel concepts and ideas
A detailed knowledge of the specialist area of study, its core principles and an awareness of its knowledge boundaries
Creativity, with an ability to formulate novel concepts and ideas
The ability to collect qualitative and quantitative data with precision and organization
The numeracy to analyse and critically evaluate data using appropriate mathematical, statistical, computational and other relevant methods
Ability to work both individually and within a team
Capability to manage a project, set and achieve objectives and manage resources.
Capability to communicate knowledge, concepts and ideas to scientific and non-scientific audiences.
Capability to communicate effectively within a team and between teams working collaboratively in both inter- and intra-disciplinary contexts.
An understanding of the role and influence of scientific knowledge on society.
An appreciation of the importance of scientific knowledge in wealth generation and entrepreneurship.
An appreciation of the requirement to use scientific knowledge for sustainable progress, growth and development.
CAREER OPPORTUNITIES: WHAT CAN I DO WITH A SCIENCE DEGREE?
Trinity Science and Mathematics graduates pursue a wide variety of careers in a diversity of areas - for example:
Pursue further scientific training at MSc or PhD level
Professional research scientists in universities and research institutes
Chemical and pharmaceutical Industry
Biotechnology industry
Patent offices / Intellectual property
Electronics, Computer and IT industries
Engineering
Energy and mining
Water industry
Agricultural and food industries
Hospital and medical services
School teaching
Media (Liz Bonnin – Biochemist), (Ella McSweeney – Zoologist)
Accountancy and financial services, stock broking, insurance and Banking
Environmental Management
Your degree and what you'll study
A key feature of the first year in Science at Trinity is that you don't have to choose your modules before you start. On your first day you will meet with scientists who will advise you on your options. Courses in the first two years are designed to introduce you to and train you in the fundamental sciences. By the end of the second year you will have moved far beyond the extent of science as it is taught at school and will understand better where your real interests lie. At this point you have the opportunity to focus on one of sixteen specialist areas for your final two years.
YEAR 1
Choose Modules to the value of 60 credits for the year (30 per semester) from the following subjects:
Biology (20), Chemistry (20), Geography (20), Geology (10), Mathematics (20), Physics (20), Foundation Physics (10)
YEAR 2
Choose Modules to the value of 60 credits for the year (30 per semester) from modules within the following subjects:
Biology (20), Chemistry (20), Geography (20), Geology (20), Mathematics (20) and Physics (20)
YEAR 3 AND 4
Choose one of the following 16 specialisations:
Biochemistry, Chemistry, Comparative Biology, Environmental Science, Genetics, Geography, Geology, Immunology, Microbiology, Molecular Medicine, Neuroscience, Physics, Physics and Astrophysics, Physiology, Plant Sciences, Zoology
Science Course Structure
Year 1
Choose subjects to a total of 60 credits (credits are listed in brackets below):
Mathematics (20), Mathematical methods (10)
Biology 1101 (10), Biology 1102 (10)
Chemistry 1101 (10), Chemistry 1102 (10)
Geography 1021 (10), Geography 1022 (10), Geology 1101 (10)
Physics (20), Physics – Foundation Physics for the Life and Earth Sciences (10)
Year 2
Choose 3 subjects to a total of 60 credits (credits are listed in brackets below):
Mathematics (20), Geography (20)
Biology (20), Geology (20)
Chemistry (20), Physics (20)
Years 3 and 4
Select one of:
Biochemistry
Chemistry
Environmental sciences
Comparative biology
Genetics
Geography
Geology
Immunology
Microbiology
Molecular Medicine
Neuroscience
Physics
Physics and astrophysics
Physiology
Plant sciences
Zoology
For further details and to see what our current students say, check out our website: www.tcd.ie/Science/prospective/
GET IN TOUCH!
If students are considering studying Science TR071 at Trinity please contact us by email (see below) to arrange a visit.
Email: science@tcd.ie
Tel: +353 1 896 2829 / 2022
See our introduction to Science presentation and student profiles:
www.tcd.ie/Science/prospective/
---
Course Options
---
Admission Requirements
For general admission requirements please click here
Leaving Certificate H6 or O4 Mathematics

H4 In two of: Physics, Chemistry, Biology, Mathematics, Physics/Chemistry, Geology, Geography, Applied Mathematics or Agricultural Science

GCSE Grade B Mathematics Advanced GCE (A-Level) Grade C In two of Physics, Chemistry, Biology, Mathematics, Geology, Geography or Further Mathematics

Combinations of subjects not permitted: Physics/Chemistry with Physics or Chemistry

Agricultural Science with Biology

Applied Mathematics with Mathematics

Other EU examination systems See www.tcd.ie/Admissions/undergraduate/requirements/matriculation/other/