Latest Discoveries & Publications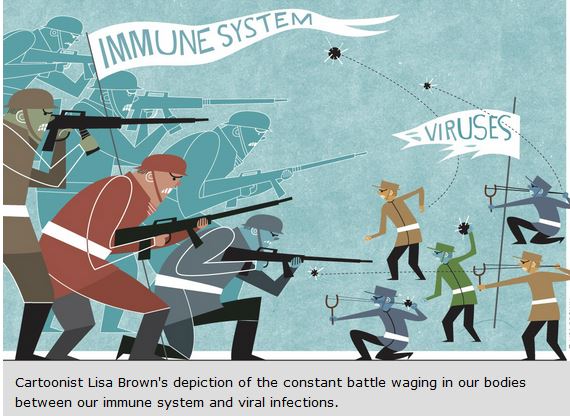 New way of attacking Viruses The team behind the work was led by TBSI's Dr Nigel Stevenson, Assistant Professor in Immunology. They have discovered that a biological molecule (STAT3) is also critical in protecting us against infection. Journal: Cellular and Molecular Life Sciences Irish Times 26 January 2017 TCD press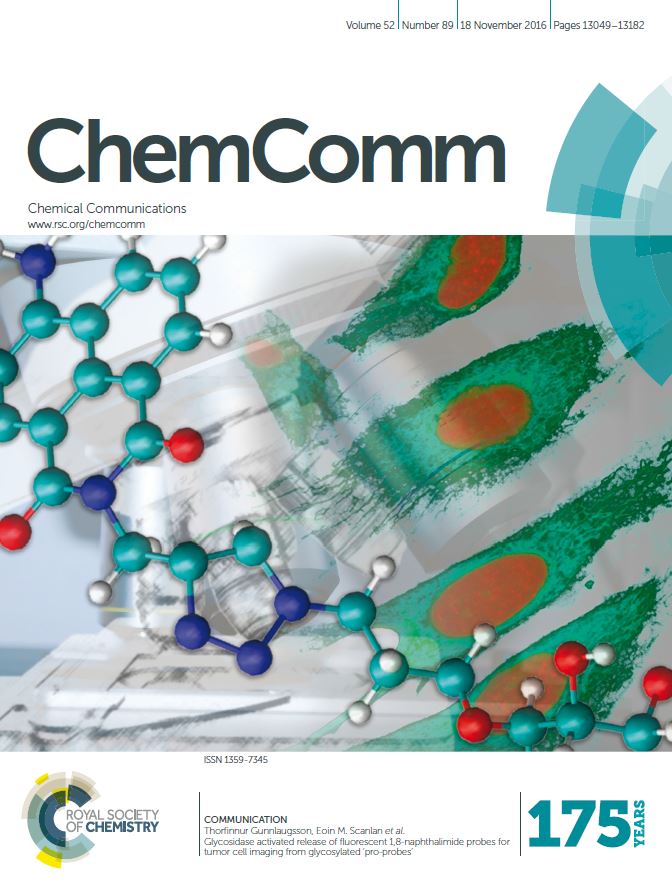 Cover of the Royal Society of Chemistry publication Chemical Communications Collaborative work by TBSI's Eoin Scanlan, Thorri Gunnlaugsson (Chemistry) and Clive Williams (School of Biochemistry and Immunology). The work focuses on the development of fluorescent drug candidates that have sugar units attached to them. They can only be delivered into cancer cells upon selectively hydrolysed of the sugar (of a native glycosidic linkage) in situ by glycosides enzymes. paper .pdf 3.71mb Irish Times 8 December 2016
Understanding Inflammation The work is a joint collaboration between the Inflammation Research Group at TBSI, which is led by Professor of Biochemistry, Luke O'Neill, and the Medical Research Council Mitochondrial Biology Unit, Cambridge UK, which is led by Dr Mike Murphy. TCD Press Officer wrote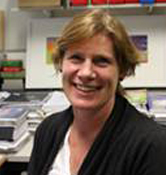 New study launched by Professor O'Farrelly and her team to discover how"super" immune system can prevent hepatitis C Press Release TCD listen to RTE news at one
New hope for cornea transplants TBSI's Mark Ahearne and his team are confident that this research will generate new therapies to treat patients suffering from corneal blindness. Irish Indepentent life section
A new scanning technique with major implications for those at risk of developing bone diseases like osteoporosis has been created by a team of scientists. The research team was led by TBSI's chemistry professor Thorri Gunnlaugsson and Dr Esther Surender. Prof Gunnlaugsson said: "The impact is long term as we still have to bring our discovery to the clinic but being able to determine bone quality really impacts everyone". The Irish Examiner reports. The Independent Article Read in full in Chem 08 September 2016 Volume 1, Issue 3 Press Office, TCD report
Welcome to the Fifth Anniversary Symposium, TBSI 5th September 2016
The Trinity Biomedical Sciences Building was opened by An Taoiseach Enda Kenny on 17th June 2011. On Monday 5th September TBSI celebrated its 5th Anniversary with a Symposium which reviewed it's progress, landmark research and future research directions. TCD's press office described the highlights. To mark the occasion TBSI also held an imagery competition
#TBSI5
Programme
Abstracts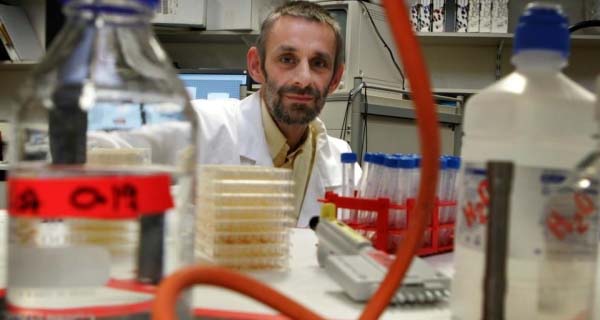 TBSI's Kingston Mills leads the pre-clinical work in the project seeking next-gen whooping cough vaccines. The pan-European initiative PERISCOPE sets out to accelerate improvement of prophylactic vaccines and vaccination strategies for pertussis. The project is funded with a total budget of €28 million over the next five years by the Innovative Medicines Initiative (IMI), a joint undertaking of the European Commission and the European Federation of Pharmaceutical Industries and Associations (EFPIA). Additionally, PERISCOPE is the first IMI project to receive funding from the Bill & Melinda Gates Foundation. Read TCD's article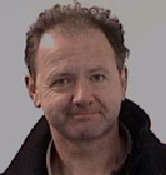 New Language for Cells: Ground-breaking study that merges linguistics, biochemistry, computer science and mathematics. Scientists, led by TBSI's Professor Gavin Davey, (with awards for funding for the interdisciplinary study provided by EU Marie Curie and Science Foundation Ireland) have written a formal language that enables deciphering of the highly complex manner in which proteins are modified by sugar molecules read more
Discovery by immunologists at TBSI has just been published in the journal Immunity. Professor in Immunology Ed Lavelle, from Trinity's School of Biochemistry &Immunology and AMBER - the Science Foundation Ireland funded materials science centre - and Dr Elizabeth Carroll have uncovered the mechanism by which a promising vaccine adjuvant, chitosan, induces an immune response. The Trinity team's discovery provides a roadmap to develop vaccines that trigger 'cell-mediated immunity'. Read Trinity Communications Office's article Immunity Journal pdf 3.19mb
Congratulations to Ed Lavelle, Cliona Ni Cheallaigh and other members of the Lavelle and O¹Neill groups in TBSI on their recent paper in Immunity. "A Common Variant in the Adaptor Mal Regulates Interferon Gamma Signaling". paper - (2.93 mb PDF)
Congratulations to the Membrane Structural & Functional Biology Group on the publication of their Paper in Science. "Structural basis of lipoprotein signal peptidase II action and inhibition by the antibiotic globomycin" Science. 19th February 2016
With antimicrobial resistance on the rise, the World Health Organization has advised that a post-antibiotic era, in which minor injuries and common infections can prove fatal, is looming. New drugs are needed. Globomycin attracted attention as an antibacterial candidate because of the novel peptidase, LspA, it inhibits and the many lipoproteins with critical roles in bacterial physiology, pathogenicity and antibiotic resistance that go unprocessed as a result. The high-resolution structure of LspA inhibited by globomycin reported here can now be used for the design of better globomycin analogues, to explore the thousands of inhibitors developed for other peptidases, and to design entirely new and more effective antibiotics.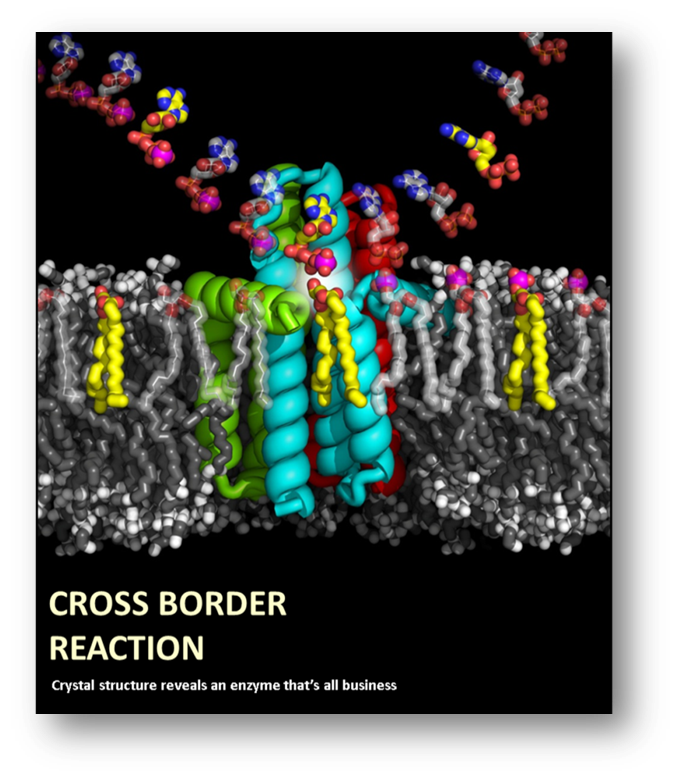 Congratulations to the Membrane Structural & Functional Biology Group on the publication of their article in Nature Communications "Ternary structure reveals mechanism of a membrane diacylglycerol kinase" Nature Communications. 17th December 2015. Diacylglycerol kinase is a small, integral membrane enzyme that catalyses a complex reaction involving substrates with widely contrasting solubilities. Its lipid substrate is hydrophobic and resides in the membrane while its co-substrate, ATP, is entirely water soluble. How this diminutive nanomachine, less than 10 nanometers tall, brings these two disparate substrates together at the membrane interface for reaction is revealed here in a molecularly detailed crystal structure. As the smallest known kinase, most of its bulk is devoted to creating substrate binding sites. This new structure, solved with the aid of free-electron laser X-rays, contributes to explaining 50 years of work on a paradigmatic enzyme. (PDF 4.21 MB)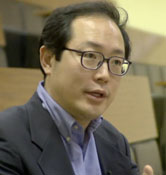 Non-Disease Proteins Kill Brain Cells. Congratulations to TBSI's Ken Mok (Associate Professor in Biochemistry) and Gavin Davey (Associate Professor in Neuroscience) who along with several young researchers including Níal Harte and Igor Klyubin, collaborated with Professor of Neuropharmacology, Michael J Rowan, Professor in Chemistry, Principal Investigator in CRANN and Dean of Research, John Boland to complete the research . Dr Kenneth Hun Mok (pictured here) led the study that was published in the Journal of Biological Chemistry (pdf) on Friday 20 November 2015.
News & Events
TRAining in Cancer mechanisms and Therapeutics (TRACT) Congratulations to TBSI's Dr Daniela Zisterer (project coordinator) and colleagues in the School of Biochemistry & Immunology and School of Dental Science who, along with European partners Queen's University Belfast, University of Siena, University of Valencia and OROBOROS INSTRUMENTS, have been awarded 2.9 million for research into oral and oesophageal cancer. This project, entitled 'TRAining in Cancer mechanisms & Therapeutics' (TRACT), has received funding from the European Union's Horizon 2020 research & innovation programme under the Marie Sklodowska-Curie grant agreement No. 721906.
TCD press office
Wellcome – Health Research Board Irish Clinical Academic Training (ICAT) programme. ICAT is an exciting new all Ireland clinician PhD programme funded by Wellcome and the Health Research Board, HSE-NDTP; HSC R&D Division; and six Universities; TCD, UCD, NUIG, QUB, RCSI and UCC. The programme is coordinated by Molecular Medicine Ireland. Integrated with postgraduate medical training, ICAT will support 4 years of academic training at the beginning of higher specialist training (HST) or equivalent, with clinical and academic mentoring until completion of PhD and CCST/CCT. ICAT now seeks to appoint the first cohort of 8 well qualified and ambitious medical graduates who aspire to become the next generation of clinical academic leaders. Web link for further details Advert poster pdf 740kb
New Company: Inflazome to tackle chronic inflammatory diseases. The intellectual property is based on the Science Foundation Ireland-funded research. Luke O'Neill and his team initially discovered that a known molecule seemed to suppress the target inflammasome. In collaboration with Professor Cooper, the team developed and subsequently patented new therapeutic inhibitor compounds based on this molecule. These compounds are now being developed by Inflazome and hopes are high that they might be useful new treatments for a range of inflammatory diseases. TCD Press Office report read the Irish Times Tue, Sep 13, 2016 Business Section
Congratulations to TBSI PIs who secured prestigious SFI awards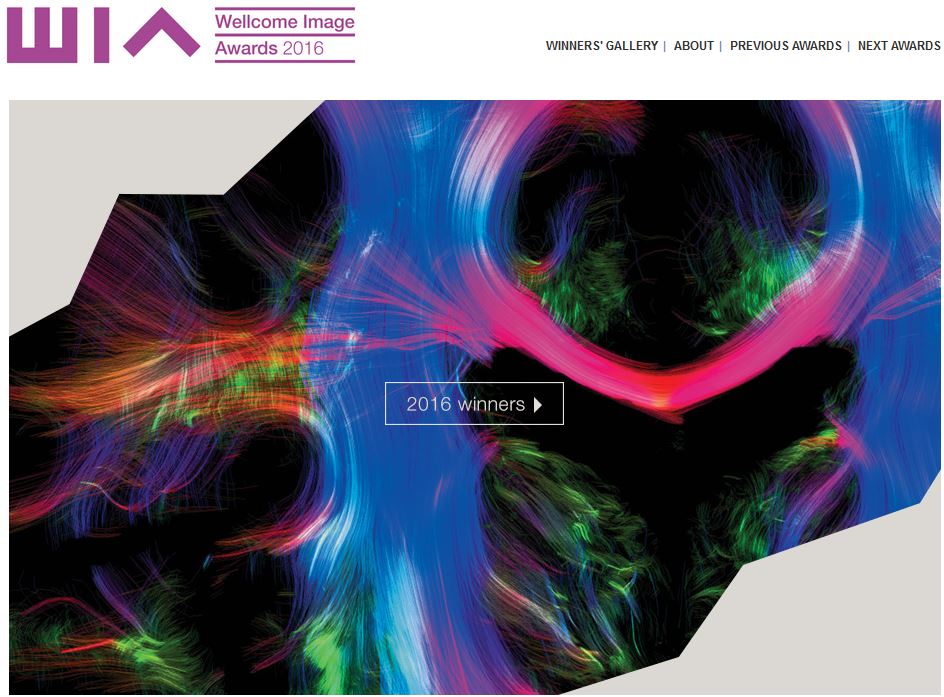 Wellcome Image Awards 2016 - The winning images have arrived in TBSI. These wonderful images can been seen in the Lobby. These images were on display to celebrate the 5 year anniversary of TBSI's opening. Details here

TBSI'S Luke O'Neill, is one of five academics worldwide to join a new immunology research collaboration programme operated by the global healthcare company, GSK. The Immunology Network hosts global experts to set up research labs called 'the Immunology Catalyst'. Details here
Congratulations to Professor Luke O'Neill who has been elected as a Fellow of the Royal Society, where scientists are elected to the Fellowship by their peers as recognised leaders who have advanced their fields through their ground breaking work. Prof O'Neill has made many contributions to improved knowledge of how the human body works including metabolism, the immune system and cell signalling. He is Professor of Biochemistry in the School of Biochemistry and Immunology in Trinity College Dublin and is a leading researcher in the school and in the Trinity Biomedical Sciences Institute (TBSI), where he was the first Academic Director.
News and Events prior to those listed above