Visiting the Institute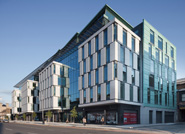 Trinity Biomedical Sciences Institute
Trinity College,
152-160 Pearse Street,
Dublin 2
Ph: +353-1-8963989 (Reception)
How to find us
Pearse Street train station has an entrance/exit onto Pearse Street beside the Trinity Biomedical Sciences Institute. The entrance will be open as follows:
Monday to Friday - 07.00hrs to 19.30hrs (Bank Holidays excluded)
Saturday - 09.00hrs to 18.00hrs
Sunday & Bank Holidays - Closed
interactive map of the Campus (Trinity College Dublin)
A guide through all forms of transport within Ireland once you have arrived at a port or an airport.
If you arrive at Dublin airport and wish to take an Aircoach® to us please see the map below.
alternately the Dublin Bus route no 747 operates within a seven minute walking distance to TBSI
Aircoach directions
Aircoach Ballsbridge route www.aircoach.ie/map.routes.ballsbridge.php
Aircoach www.aircoach.ie/airport.bus.coach.routes.php