The National Anti-bullying Advocacy Group
Please note that the National Anti Bullying Research and Resource Centre is now located in Dublin City University. Their website is www.antibullyingcentre.ie
Who we are:
We are a group of self-advocates and colleagues from around Ireland. We have learned how to run workshops about bullying for people with intellectual disabilities.
Bullying is endemic in our community. Our mission is to address this sensitive topic through peer to peer discussions. Our message to workshop participants is:
You are NOT alone
It's NOT your fault you are being bullied
You CAN DO something about it!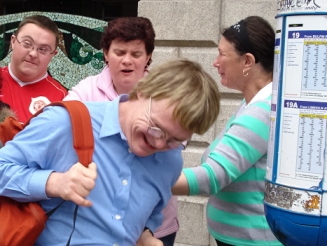 Photo above: group members from the Anti Bullying Workshop role playing bullying at the bus stop.
NDA Research Study
The National Institute for Intellectual Disability (NIID), in conjunction with the National Anti-Bullying Advocacy Group, has recently secured a 'Research Promotions Grant' from the National Disability Authority, the statutory advisory body to Government on disability issues.
The grant has been awarded for an inclusive research project to explore the issue of bullying of people with intellectual disabilities. A series of focus groups will be undertaken with key stakeholders including people with intellectual disabilities, family members and carers, disability services' support staff, community representatives, health and social care professionals, and policy makers in this area.
The research will culminate in the production of an Easy-to-Read Guide on bullying for people with intellectual disabilities. This research will be carried out by researchers at the NIID in conjunction with researchers from the National Anti-Bullying Advocacy Group, an active group of advocates with intellectual disabilities who provide training and advocacy in the area of bullying.
Fiona Weldon, Development Worker with the National Anti-Bullying Advocacy Group is Research Coordinator. The research team comprises Conn O'Rathaille, William (Bill) Roberts, and Marie Wolfe from the National Anti-Bullying Advocacy Group.
Who supports us?
We work independently of any service or government agency in Ireland. We are grateful for donated administrative support from the NIID and organisations such as the NIID, Inclusion Ireland and the Order of Malta for providing facilities to meet and run workshops.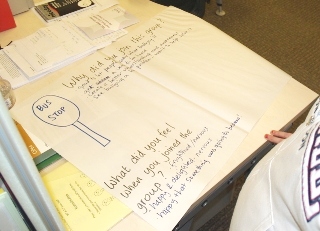 All the workshops are self financing with the presenters giving their time in a volunteer capacity.
What we think should happen about bullying:
anti-bullying should be in the constitution
the bully has power - but we have the power to stop it
speak up!
get help from staff (whoever is in charge)
report bullying
tell bullies to stop
stand up for your rights
complain about it
tell someone if you are being bullied
set up a support group
employ a qualified support worker to deal with the bullying

Can we run a workshop for you?
Please write if you would like the group to come to you (20 - 25 participants required)

On the 26 September 2014 the national anti-bullying advocacy (NAAG) group ran the first ever workshop about how the Irish Government works. This workshop was for people with intellectual disabilities because the group felt that having access to educational opportunities such as this one was very important, information is power.
The idea to do this workshop came out of a meeting the group had last Christmas. Two members, Bill Roberts and David Hall wanted to really understand how the government really works. A sub-group was formed and this group worked on contacting members of the Government for help and support.
Two members of the Dáil contacted us and told us they would help us run the workshop. They were Senator Mary Moran and Finian McGrath TD. Over the summer the sub-group met with both Mary and Finian in the Dáil. We talked about what we wanted them to say and together planned the contents of the day.
Emer Costello also came to the workshop and talked about the European Union and what Members of the European Union do.
This workshop was very popular; 21 people came and we have 20 people on a waiting list to come to the next one. Feedback was very good.
People told us they liked the workshop because they felt they were listened too, got to ask questions and learned more about work the Irish Government works. People also said that they got to meet and talk to other people, got to talk about things that were important to them like the water charges, the need for jobs, more educational opportunities and respite services. The questions and answers session was a highlight for a lot of the group. It was agreed that the issues that were discussed on the day will be sent to Mary and Finian.
We will be running this workshop again next year.
Listen here to Senator Mary Moran mentioning this workshop on how the government works in the Dàil.
Pictured below from back row; Suzanne Chalkley, Conn O'Ratheigh, Senator Mary Moran, David Hall, Finian Mcgrath TD, Martin Doohner, Fiona Weldon Development Worker, Paul Alford and Bill Roberts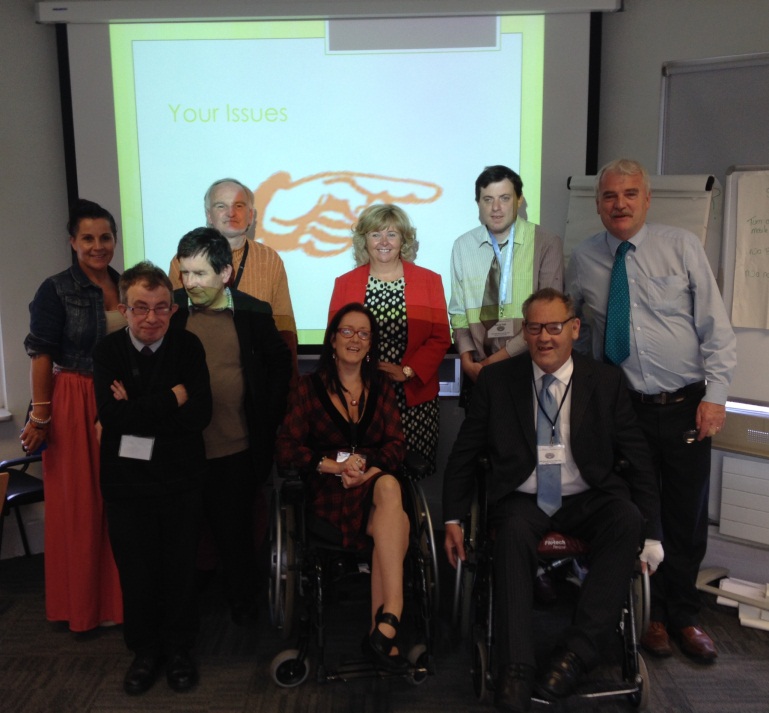 Pictured below; Christine Burke with Finian McGrath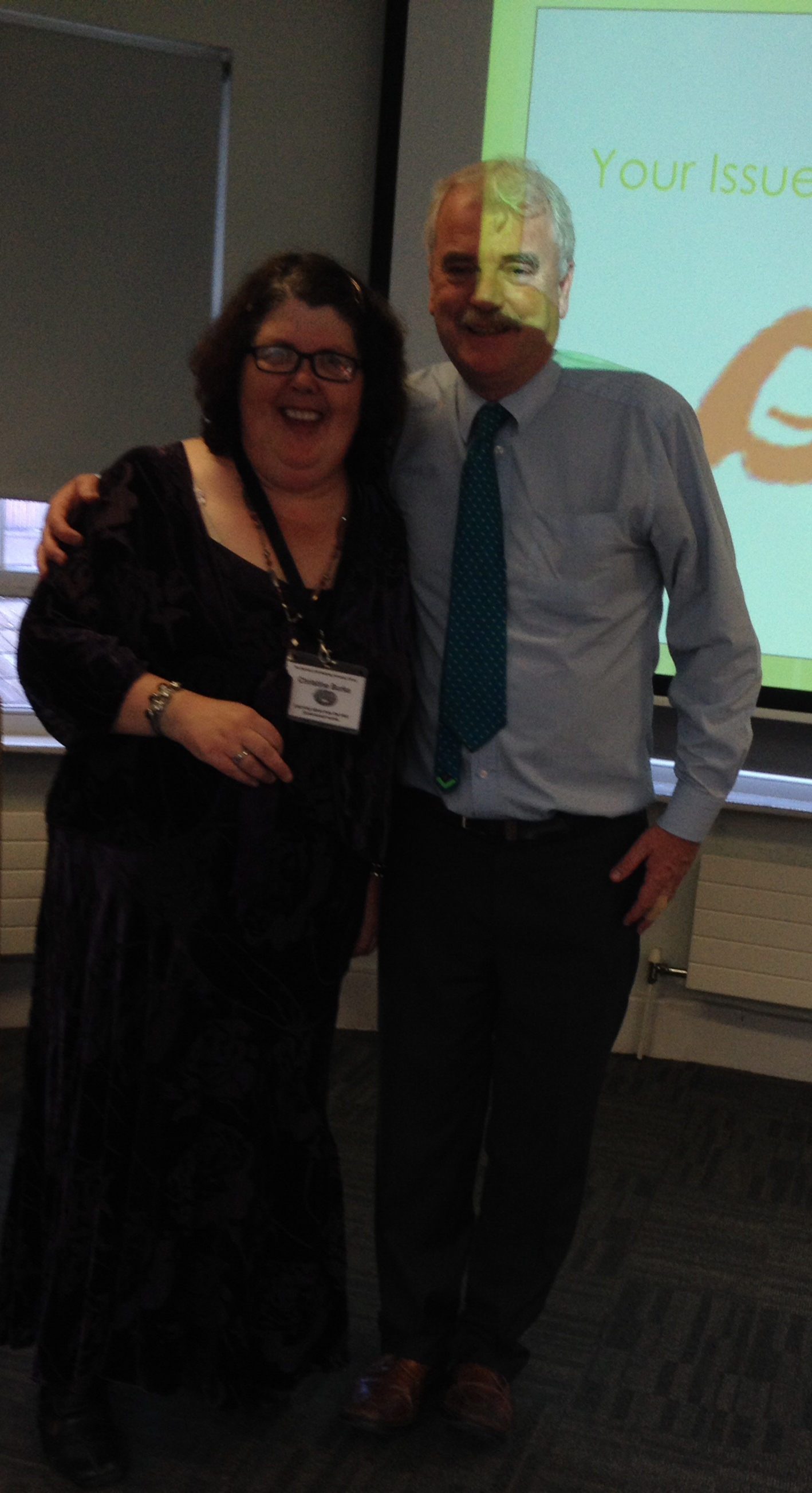 04th November 2014
04th November 2014
01st September 2014
29th August 2014
17th July 2014
17th April 2014
28th March 2014
07th March 2014
21st Feb 2014
24th January 2014
To view older news stories, please see our news archive