What is the Margaret McLoughlin TCPID Student Scholarship Programme?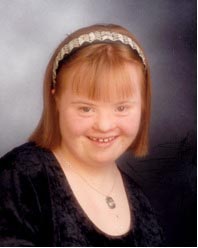 The Trinity Centre for People with Intellectual Disabilities are delighted to announce the launch of the new Margaret McLoughlin TCPID Student Scholarship programme. The Scholarship programme is named in honour of Margaret McLoughlin, daughter of Joan and Tony McLoughlin, and sister of Kieran, David and Louise.
Margaret, who had Down Syndrome, passed away in 2003 at the age of 25. The McLoughlin family have been huge supporters of the TCPID for many years and have already provided significant financial support, including the sponsorship of the Margaret McLoughlin Expressive Arts programme in 2011. The aim of the McLoughlin family has always been to help support people with intellectual disabilities to reach their true potential. This scholarship programme builds upon the very solid foundation of the existing support provided to the TCPID by the McLoughlin family.
The new scholarship will allow the TCPID to offer assistance to incoming students who might face financial barriers to support the costs of their participation in the 2 year Certificate in Arts, Science and Inclusive Applied Practice in Trinity College Dublin. One scholarship will be awarded each year to an incoming 1st year student.
Joan McLoughlin - Margaret's Mother "It was only when Margaret joined our family, and when it became clear that she had no intention of complying with the medical prognostications of a very short lifespan, that we gradually realised there can be a reservoir of talent, ability and charm that often goes undiscovered and unrecognised in people who have Down Syndrome.
The work of TCPID in unlocking these people's talents has advanced their place in society considerably. Tony, myself and our family and our many friends who supported us are very happy to play a small part in its work and development."
Professor Michael Shevlin – TCPID Director: "The Margaret Mc Loughlin scholarship provides a wonderful opportunity for young people who have an intellectual disability to participate in a higher education programme designed to enable these young people to become valued citizens in our society. We are very grateful to the McLoughlin family for their generous support which will make such a difference to the students who benefit and to their families."
For further information about the Margaret McLoughlin TCPID Scholarship Programme please contact tcpid@tcd.ie