New Student Orientation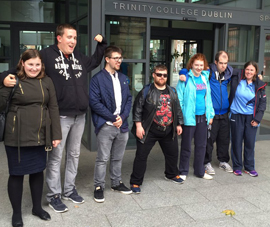 Our seven new Arts, Science and Inclusive Applied Practice students recently joined us for a two day Trinity College orientation. The two days were packed full of activities throughout College. We would like to acknowledge the cooperation of a number of different departments in providing a very informative and enjoyable first experience of College life for our new students:

Trinity College Senior Tutor
Head of the School of Education
Trinity College Sports Centre
Trinity College Students Union
Trinity College Library
School of Education staff

We look forward to our students starting their official lectures on Wednesday September 28th and we hope that they will have a wonderful two years here with us in Trinity.