Certificate in Arts, Science and Inclusive Applied Practice Graduation January 2020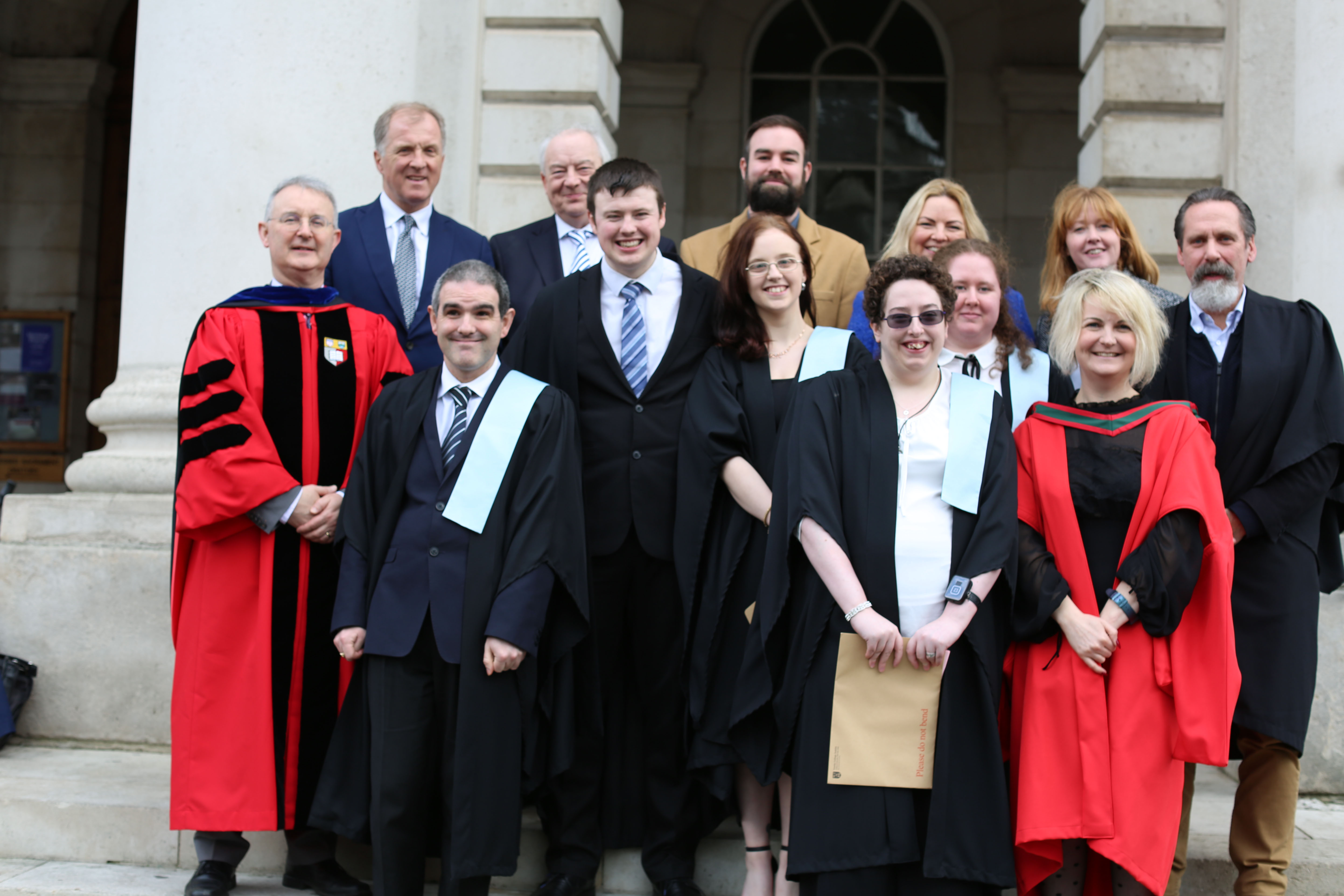 We want to congratulate our seven students who were awarded a Level 5 Certificate in Arts, Science and Inclusive Applied Practice in Trinity College Dublin on Friday January 31st 2020. We are incredibly proud of our graduates who all worked so hard during their two years in Trinity. The new graduates celebrated their success with their families and the team in the TCPID and the School of Education.
Course Coordinator and Assistant Professor in Intellectual Disability and Inclusion
,
Dr Mary-Ann O'Donovan
:
Graduation signifies a transition into a new phase of life and is a time to celebrate all aspects of this achievement and transition. I would like to take this opportunity to thank all of the teaching and support staff from across the University who are involved in the programme. Thank you to the students families for all the support and encouragement they have provided. Finally, I would like thank the students for the great honour and privilege it has been working with them over the last two years. We wish them every success and joy for their future.
Head of the School of Education
,
Professor Damian Murchan
:
I would like to congratulate our 7 new graduates from the Certificate in Arts, Science and Inclusive Applied Practice. They have all followed a rigorous University course and met all academic requirements. I am truly impressed with their work rate and the way they contributed richly to the life of the School of Education and Trinity. I am grateful that these young people chose to study with us in Trinity – they have learned from us and we have learned from them. Go n-éirí an bothair leo amach anseo - I wish them the best of luck in the future.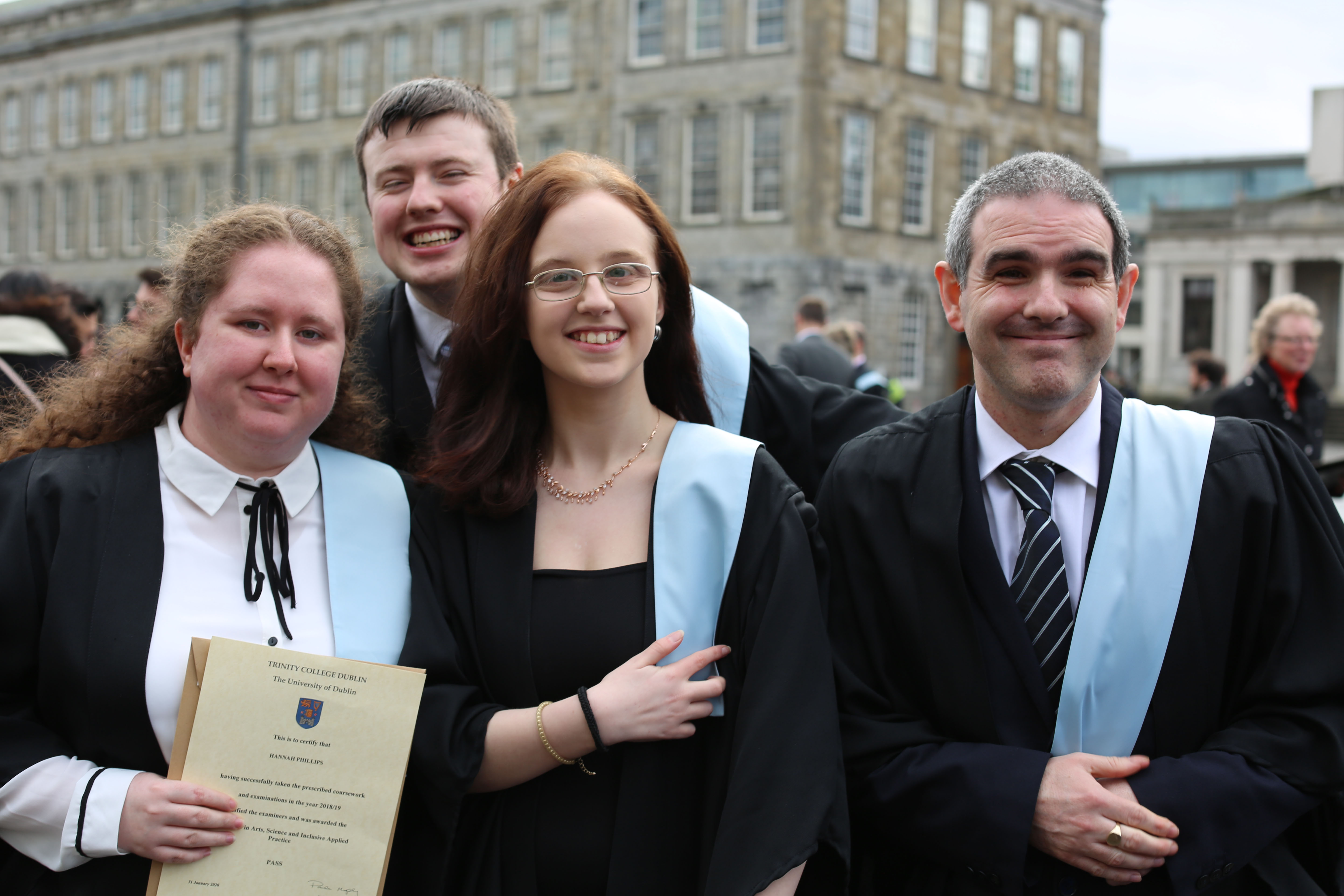 In the words of some of our graduates and their families: TCPID Graduate,
Joanne Weller
:
I felt amazing achieving something that I never thought I could and in truth it is a great feeling. I am still pinching myself that I graduted from Trinty which is huge for someone who has a disability. My family my best friend and a few people who helped me along the way were all proud of me. I also want to say thanks for all the lecturers who also helped me to get where I am today. Its been a great pleasure in working with them. Its been an amazing experience that I never forget.
TCPID Graduate,
Stephen Ryan
:
I felt really happy and overwhelmed with pride for graduating from a place like Trinity College. The whole day was enjoyable and I really enjoyed having my professional photo taken before the ceremony.
Mother of TCPID Graduate,
Brigid Ryan
:
The graduating ceremony was special. To see Stephen receive his certificate and walk in procession from the hall made us very proud. It was a day we never dreamt we would see. Stephen has always worked very hard at everything he does, and this made up for all the times when his efforts weren't good enough.
TCPID Graduate,
Luke Campion
:
My parents were delighted for me. Getting a certificate from Trinity College was a dream come true.
TCPID Graduate,
Jessica Lawlor
:
It felt great to finally graduate. I felt really happy to be there with my classmates and to have my parents watch me graduate.