My Experience of the Certificate in Arts, Science and Inclusive Applied Practice course
by TCPID Graduate Dairine O Rourke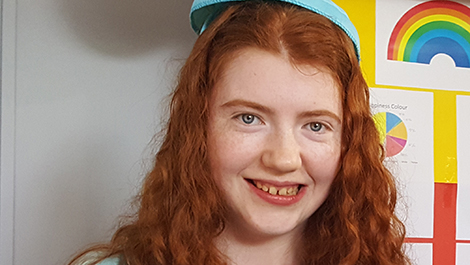 Tell us a little about yourself and your background
My name is Dáiríne O'Rourke. I am almost 25 years old and I live in Celbridge Co Kildare with my Mom and my dog Lincoln. My brother Fiach lives in the UK. I have a permanent job in Fidelity Investments in CityWest. I work 2 days a week, Tuesdays and Wednesdays. I do a computer class on Mondays and I have a support worker who helps me with independence and life skills on Thursdays. I am in two Special Olympics clubs and I am part of a theatre group in Celbridge called the Run of the Mill youth theatre. I have a good life.
Why did you decide to come to Trinity College Dublin to complete the Certificate in Arts, Science and Inclusive Applied Practice (ASIAP)?
When I left school I wanted to work in an office because I'm good on computers and I like to be accurate. So I needed to do a course to get a qualification, but the colleges I applied to didn't think I would be able for the courses, so I did Rehabilitative Training in the CRC for a year. Then I applied to Trinity for the ASIAP Course and I was delighted to get a place.
What did you enjoy most about the ASIAP course?
I loved the Expressive Arts module because I like writing stories and I also enjoyed the Entrepreneurship module especially coming up with the business idea and I just loved being a Trinity College student, going to the Buttery and to the sports centre to train with Gareth.
What did you find difficult?
Sign Language was the most difficult module because I found it hard to put my hands in the right position for the signs because I have Dyspraxia. And also Learning Theory and Practice was difficult because the language was hard to understand.
What helped you during your time in Trinity College Dublin?
Barbara was a great help to me getting me to speak up and ask the lecturers for help like sending me the notes from the lectures because I can't listen and take notes at the same time. My Mom and my Support Workers were a great support to me too.
What would your advice be to other students who might be considering applying for the Certificate in Arts, Science and Inclusive Practice?
Work hard at school, go to the open day and talk to any of the graduates. The course is hard but the lecturers are all lovely so ask for help when you need it. Enjoy going to the Buttery and to the Sports Centre.