Clever thinking during COVID-19
As a result of COVID-19, Catherine O Connor has had little opportunity to pursue her gardening interests since the closure of Saint Josephs.
Catherine has been observed reading her gardening books and had a intriquing brain wave.
She heard that many of the plants which adorn offices around the city are wilting if not dead.....
Unfortunately, this has been the case for our plants in the Clare Street offices.
Therefore, the Trinity Centre for Ageing and Intellectual Disability were delighted to purchase a spatihiphlium (peace lily) for Catherine and she kindly agreed to cultivate it and present it to the team when our office fully opens up again to brighten up the office. This has given Catherine a great boost and will be a lovely addition to the office space when we return.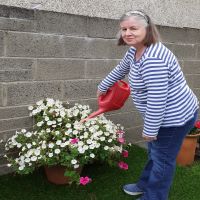 Catherine O Connor
-
Daughters of Charity