Events
---
Final conference Bremerhaven October 2018 dates TBC
---
Previous Events
---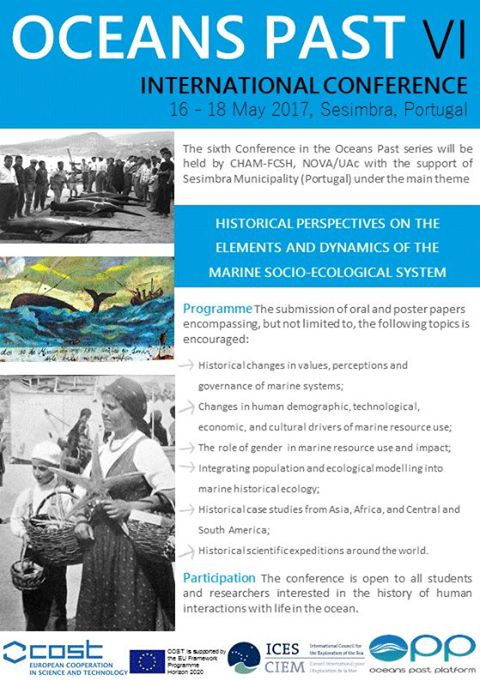 http://www.escolademar.pt/oceanspastvi/
---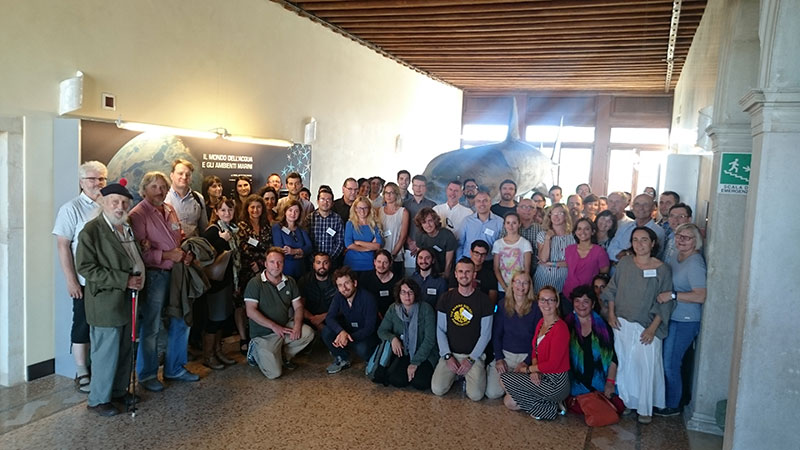 Historical Ecology of Semi-Enclosed Basins: Past, Present and Future of Sea at Risk
Chioggia (Venice, Italy)
3 - 4 October 2016
Further Information
---
1. Changing Values workshop - Changing values, uses and practices regarding marine mammals: from the Iron Age
to early modern and contemporary times
WG 2 Costal settlements + WG 4 Changing Values
March 13 2016, Madeira Portugal
http://www.europeancetaceansociety.eu/conference/workshops
2. Bayscapes Conference CFP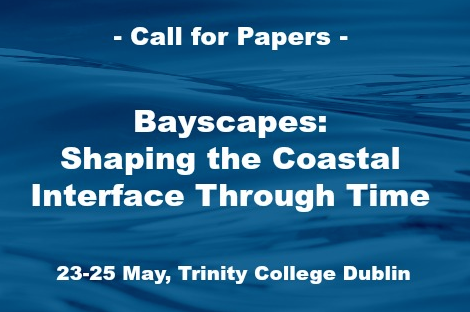 Bayscapes: Shaping the Coastal Interface through Time
Oceans Past Platform Conference
May 23-25 2016, Trinity College Dublin.
The European Oceans Past Platform is dedicated to marine environmental
history and the study of ocean and coastal management through time. The
conference will be held in collaboration with the Centre for Environmental
Humanities at Trinity College Dublin, and to celebrate Dublin Bay being
designated a UNESCO Biosphere. Papers will explore both local and
European perspectives and address the following core themes:
- Intervention points and best practice for managing marine heritage
- Changing inshore ecologies and human impacts
- Shaping bayscapes through time
- Coastal and underwater Maritime Cultural Heritage
Deadline for submission: March 1st 2016
Papers or interventions of any kind (for 20 minute slots) addressing these or any related questions are welcome. Please submit your 500 word proposal by email to the addresses to Dr Marisa Ronan (ronanm@tcd.ie) by March 1st.
Proposals for alternative presentations/formats are welcome. Please contact the organisers to discuss.
Past Meetings 2015
OPP Mangement Commitee, Trinity College Dublin November 2015
OPP Synthesis meeting, Dublin November 2015
OPP Annual Management Committee meeting, Tallinn May 2015
Institute of History, Ruutli 10 (old Tallinn Town)
This meeting will officially launch the OPP COST Action
To view the footage from these meetings please click on the relevant link below
| | |
| --- | --- |
| Oceans Past Platform | WG1 |
| WG2 | WG3 |
| WG4 | WG5 |
| Oceans Past Platform Launch | |
23rd February 2015, OPP Synthesis meeting
Trinity Long Room Hub, Trinity College Dublin
Purpose of the Synthesis Group
The Synthesis Group, consisting of members of WGs, will ensure integration: by developing and agreeing protocols and indicators and by developing methods to integrate historical indicators in marine observation and decision support systems. The Synthesis Group will oversee the programme of summer schools and short-term scientific missions to ensure that integration is a key objective. The chair of the Synthesis Group will also be Vice-Chair of the Action.