Inaugural Edition of Trinity Student Scientific Review Includes Articles from Three School of Genetics and Microbiology Students
13th March, 2015
The inaugural edition of the Trinity Student Scientific Review (TSSR), a science review journal which is written and run by undergraduates at Trinity College Dublin, has been unveiled at a celebratory launch event this week.
Inspired by the similarly minded Student Economics Review journal, the TSSR allows students to gain precious first-hand experience of the publishing process before completing their science degrees.
Three students from the School of Genetics and Microbiology were among the twenty whose articles were published:
"Immunoglobulin binding proteins of Staphylococcus aureus" by Junior Sophister Microbiology student Kelly Murray
"Lysine methylation of the p53 Tumour Suppressor: analogies with histone biology" by Junior Sophister Genetics student Hayley Porter
"A fourth dimension in the bacterial defence against bacteriophage infections" by Junior Sophister Genetics student Matthew Dorman. In addition, Matthew was also presented with an award for top contribution within the stream of Biology.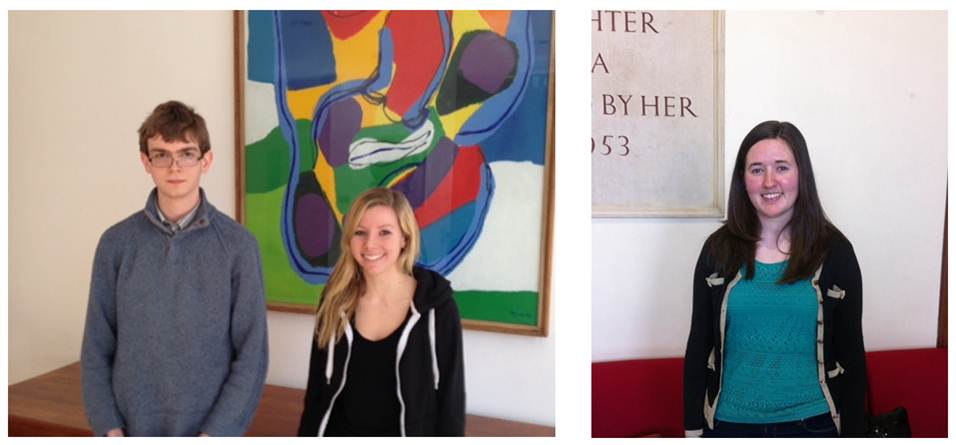 Matthew Dorman and Hayley Porter (Left) and Kelly Morgan (Right) recently had articles published in the TSSR
Dean of the Faculty of Engineering, Mathematics and Science, and Professor of Chemical Biology at Trinity, Clive Williams, has been instrumental in supporting the TSSR.
He said: "It is my pleasure to support the Trinity Student Scientific Review (TSSR), which is a challenging and innovative initiative of our science undergraduate students. Trinity is committed to the enhancement of the learning experience of each of its students and the TSSR provides a platform in the Faculty for our students to develop the critical academic and literary skills of modern day scientists."
He added: "The production of TSSR demonstrates a combination of enthusiasm, inspiration and organisation that Trinity College actively encourages among its student body. Science progresses through publication, and TSSR has the potential to stimulate students to pursue further research that ignites their curiosity."
Professor Williams was joined at the launch by special guest speakers Aoibhinn ní Shuilleabháin, a member of the School of Mathematical Sciences in University College Dublin, and a passionate science communicator, and Paddy Cosgrave, Founder of the Dublin Web Summits and the acclaimed Undergraduate Awards.
Aoibhinn ní Shuilleabháin said: "I commend the students for their initiative in launching this publication. For me it's incredibly important that science graduates communicate scientific research both between disciplines and to the general public, and I think this publication provides students with a wonderful resource to develop and refine rich communication skills."
Academic Advisor for the TSSR, and Assistant Professor in Zoology at Trinity, Dr Andrew Jackson, said: "When the students came to me with the proposal for TSSR, their ingenuity, ambition and drive was such an inspiration that there was no stopping them, and this made the decision to get involved very easy. These are qualities of great innovators and entrepreneurs and are exactly the sort of skills we want to foster in our students in Trinity. Through TSSR, many students will get the chance to link their subject interests with a research-led programme of article submission, peer-review and publication."
The academic advisors at the TSSR are responsible for providing guiding comments, but the student publication is run by a small team of undergraduate General Managers, including Jonathan Deane, who played a key role in founding the TSSR.
He said: "I am privileged to have worked with such an outstanding team to bring this publication to fruition. We look forward to working closely with our science departments to ensure the continued success of the TSSR for years to come."